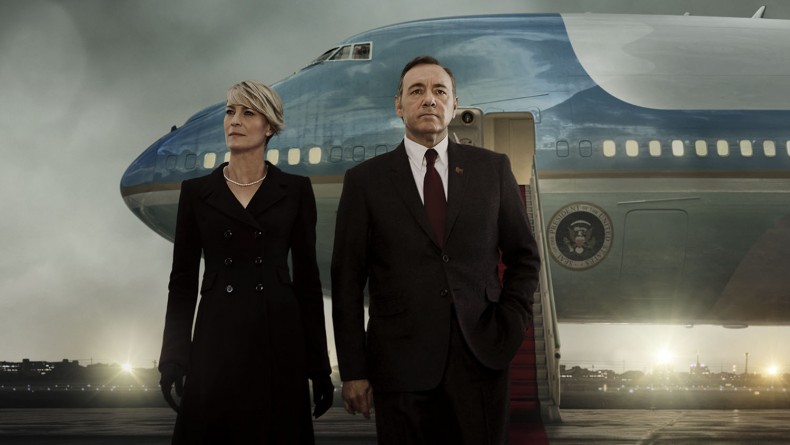 Item Reviewed
Knock, knock: 'House of Cards' is back
Netflix Image.
Netflix subscribers of the world rejoice, then get comfortable and cancel your weekend plans: "House of Cards" has returned and the dark political drama is as binge-worthy as ever. The award-winning streaming series' third season was released at midnight last Friday to the delight of ravenous fans the world over.
Earlier this month, Netflix gave users an impromptu preview of the show's new season, posting its first ten episodes online weeks ahead of schedule and then blaming the slip-up on "a bug in the system" in a statement to CNBC. Despite this frustrating false start, the show's latest installment was well worth waiting for.
Before we proceed, breathe easy: this review is 100 percent free of any real Season 3 spoilers. However, if you have yet to catch up on the show's first two seasons, then read past this paragraph at your own risk. You have been warned.
When last we saw him, Francis J. Underwood (Kevin Spacey, "Horrible Bosses") was ascending to the presidency. At that point, it appeared there were no more mountains for Frank to climb—however, this latest season puts that concern to rest. Though Frank now has little left to gain, he has everything to lose.
The talented team behind "House of Cards," led by series creator and showrunner Beau Willimon, keeps creating new frontiers for Frank to conquer. The show lives up to its title in brilliant fashion as Frank and his first lady, Claire (Robin Wright, "Forrest Gump"), struggle to keep everything they have built from falling down.
I dare not address this season's plot, but its writing deserves acclaim. At its best, "House of Cards" is written like a beautiful sentence: every word feels inevitable. At its worst, the show goes so far over the top that you can't help but grin, or gasp, depending on the scene. At either extreme, the spectacle pulls you in and never lets go.
This season's cast includes its share of familiar faces—Spacey and Wright are consistently excellent as the country's most powerful couple—as well as some welcome new additions, including Paul Sparks ("Boardwalk Empire") as soft-spoken novelist Tom Yates, Kim Dickens ("Gone Girl") as crusading reporter Kate Baldwin and Lars Mikkelsen ("Sherlock") as Russian President Viktor Petrov.
Sparks gives a riveting performance in a far cry from his role as sneering gangster Mickey Doyle in "Boardwalk Empire." Dickens, though underutilized, echoes her formidably moral "Gone Girl" character to great effect. But Mikkelsen's slickly twisted Petrov, a long-awaited worthy opponent for Frank, is the cream of the crop—this season is at its very best whenever he slithers onto the screen.
While this third season of "House of Cards" lacks the earth-moving dynamism of its predecessors, it has a creeping, lethal energy that is all its own. The engrossing story of Frank Underwood's United States of America is far from finished.
THE GOOD
Season three is true to the heart of "House of Cards," reveling in the contrast between the beautiful surface of its world and the vicious actions of its characters. The show is exceptional, as always, in its acting, writing and production values.
THE BAD
The scale of this season is massive—as a result, the Underwood world domination machine is slow to start and the gears grind on occasion. Frank's problem is also the plot's problem—what happens once you have everything you ever wanted?

by Tanya Villafuerte Santiago If there is something nearly all SCAD students rely on during midterms, it's [...]

Feed Your Senses: Emmanuel "Chops" Smith Wednesday, Oct. 18 Rialto Center for the Arts, Georgia State [...]

"The Lost Skeleton of Cadavra" (2001) is likely a film you may not have heard about. Written, directed [...]