Creative Spaces: Bridget Glean's Restful Retreat
by :
The Connector
written by Kristy Cho, contributor
For many of us in school, it is easy to forego the act of decorating our homes. Our spaces are temporary and necessitate efficiency over elegance. We spend most of our time in school anyway, so why bother?
According to Winnifred Gallagher, author of "The Power of Place," the environments around us are "not just backdrops to our lives –– they affect how we think, feel and act!" Remember the last time you were in a room that made you feel ill. Was it claustrophobic, or did the colors and lighting make you queasy? Or consider your most memorable trip to a museum or memorial. Did the scale and style of the architecture affect the way you behaved?
As artists, we're sensitive by nature, so we should all be incredibly in tune with our surroundings. With this in mind, why not put in a little effort in making our spaces truly our own? We live hectic and stressful lives. At the end of a long day, returning to a space that is filled with objects or art that make us smile will feel like a welcome retreat. In this space we can relax, recharge, find inspiration and return to the world more fully ourselves.
I wanted to start this series to demonstrate how students elevate their spaces from a place to sleep and eat to an actual home. I wanted to see how different majors approach the process, how they arrange objects or display their artwork and how they achieve efficiency in varying setups.
The first inside look of this series features Bridget Glean, a second-year interior design student.
What do you love about SCAD? And Atlanta?
I grew up in a very small town so I love the culture and the art of the city. I love that SCAD allows you to bring the city to the school, and how much collaboration takes place within both the community and the school itself.
What are your favorite spaces in Atlanta, in terms of interior design?
I feel like I shouldn't say the Georgia Aquarium, but I really do like it because the space is so huge; when you walk in you feel so small and I love that. I also love the 360-degree view. My favorite restaurant is Two Urban Licks, which has the same feel. It's a warehouse with super high ceilings, so [similar to the aquarium] you feel small when you walk in and there's a ton of artwork there.
How would you describe your design aesthetic?
I definitely put comfort over everything else. I'm not going to go for the high-end furniture pieces if they don't really please me [in terms of comfort]. I definitely like personal things and bright colors, and just a sense of home, rather than a staged environment.
Who or what has inspired you most creatively?
My brother. He has always done creative things in his life (music, art, etc.) even though he didn't go to college or finish high school. He kind of pushed me in that direction when everyone else was like, "Don't go to art school." He plays the guitar – he even won a competition to get his band recorded – and he has his own construction/remodeling company.
What are your favorite art/design blogs?
I do follow this travel blog, Wander Onwards. She does photography, travel writing, etc. Other than that, Pinterest.
What makes you feel at home?
Personal items. Putting time and care into the space you're in to make it yours so you feel a sense of accomplishment. I can definitely say I worked hard on this apartment –– making everything nice, putting paintings up, painting the walls and cleaning a lot.
What advice do you have for others creating their own spaces?
I would say not to plan as much as an interior designer would, since you're making your own space. Instead of creating a whole "plan," just try to incorporate things that make you happy. Get things because you like it. It's these subconscious decisions that make it yours.
In other words, let it grow organically?
Exactly.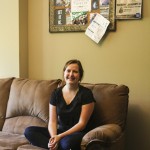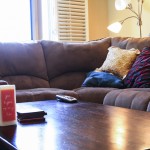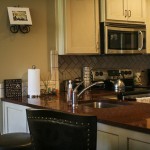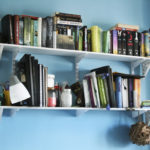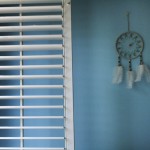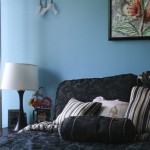 [signoff icon="home"]
If you or another student you know has a home you are proud of and willing to feature on The Connector, please contact Kristy Cho via email at akricho20@student.scad.edu. She is looking for all majors and types of housing, from apartments to even dorm rooms.[/signoff]