'Ladies' Night': Mammal Gallery hosts fantastic feminist fest
by :
The Connector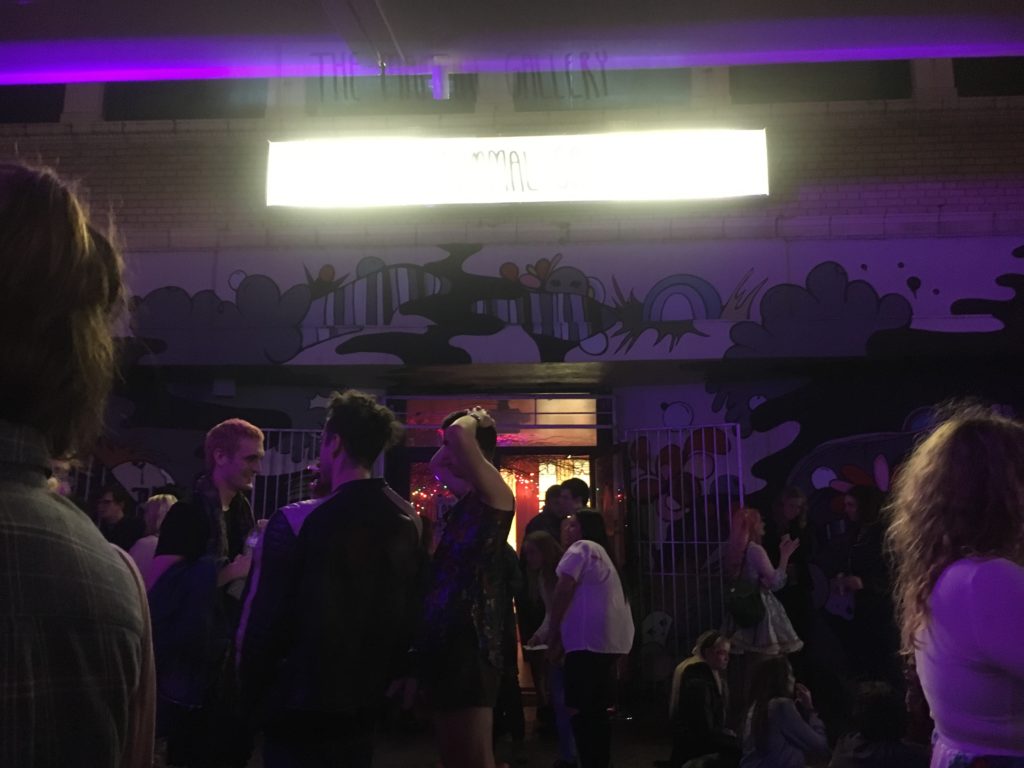 by Madeline Lenahan
I can't tell you how refreshing it is to see a man wearing a bra and makeup talking to a woman who isn't wearing either. Although Atlanta Ladies' Night features and promotes female-identifying and non-binary artists' work (hence the name), they invite and welcome everyone through their fairy light wreathed doors. A very cozy, comfortable little venue on Broad Street, Mammal Gallery was the perfect space to host this creative, utterly inclusive event. Massive, beautifully done graffiti consisted of dreamy smears of blue, purple and green color-changing neon lights. Shrouds of cigarette smoke decorated both the packed sidewalk outside the venue and the intimate interior.
The event, which showcases local musical and fine artists, had a Twin Peaks and wholesome memes themed dress code. There was handmade jewelry, idiosyncratic little paintings and secondhand clothes all available for sale. The public bathroom was gender neutral and surprisingly social. Everyone was polite and classy and completely willing to share their black tea flavored vaporizers — along with tales of how to acquire free tattoos. And this camaraderie wasn't just in the restroom. The dance floor and the street were crowded with people that, if they didn't arrive as friends, were at least acquainted by the end of the night.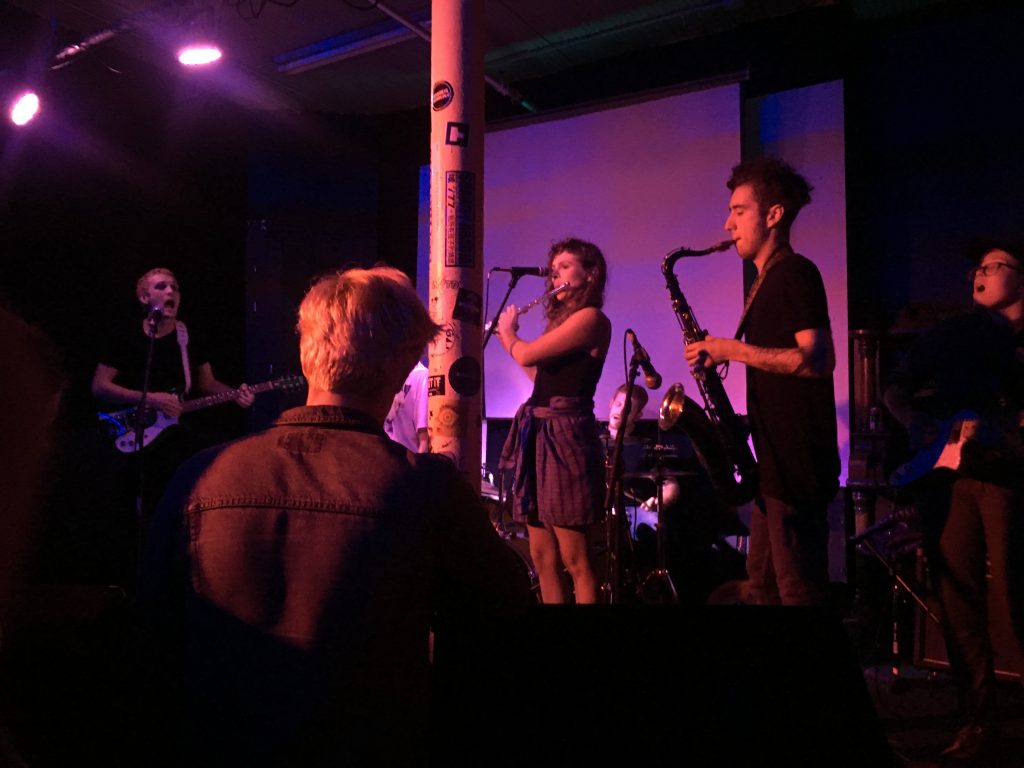 If you can imagine a small colony of grungy but expertly talented teenage artists living and laughing and working together, that's what Ladies' Night tastes like. Of all the lovely local musicians that performed, I have only glowing reviews for the three sets I witnessed. The heart-wrenching, heartbreaking, yet ultimately heart-healing cries of "Bitter" pull you in and spit you out and pull you back in all over again. The electronic experimentations of "DogLover420" make you want to get abducted by aliens that have a jazz lounge mothership. And "Loner"'s introspective liturgies will haunt you and heal you for the rest of your days.
Imagine the soundtrack for Bernie Sanders dancing in lingerie… These are the clever, contemporary, rap musings of "wildrach," which are both ultra-feminist and ultra-funny. After having a brief conversation with the namesake, Rachel, I learned why. She is absolutely sweet, hilarious, intelligent, and hyper-aware of her environment. Her music almost seems to satirize social media and sexual attitudes by swapping the gender roles of the traditional rap format. We chatted about the importance of inclusive spaces and educating young men on why it's unacceptable to use degrading language, among other things. I will definitely be listening to her Soundcloud on a regular basis, and I suggest you do, too!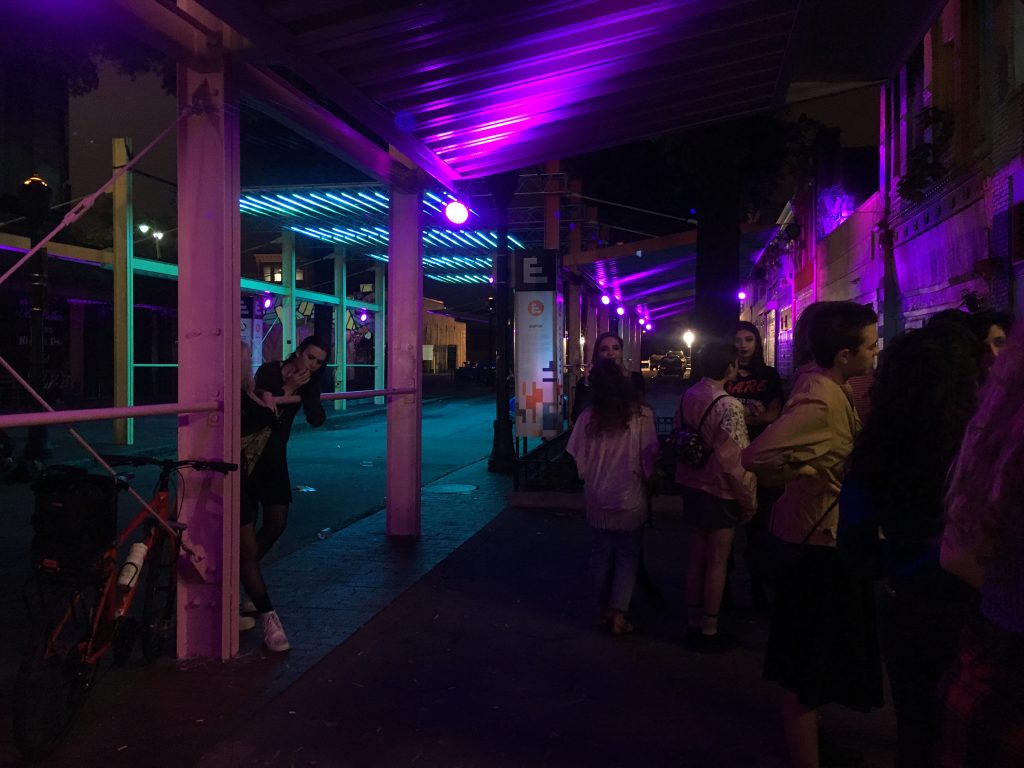 I must admit, I probably don't get out as much as I should. For this reason, I am truly and completely glad that my friends forced me to attend this show. I would highly recommend the event's future repetitions to any and all lovers of art and music. Beautiful, soul crushing and soul lifting music that will cut you to your core. The type of music that puts salt in your wounds and and cleans them. Ladies' Night made me stomp and dance and sing and cry until I didn't feel blisters or sweat anymore.
If a concert could be a hug and a kiss, tell you a sociopolitical bedtime story and tuck you safely into bed, Ladies' Night most certainly did. Check Facebook for updates from the creator, Brenna Hillby!