SCAD Atlanta Marksmen dominate art competition
by :
The Connector
By Masha Zhdanova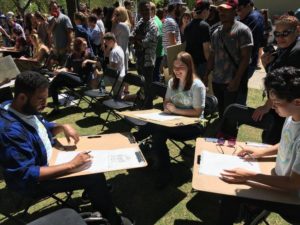 SCAD Atlanta's drawing club, The Marksmen, participated in the Atlanta Art Throwdown April 9, competing against students from Georgia State University and the Art Institute of Atlanta.
SCAD Atlanta students Ryan Imm, Rebecca Sawyer, Lydia Hancock, Craig Mack, Aaron Ware, Michael Murengezi, Kassidy Evans and Masha Zhdanova participated in the event.
The event brought student artists together and provided a live experience with visual art where friends, family and the larger community could get a closer look at the creative process. Students competed in categories such as live model drawing, poster design and plein air landscape drawing.
"The competition was interesting and enjoyable," said Evans, a first-year student majoring in animation. "It was also intriguing to see how the students from other art colleges create art."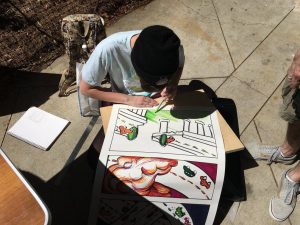 Murengezi, Ware and Zhdanova took first place in figure drawing, portrait drawing, and plein-aire landscape drawing respectively. Zhdanova and Hancock also placed second and third in portrait drawing, while Evans placed second in poster design, the theme for which was the collapse of the I-85 bridge.
SCAD Atlanta placed second overall in the competition.