SCADstyle: Learn about 'branding your creative business' with Dallas Shaw
by :
Molly Moran
Students flooded SCADshow to see Dallas Shaw at the latest SCADstyle event April 13. The turnout was so large, a venue change was needed to accommodate everyone.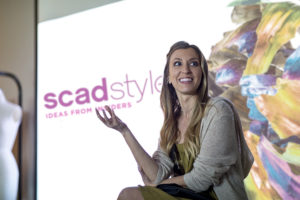 Dallas Shaw, an illustrator and author, spoke to students about her journey to find success and the path she took to brand herself authentically. The talk was led by SCAD professor Sarah Collins, and at the end of the event, Shaw opened it up to the students for a Q&A session. Following the talk, Shaw's new book, "The Way She Wears It," was on stands for students to buy and have signed by the author herself.  
Shaw has worked with notable brands like, Chanel, Oscar de la Renta, Kate Spade, Harper's Bazaar, Essie, Victoria's Secret, Marc Jacobs Beauty, Mercedes-Benz Fashion Week and Christian Louboutin. Although this lineup of incredible and iconic employers was enough to get excited about, learning about Shaw's career and the decisions she's made along the way was invaluable for SCAD students. 
Shaw started off as an illustrator for Disney, and was working there for two years before she realized what she was truly passionate about — fashion. Shaw expressed that when she decided to make the change to fashion, she did so by starting her own business and creating branded content that exuded her true self and aesthetic.
Shaw was told no more times than not by clients and employers. She stressed the importance of perseverance when things don't go the way we plan. "The difference between the artists who come out to be successful, and those who end up not successful, is sheer determination," Shaw said.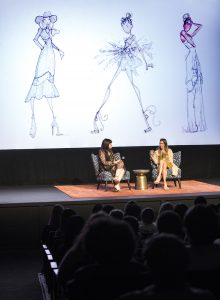 Most SCAD students are familiar with the heartbreak that comes with being told their art isn't going to cut it, and Shaw made a great point that, "talent isn't everything." Nowadays, it's more about what you can give to a client or employer that Shaw says will "position yourself apart from the other million people who share that same talent."
Our talents are what we cherish most about being creative, but taking into consideration what Shaw had to say could help any artist find their way into the industry they wish to be a part of. It's important to understand yourself as a brand before you apply for any job or internship, so you know how to sell yourself to the best of your ability, a sentiment reflected by Shaw during the event. 
"If you can find a way to pitch a project where you convince them it won't work without you, then you win," Shaw said. Essentially, you have to make employers and clients believe that without your expertise on hand, the concept won't work.

Aside from the exceptional advice she gave SCAD students, Shaw also expressed how she came to be such a well known persona through her brand. She spoke on the fact that she is a very visual person. "Visuals," as Shaw mentioned, "Inspire everything." Of course with any product or brand, content that isn't visual is very important, but if the visual aspect of it is missing, it can be a deal breaker in any situation. Visual mediums are much stronger than any other medium, "how you brand yourself is going to make or break your career." said Shaw. Her aesthetic is unique and can be recognized on any and all social media platforms.

Collins asked Shaw about her new book and how it all came about, and Shaw responded with the story behind the process of creating a published book and how her process was unconventional, to say the least. Shaw was lucky enough to know people in the industry who could make the book happen, but it was her decision to wait as long as she did before she went on to actually write a book. She put it off until she felt she had the resources and content to back up her decision.
Lastly, one of the best pieces of advice Shaw gave was about the work we make for our portfolios and personal brands. Instead of including just school projects and assignments that don't all match up or connect in the end, incorporate personal projects that add your own creative style. This way, when clients or employers want to hire you, they hire you for the aesthetic you present to them, and not the work you had to do for a grade.
Shaw has plenty more wisdom and insight to offer students, and said she can't wait to come back and visit us in the future.
For more information on Shaw, follow her on Instagram, Twitter, and Pinterest at @dallasshaw, and if you are interested you can buy her book, "The Way She Wears It," at your local book store.