Student Activities Council hosts annual Flower Power Ball
by :
Arundhati Prasad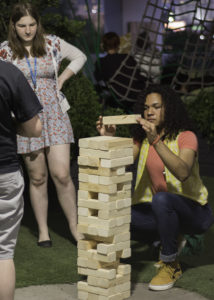 SCAD Atlanta students attended the Flower Power Ball celebrate Earth Day April 20 at SCADpad.
The event, organized by the Student Activities Council (SAC), is an annual spring program with music, games, activities and dancing. The Flower Power Ball, which usually takes place before midterms, was a good opportunity for students to unwind and enjoy themselves before a week of submissions and critiques.
Students socialized in the SCADpad facility as they participated in interesting games and helped themselves to food and snacks. Students played games such as giant Jenga and Twister, and created sculptures with marshmallow Peeps and recycled material. Prizes were awarded based on the creativity and originality of their Peeps-inspired sculpture. Dallas Kirkland, a third-year animation student, had the winning submission with her idea, 'Peeps with Peeps.'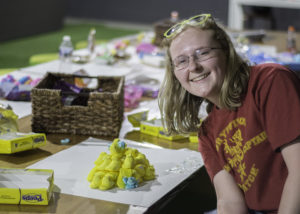 "This was fun and sticky, but I feel accomplished," said Kirkland.
SAC coordinator Ali Lavoie, and SERVE coordinator Natasha Chandel collaborated to come up with the activities at the Flower Power Ball.
"We wanted to tie into the Earth Day theme and making sculptures with recycled materials and Peeps just fit right in," said Lavoie.
The event ended with a raffle, which was won by second-year animation student Paulomi Mukherjee.