Take a look at the top three fashion trends for fall-winter 2017
by :
The Connector
by Alexandra Porter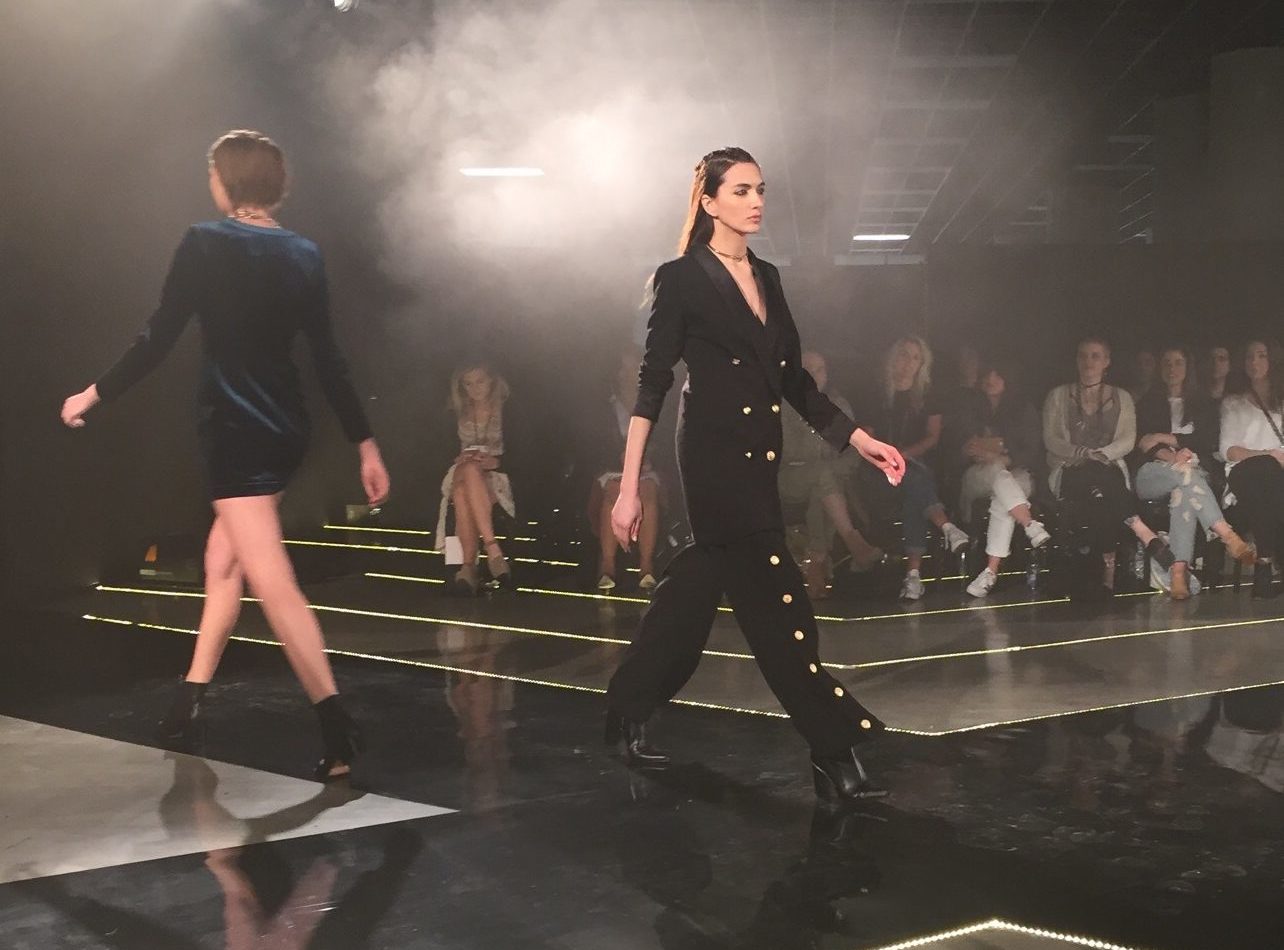 The 2017 Atlanta Apparel Market fashion show, hosted at AmericasMart on April 6, displayed three core trends of the upcoming fall-winter season. Each trend contained specific elements regarding emotional context, garment silhouette, texture and color. With an inside scoop from the front-row of this trade-only event, you can explore your fall look now. Will you be the "Wanderer," the "Socialite" or the "Boss?"
First down the catwalk was the "Wanderer." The envisioned woman of this trend loves to explore the world, thus her clothing reflects her ever-changing and cultured environment. She is expressive, yet comfortable, so she's always ready for an adventure. Her apparel needs to take her from transportation to the streets, and everywhere in between. Prevalent silhouettes include flowing embroidered jackets, layered knit tops, cropped and distressed denim pants, slim trousers, button-down shirts, pleated midi skirts, fur jackets and vests. Warm, saturated hues of red-orange, yellow, forest green and taupe are important to the "Wanderer." Fabrics rich in texture, color and contrast are also crucial to this trend, displayed in the form of knits, mix-and-match floral prints, distressed denim, fur and tartans. Western vibes are strong as fringe dominates the details. Block heels, booties and bowler hats accessorize the looks in an eclectic manner. In all, the "Wanderer" look is diverse and expressive, yet relaxed. The key to achieving the style rests in the mix of fabrics and textures.
Next to hit the catwalk was the "Socialite." The woman embodying this trend is glamorous, feminine and enjoys the spotlight. She wants statement-making pieces that showcase her bold personality as well as her appreciation for classic and chic design. These garments are perfect for events, parties or daily wear. This woman sees every day as an opportunity for a major fashion moment. Key silhouettes are lady-like wrap dresses, pencil skirts and mini dresses, as well as wide leg pants, cropped trousers and skinny pants. Flowing tops, floor-length jackets and fur outerwear are also essential to the "Socialite" trend. Colors include shades of pink, icy blue, plum, gray and black. The fabrics continue the feminine yet bold energy in lurex, velvet, fur, leather and silk. Prevalent details include pussy bows, metallic beading, fur, wrap belts and appliqué elements. There is an emphasis on the shoulders and arms, which translates into feathered shoulder accents and statement-making draped sleeves. The looks are accessorized with micro bags, delicate stilettos, platform heels and berets. Chic, feminine and radiant, the "Socialite" is always glamorous. To get this look, focus on classic silhouettes. Be sure to include luxurious elements like fur and, of course, a little bit of sparkle.
The final trend was the "Boss." This trend is for the woman who is confident, strong, stylish and isn't afraid to show it. From her career to her personal life, the "Boss" takes charge effortlessly while looking composed with personality. Her clothing can take her from the office to dinner in no time. The most prominent silhouette of this trend includes modern tailored pieces like the boxy blazer and slim, cropped or wide-leg trousers. Clean lines reign as blouses and pants are crisply cut. Fabrics include lurex, silk, fur and velvet. Consistent details throughout this trend include elements of tailoring like collars, paired with ruffled accents. Accessories like the stately bowler and cloche hats add interest. Altogether, the "Boss" is as equally in charge of her life as she is her look. To borrow from this trend, incorporate boxy tailoring along with fun accessories, like a micro bag or platform shoes, for a confident statement.
Whether you choose to mix textures and fabrics like the "Wanderer," show off classic lines and sparkle like the "Socialite," or don clean lines and tailoring like the "Boss," your fall/winter 2017 is sure to be bold and beautiful.