Queen of the catwalk Miss J brings fierceness to aTVfest
by :
The Connector
By Mackenzie Lachey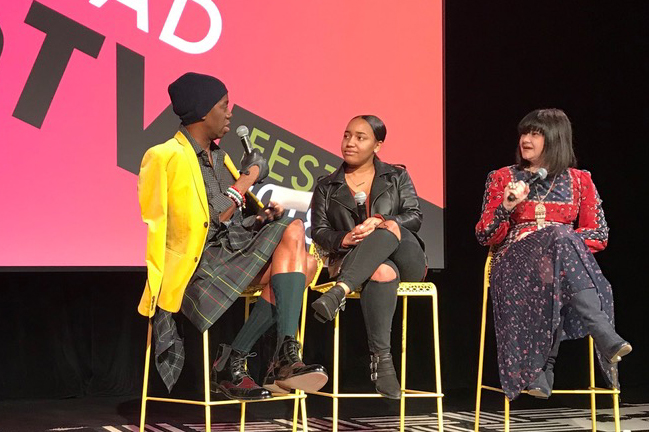 Miss J Alexander, best known for his larger-than-life personality and his work on the hit show "America's Next Top Model," brought all the fierceness he is famous for to SCAD Atlanta's aTVfest Feb. 1.
A jack of many trades and a long-time friend of SCAD, Alexander shared his experiences in fashion, reality television, and how to really walk the runway in an informal, comedic-driven discussion at SCAD Show. Not known to be one to mince words, Alexander shamelessly called out students in a light-hearted, impromptu Q&A session.
The runway coach, television personality, author and designer lived up to expectations with a grand entrance from stage left. Alexander strutted across the stage before finding a chair to place his extra-large Marc Jacobs bag. Alexander donned a classic, prep school vibe in a yellow velvet blazer, plaid skirt and knee high socks. He admitted to wearing head to toe Marc Jacobs, excluding his skirt which he purchased at a uniform store for Catholic schoolgirls.
Never caring for convention, Alexander surprised attendees by reading their previously submitted questions and calling them up on stage to talk with him. Alexander asked each student a little bit about herself before answering her question. From reenacting a girl crying on the runway to calling out a student whose phone rang during the presentation, he was never afraid to poke a little fun but all in good taste.
Despite his flashy outfits and being a well-known fashion personality, Alexander is surprisingly down to earth. "I lead a very simple life," he stated. "But an exciting one."
Alexander's bold, yet humble attitude probably stems from his modest beginnings growing up in a large family and trying to create things from hand-me-down clothes. Being forced to be creative with what he had was his first inspiration to enter the fashion industry, he said.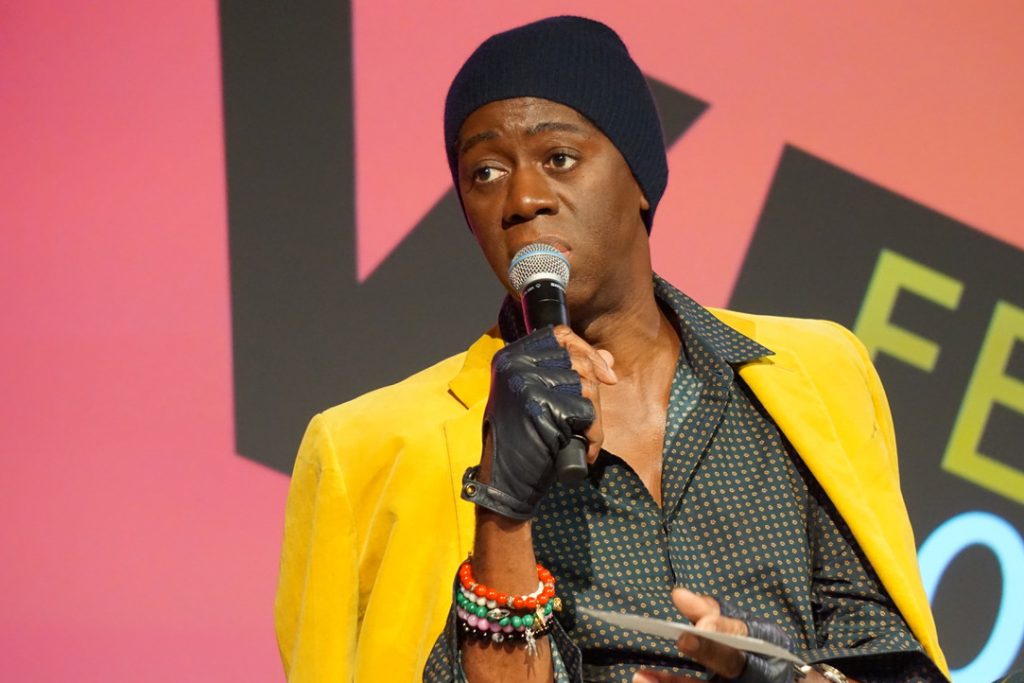 His favorite part of the industry is getting to meet and work with amazing people, and he has worked with many. From Tyra Banks to Naomi Campbell to Kendall Jenner, he has seen it all.
True to his role as coach extraordinaire, Alexander imparted some words of wisdom to attendees on how he had kept his confidence. "I didn't care one bit what anyone thought of me," he stated. "I just do me."
Second-year luxury and fashion management graduate student, LaTosha Hicks, said she appreciated the opportunity to hear advice from people in the industry. "We can get so bogged down by our work that we sometimes miss what may be going on outside [SCAD] in the industry," Hicks said, and also valued the experience that industry insiders can give students. "It's important to have people come in to inform us of what's going on and give us that connection to the industry directly."
Being familiar with Alexander from his work on America's Next Top Model, Hicks enjoyed seeing the queen of the catwalk in person. "I thought he was even more extra," she said, compared to his television personality.
Despite his flair for everything extra, Alexander expressed a need to find calmness. "We need to find peace and tranquility where we can find it," Alexander said. "'Cause, baby, it's fierce out there!"
Fierce it may be, but there is a secret to success and Alexander believes it comes with passion. "When you do something with passion," he said, "it changes everything."
Check back throughout the weekend for more coverage of aTVfest 2018.
For a full schedule of aTVfest panels and events, click here.