Athlete wins gold with no makeup on, and it's the most relatable moment of the Olympics 
by :
The Connector
By Mackenzie Lachey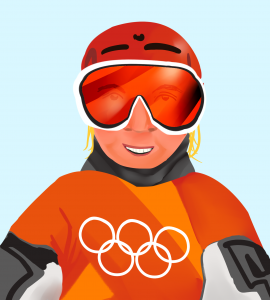 We have all been there — running out of the house looking like a total scrub because we just need to run a few quick errands. So naturally, this is the precise moment when we run into every single person we have ever met — the ex, our boss, that girl we haven't seen since high school. On these days it seems like the whole world is watching, but what if it really was?
Czech Olympic snowboarder and skier Ester Ledecka experienced a similar moment but on a global scale. Ledecka was the unexpected gold medal winner of the women's Super-G competition after ranking 43rd in the Alpine skiing event's World Cup. And it seemed no one was more surprised than Ledecka herself. She refused to take off her goggles during the subsequent press conference. Her reasoning: she wasn't wearing any makeup.
Ledecka beat defending Olympic medalist, Anna Veith, by only one-hundredth of a second, catching everyone off-guard. Ledecka admitted she herself wasn't prepared to be at the press conference for the medalists. She was not a medal favorite, rather she just wanted to be the first woman ever to compete in snowboarding and skiing in the same Olympics.
The moment may come across as ridiculous. Shouldn't an athlete's outstanding skill outshine her physical appearance? The Olympics aren't a beauty pageant after all. But maybe the issue runs deeper.
The term "lipstick effect" can be traced back to the Great Depression. The theory basically states that during times of economic hardship, cosmetics sales increase. Used more broadly, psychologists have used the term to study the way lipstick, or makeup in general, can give a morale boost in adverse situations. Studies have shown that women feel more confident when wearing makeup. Makeup has been shown to have direct correlations to feelings on self-esteem, personality and attitude. Put simply, when you look good, you feel good.
But in the age of the "no makeup" trend, Ledecka's refusal to be seen without makeup seems jarring. We've become accustomed to celebrities jumping on the authenticity bandwagon and posting #NoMakeup selfies on Instagram, brazenly standing up for all of us who would rather hide behind giant sunglasses than be seen sans mascara.
The "no makeup" movement began picking up speed soon after Alicia Keys announced she would no longer wear makeup. As a backlash to over-filtered and edited Instagram selfies, celebrities began posting pictures barefaced.
While celebrities use this trend as a way to curate authenticity, Ledecka's pro-makeup stance may be more relatable to the average American woman. In theory, celebrities' gallant attempt to banish unrealistic beauty standards are honorable. However, in reality, with their access to facials costing upwards of $1,000 and top-of-the-line injections, celebrities' au naturale looks are unlike the majority of people's makeup-less faces who simply can't afford these extensive treatments.
Luxury and fashion management graduate student Sammantha Johnson was completely empathetic to Ledecka's makeup mishap. "So relatable!" Johnson stated. "Hashtag mask on."
The Olympics is usually a time to showcase preternatural athletic abilities and has us at once marveling at incredible feats of talent and wondering why we are such a waste of space in comparison. Ledecka teaches us an important lesson — gold medals and incredible talents aside, Olympic athletes are, after all, like us.