SCAD Atlanta film club wants your unfinished films
by :
Caitlin Havens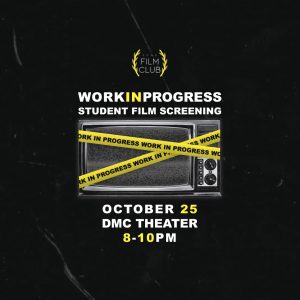 The SCAD Atlanta Film Club is looking for submissions for their "Work in Progress" student short film showcase. They are searching for films no longer than 15 minutes in content that should be unfinished, or in progress. If you want to submit your film, you may email them with a downloadable link at scadatlfilm@clubs.scad.edu. Your films must be submitted by the end of Wednesday, Oct. 24.
In addition, the club will also screen your film and other student's work at the Digital Media Center (DMC) theater on Thursday, Oct. 25 from 8-10 p.m. If you are interested in getting in touch or being involved with the club, there will be an informative meeting on Friday, Oct. 26 at 11 a.m. in room 436C.