SCAD graduate gives invaluable advice on work ethic, maintaining focus and pursuing the dream
by :
The Connector
by Adreon Patterson
Attending SCAD is a mixture of excitement and stress in the pursuit of a career in the arts. Everyone's journey has its twists and turns as childhood dreams become adult reality.
One such journey is that of story artist and character designer Federico Etchegaray who earned a bachelor of fine arts degree in animation in 2016. After learning and working in his native country of Uruguay, Etchegaray decided to pursue an animation career in the Untied States. Despite some cultural and linguistic barriers, he's made an excellent career as an artist here.
The Connector: Growing up in Uruguay, what was your experience with animation?
Etchegaray: Uruguay is a small and conservative country. Growing up there did have its set of drawbacks on my dreams of getting into animation. At a young age, most people around me didn't care for animation, films or even video games, so I couldn't help but feel different. I loved drawing, playing "Ocarina of Time" and watching "Pokémon" just as much as I liked football, so as a kid I constantly had to balance being an introvert and an extrovert. I'm grateful to the few friends and family members that shared similar passions. Even though I grew up with a balanced intake of animation and sports, I gradually stopped when I got to my teenage years — those dark years when you become less of an individual and more of a sheep. In short, I became more outgoing and let go of my reserved passions. I regrettably stopped drawing, watched fewer films and played fewer games. It wasn't until my late teen years that I thought about the future of those passions, and I got back on track on achieving those dreams.
However, a new set of problems showed up. People back home usually opted for more traditional careers closer to home. There wasn't a lot of options for a guy who wanted to work on animated films in Hollywood. There were no places to study animation since Uruguay was too tiny to have an animation or film industry. On top of that, there was a lack of respect for creatives and artists, which made it hard for young people to become one. So, for those very reasons, I didn't consider animation a possibility at first. I looked for other creative careers that might be more accepted in Uruguay. Graphic design came to mind as a more formal choice that aligned with the creative industries in Uruguay. Soon, I realized I wanted more, so I ventured into the bizarre idea of aiming for a career in animation that would combine my passion for drawing, storytelling and creativity into a neat package. Then I researched a bunch and found this pioneering tiny academy that taught animation called the Animation Campus. I went there for a couple of years before entering the U.S. to further my studies.
The Connector: What inspired you to pursue a career in animation?
Etchegaray: My early influences were the common examples of Disney movies and anime series. But my real fondness for animation started with Pixar when I was first exposed to the work of Brad Bird. "The Incredibles" showed me the potential that this medium had while "Ratatouille" spoke to me deeply with its inspirational story of a character who ventures away from his traditions to follow his passion and achieve his dream. Finally, my latest inspiration came when I was exposed to Miyazaki's work during school. I arrived late to the party and was blown away when I first saw Ghibli's films. He inspired me all throughout my schooling.
The Connector: What/who has influenced your technique and style?
Etchegaray: My style is influenced by talented artists from different mediums like Carter Goodrich, Nico Marlet, Shiyoon Kim, Al Hirschfeld, Mignola, Moebius, Toppi, Klimt and Schiele. I looked into various stylistic avenues such as animation, illustration, comics and even fine art paintings. In terms of my storyboarding, Hayao Miyazaki, Brad Bird, Andrew Stanton, Isao Takahata, Pete Docter, Satoshi Kon, Akira Kurosawa, P.T. Anderson, Francis Ford Coppola, David Fincher and Ridley Scott have influenced my narrative style.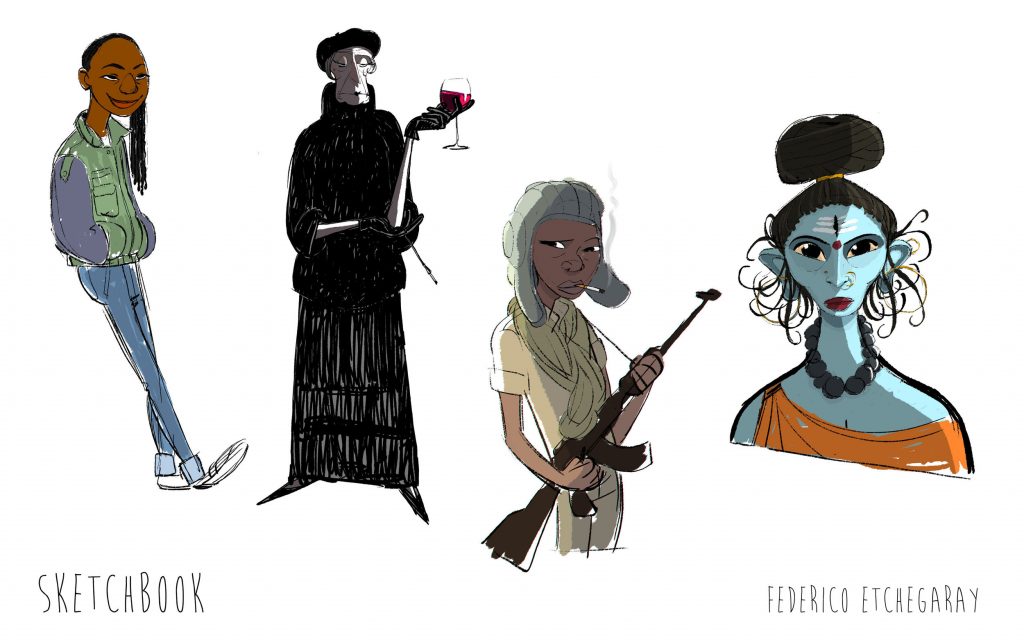 The Connector: What brought you to SCAD?
Etchegaray: I had short-listed the colleges that sponsored my dream to Cal Arts, SCAD, Ringling, Sheridan and RISD amongst others. As internationals, we don't get government help, so our options are either fully pay out-of-pocket or getting good scholarships. I worked on my portfolio for a couple of months and applied to the universities on the list. Most of them had no scholarships for international students, so I had to scrap those. Others were still too expensive even with scholarships that I was offered. SCAD gave me the highest scholarship, cutting the cost drastically without compromising on its solid animation department. After that, it had become a no-brainer to attend SCAD.
The Connector: How was the transition from Uruguay to the U.S. mentally, emotionally and culturally?
Etchegaray: Leaving everything you know and love and jumping into the unknown was both thrilling and extremely scary. The thrill of experiencing the "new" lasts a couple of months, maybe a year max. But then you start to feel the real punch of being far away from everything you know. In a way, it's the same feeling when you get back from vacation for a long time. You're exhausted and now ready to go back to your comfort zone back home. But the catch is you can't go back. You've got to stay and keep working hard on your dream.
Since Uruguay is far away from the U.S., I couldn't go visit often because of how expensive it is to go back. So usually, I could go back home once a year to visit. I have a big family, and I'm really close to them, so that made it even harder. Besides the things I missed, the transition was smoother than I thought it would be. Getting used to speaking English comfortably took a little while, but you eventually get used to it. In terms of culture, I was exposed to the U.S. culture at a very early age, so that transition wasn't hard at all. We're more similar than we think with some exceptions of course.
The Connector: Who has been your support while pursuing your dream in the U.S.?
Etchegaray:Without a doubt, my parents were my biggest supporters. Even though they knew little to nothing about animation, they believed in me and encouraged me to follow this crazy dream of mine. I owe everything to them.
The Connector: Having learned and worked on two continents, what differences have you noticed?
Etchegaray: In terms of education, the difference is huge since Uruguay has few experienced professionals to learn from. The U.S. has a legacy of being at the center of the entertainment world and thus has an incredible number of professionals with tons of experience in the film and TV industry. At SCAD, we had professors from DreamWorks and Disney that inspired us to do animation in the first place. So, it doesn't get any better than that. Back in Uruguay, I learned a lot about the technical aspects of animation but little about the artistic side, which is the side that interested me the most.
Working in Uruguay was also different than the U.S. In Uruguay, it is required that you be a generalist with a wide set of skills since you mainly work on advertising projects. In the U.S., it is expected of you to specialize in one area to best serve a big production like an animated film, which involves hundreds of specialists performing at a high level. Both have their strengths and weaknesses, but I enjoyed specializing more as it allows you to really focus on your craft.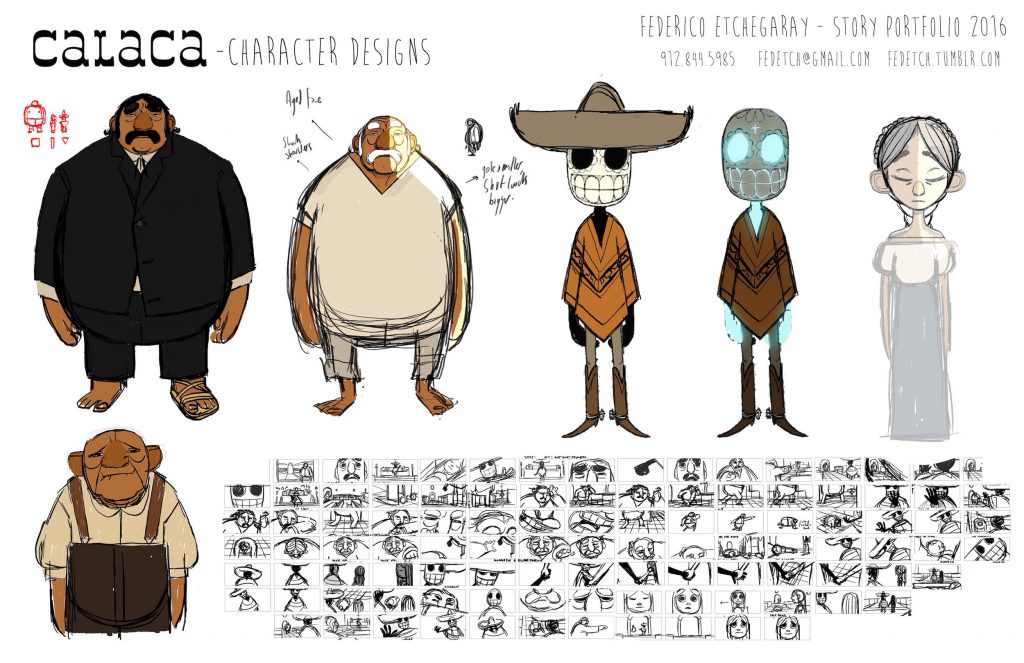 The Connector: What has your experience in the U.S. been like?
Etchegaray: I would say besides having to deal with immigration issues, my experience in the U.S. has been great. I spent four years in beautiful Savannah studying, having fun and meeting new people with the same passion I had. I came straight to Los Angeles to work in the animation industry where I met even more people from other schools. There were a lot of challenges in the way. Some are ongoing, like trying to get a work visa to stay for the long run, but I can confidently say it was all worth it.
The Connector: Name one positive and one negative about post-graduate life.
Etchegaray: Post-graduate life can be scary, especially in the beginning with all the pressure that comes with graduating and having to get a job ASAP. As an international, that pressure is felt even more since you don't have a home you can go back to. So, I would say that is one negative aspect that gives graduating students a lot of unnecessary stress and anxiety. Getting your first job takes time in this industry, so don't sweat it expecting to get something right away. Be patient and keep working on your stuff.
A positive aspect is getting to work in the industry on real-life assignments where you can apply the skills you've been practicing in school, but in a professional setting and getting paid for it.
The Connector: Being so multi-faceted in the animation field, what do you feel is your strong suit?
Etchegaray: I had a hard time deciding what to do, so I had to try a bunch of areas before I found the one I enjoyed doing. In the end, it wasn't only one for me, but two: character design and storyboarding. Those were the two areas I enjoyed the most and became the most proficient at while in school. But of the two, I would say storyboarding, since I still have so much to learn and grow to become proficient at it.
The Connector: Where do you see your career in the next decade?
Etchegaray: Right now, I'm trying to figure out if I'm going to be able to stay in the U.S. for the long run. But if that goes smoothly, then I would like to see myself storyboarding for feature animation films in the next decade. Hopefully someday I can be able to lead a project.
The Connector: What words of wisdom would like you to impart on soon-to-be SCAD graduates?
Etchegaray: No matter what you do in animation or any other major, I think focus is the key to success. I would advise anyone graduating right now to clearly show that area of focus in your work. Make your work shine so that you'll be eligible for a position doing that. I've seen a lot of graduating students still unclear about what they want to do. Studios will skim through your work because they won't see a commitment to a specific area and that will hurt you when trying to get a job. Making films is great, but when it comes to landing a job, the specific work in your portfolio will be far more valuable than the film.
Second to that is to not freak out if things don't go your way or if you don't get a job offer right out of school. That is normal and expected. Just don't stop working on your stuff. Keep growing and don't let your skills stagnate. So when you land that job, you are fresh and ready for action.
Etchegaray's story can be taken as a shining example of what true determination and work ethic can do for your post-graduate life. Despite his struggles, he is forging a place for himself in the animation industry.
To keep up with Etchegaray's work, visit his website fedetch.com and his Instagram @fedetch.