Louis Vuitton x Supreme collaboration: an enduring success or misread experiment?
by :
Anya Haber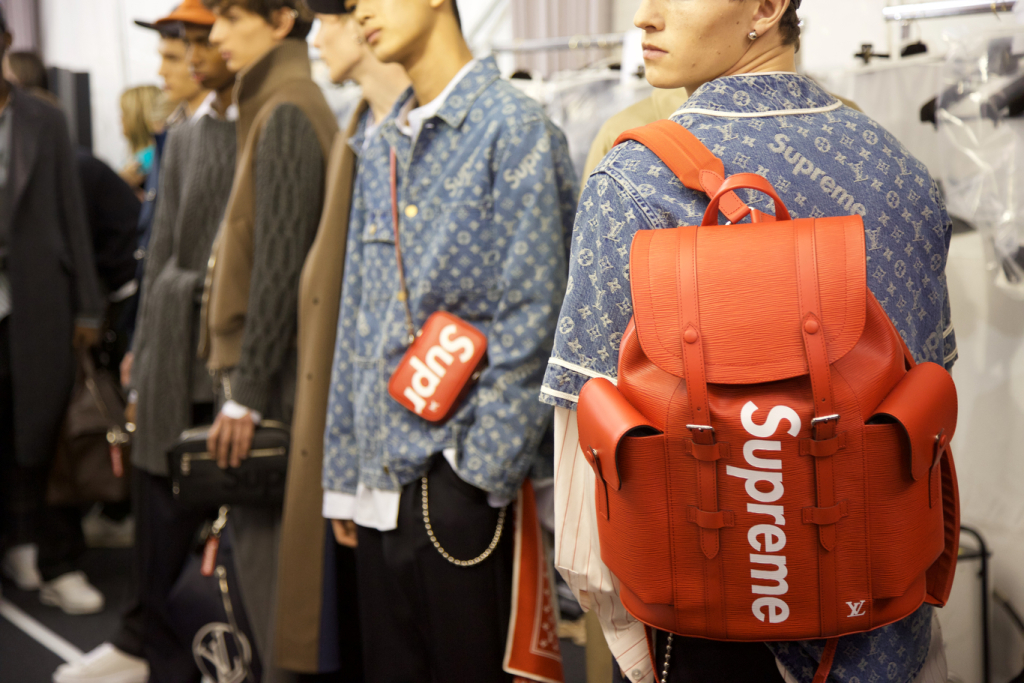 Written by Jodie Wong and Anya Haber
Back in January, Louis Vuitton unveiled its collaboration with cult streetwear brand, Supreme, after weeks of speculation.
Over a decade ago, no one would have seen this coming. In fact, in 2000, Louis Vuitton's lawyers sent Supreme a cease-and-desist for releasing a small collection covered in a motif suspiciously similar to the French luxury label's signature monogram pattern. While Supreme withdrew the offending products from stores and discontinued the manufacturing of the shirts, skateboards and hats with the iconic logo reproduction, customers who previously purchased the merchandise refused to comply to the recall, causing a huge spike in value on the resale market.
This time, it's Louis Vuitton's products that are bearing Supreme's red-and-white logo. The collaboration, revealed on the fall 2017 men's runway in Paris, features various items such as bags, shoes, sunglasses and skateboards.
Since news of the collaboration hit the media, it's drawn in mixed reviews. On the one hand, street culture has permeated the luxury market and vice versa, from Gucci's recent collaboration with street artist GucciGhost to the Marc Jacob's 2001 collaboration with Stephen Sprouse, the famed glamour-punk designer who initially assisted Andy Warhol, on a line of Louis Vuitton handbags. Supreme has also done very well on its own, calculatingly releasing limited batches of partial collections on a regular basis that sell out quickly. Many celebrities, from Kanye West to Lady Gaga, are also enamored with the streetwear brand, being photographed in their garments both at events and on the streets.
However, skeptics question the price point of the collaboration, which will be in the typical Louis Vuitton ultra-luxe range. One trunk from the collaboration, priced at an astounding $68,500, has already spawned articles criticizing the exorbitant cost, comparing the bag to a variety of expensive goods cheaper than the accessory. Others are critical of whether this particular blending of brands will be able to overcome the prices, noting that most collaborations between designers or stores, such as H&M's hotly anticipated annual collaboration with luxury brands, are at a lower price point than the higher-end label associated with the collaboration. While H&M's designer collaborations are more costly than the retail behemoth's traditional price range, it's still much lower than that of the design house, which in previous years has included an impressive roster of names like Maison Martin Margiela, Alexander Wang and Balmain. Eager shoppers camp out in front of the store in the days leading up to the yearly collaboration release, which traditionally sells out instantly. In fact, many business-savvy shoppers will buy the hottest pieces in a variety of sizes to sell them on the second-hand market with a high markup. Target has also had many successful collaborations with designers, like their 2011 Missoni collaboration that crashed Target's website.
In this case, many say Supreme fans won't be able to afford the collaboration line, whereas Louis Vuitton shoppers, like many high-end consumers, won't feel the same allure for a cheaper, lesser known streetwear brand. Paying a Louis Vuitton price tag for an accessory emblazoned in bold white letters with "Supreme" is much less valuable to Louis Vuitton's more mature clientele base.
Regardless, in true Supreme fashion, stock will be limited. The collection will release in multiple drops, rather than all at once. The first batch is set to become available to the public on Monday, July 17 at Louis Vuitton stores with the possibility of a few pop-up shops around the world.