Five reasons why the career fair experience is not for everyone
by :
Katie Miller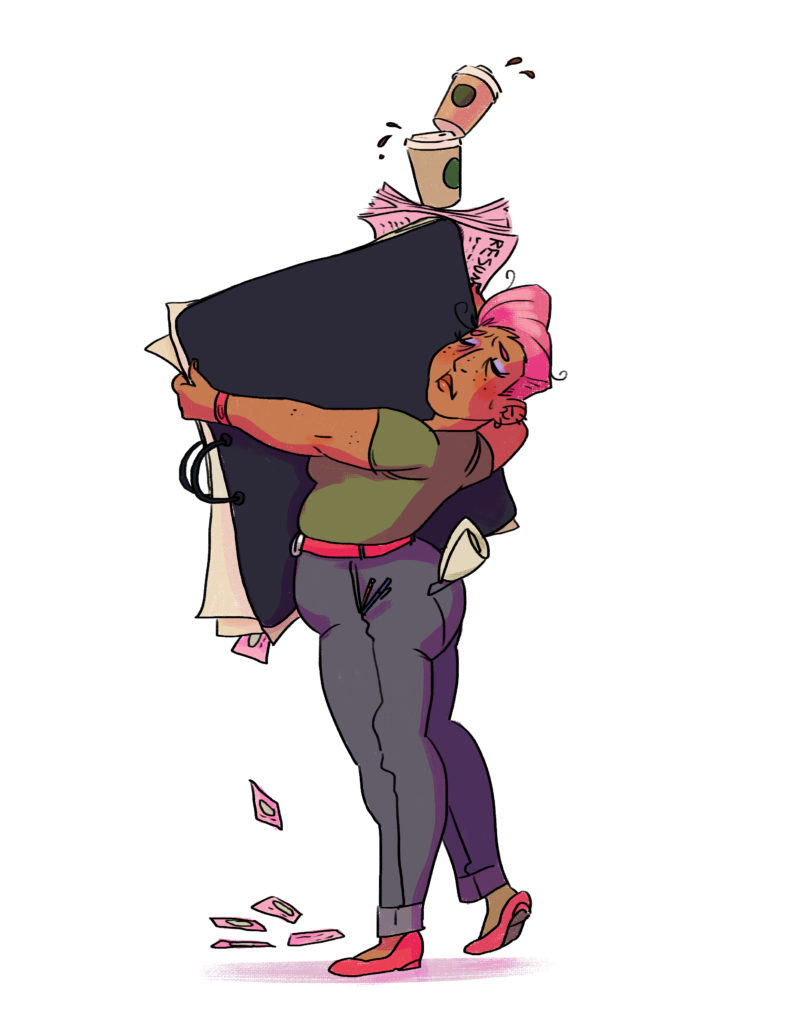 It's been pounded into our heads since our First Year Experience class the way we pounded clay or some other malleable material in 3-D design.  Advisors and professors ingrained in us the importance of business cards, leave behinds, portfolios and the elevator pitch.  It's sound advice everyone should take if they want to present themselves professionally to potential employers. Together it all seemed like a recipe for success that was sure to make us stand out come career fair day, our golden opportunity to connect with companies face-to-face and land a stellar job, one we'd be silly to pass up, right? That's what I thought, anyway.  I attended the SCAD career fair in the hopes of making some of those great connections and though I was prepared to talk to companies like Apple and Turner Broadcasting, I left each booth feeling like I had accomplished little. Turns out I just didn't benefit from what the experience had to offer.  And that's okay.
Here are five reasons why going to the career fair is not for everyone:
1. Your target company isn't represented
So the company you've dreamed about working for since freshmen year is not on the list.  It could be a good idea to talk to some recruiters from your second and third choice companies, because they may be able to offer you a similar position to the one you're seeking.  However, if your loyalty to your first choice prevents you from settling for second best and your confidence is beaming, skip the lines, go directly to the source and apply for your dream job.  You got this!
2. You don't thrive in the cattle call atmosphere
The five-minute pitch just doesn't work for you.  Talking about yourself, your work and your qualifications in a rushed fashion feels inauthentic, and the disorder that comes from making your way through a herd of desperate job seekers may be overwhelming.  If you think the chaos of career day will prevent you from presenting your best self, don't sweat it.  There will be plenty of opportunities in the future that will allow you to shine.
3. You have connections elsewhere
You're on top of things and have been forming great relationships with professionals in your field since day one.  You already have things lined up and squared away and you're happy with where you are and what you'll be doing after graduation.  Truthfully, there's not much you feel you can gain from participating in the career fair at this point. So just sit back, relax and bask in the promise of your secured employment on our behalf.  Because we all wish we could be you.
4. You still have learning to do
The career fair is in town and you've gained plenty of skill sets and your portfolio is solid, but you're not ready for the working world quite yet.  There are still a few things you want to learn, explore and do before looking for a full-time job.  Maybe the job you want most requires you to expand your knowledge by earning a graduate degree.  Or you could be one of those life learners ready to tackle higher education and certificates in other disciplines. Whatever the case, take all the time you need. Keep learning and growing.  Jobs will come in due time.
5. You want to be your own boss
Just the idea of a career fair does little to feed your entrepreneurial spirit.  Working for anyone but yourself seems stifling, like you'll be boxed in and confined to the ways, goals and mission statements of a company that may or may not complement your own.  You were born to do your own thing and going against that instinct feels like a great disservice to you and what you want to share with the world.  It might not be easy, but with a little determination, hard work and faith, freelancing, starting a small business or launching an innovative product is totally possible.
The SCAD career fair is a great opportunity that I believe all students should consider taking advantage of, but I also believe it's just one of many routes to success.  We are a diverse student body with different goals and aspirations, not all of which can be achieved through the recruiting process.  It can be a good place to start, but sometimes it's necessary for some of us to go against the grain to have the creative career we want most.