SCAD Atlanta graduate student designs gown made of napkins
by :
Molly Moran
Caroline Ruder, a fashion design graduate student at SCAD Atlanta, designed a formal gown made completely out of napkins for Georgia-Pacific's Susan G. Komen gala "Bubbles and Bling." The dress is made of more than 1,200 napkins, 100 sticks of hot glue and 500 pearl beads. The gown's base is fabric and Ruder glued on all of the materials herself.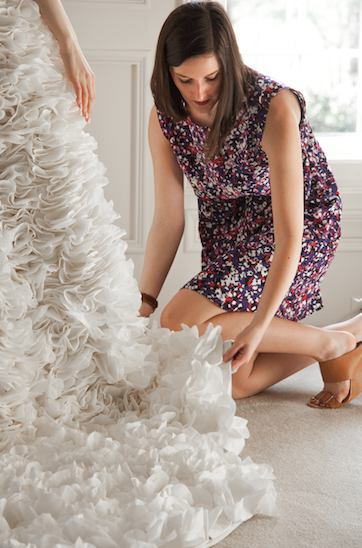 The Connector spoke with Ruder about her experience with Georgia-Pacific (GP) and her first freelance project.
The Connector: How did you find this opportunity?
Ruder: The job portal system sends out email blasts with certain postings that are on the job portal every now and then, so I first heard about the job from an email that was sent out. I thought the opportunity sounded interesting and I've always wanted to work with unconventional materials, so I jumped right on it and started coming up with ideas. When I saw the project brief, I knew this opportunity was just for me.
The Connector: What was the gist of the opportunity?
Ruder: This was a one-time freelance job with GP. GP wanted a dress made out of Vanity Fair Napkins (one of their products — GP is largely a paper commodities company) to walk the red carpet at a Susan G. Komen fundraising gala called "Bubbles and Bling." GP is a big sponsor of Susan G. Komen, and they wanted the dress to go along with this gala's theme for this year, which was Hollywood. At the gala, I actually spoke with a lady who suggested the idea of a dress made out of napkins. They wanted a cool and different method of marketing, and this lady watched a lot of Project Runway and was familiar with the unconventional materials challenge and thought it would be perfect. I agreed.
The Connector: What challenges were there in creating the dress?
Ruder: Oh gosh. So many. I honestly doubted if I was capable of creating this dress at all. Once I settled on my idea, I wasn't sure if I could actually create the shape of the dress I wanted. It has a big cut out and really deep v-neck, so the top needed to fit like a glove. I taught myself everything I know about sewing, so my skills were definitely put to the test. The time the dress demanded was insane. The whole project began and ended in less than a month, and I probably created the actual dress in a two week time span. I estimated that it took about 80 hours from the time I started sewing the dress to when I glued on the last napkin. Honestly, it was probably more than that. I didn't know how time consuming the bottom of the dress was going to be. Since the napkins cover a larger surface area on that portion of the dress compared to the top, I thought I would breeze through it. I was wrong. Each napkin had to be cut into a four-leaf clover shape and then folded, then glued to hold the shape, then glued onto the dress. Do that with about 1,000 napkins and the time adds up. That, on top of a full graduate course load, was a challenge for sure! At one point, I enlisted my parents to help me cut napkins to save time since it was starting to come down to the wire. Towards the end of the project I realized that the dress was getting really heavy. It looks light and airy, but it's not. So each time we transported it, we had a minimum of 3 people help move it. It really took on a life of its own.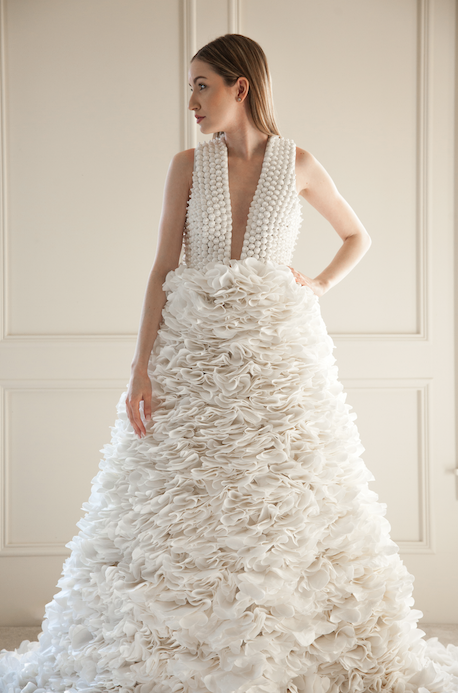 The Connector: How did this experience help you grow as a designer?
Ruder: This job helped me realize that I am capable of creating any garment I set my mind to. I'm pretty convinced that if I can make a dress out of napkins and not make it look like it's made of napkins, there's a lot that I'm capable of. SCAD has helped me dig into what my full potential is, and since this is my first year here, I'm really just discovering what that looks like. Since I'm originally self-taught, I've felt the need to prove myself and why I'm here. This project definitely made me feel validated. It was a fantastic experience working with a client. Communication throughout the experience was so important. I made sure to give GP frequent updates and let them know exactly what they could expect from me. They even invited me to the gala as a guest of the company, so at the party I got to talk with a lot of people who had questions about the dress and it was a great lesson in marketing myself.
The Connector: Describe the experience in three words and then give a brief description of the Gala, that you were a guest of honor at, and what your favorite part of the night was.
Ruder: I'd say this was a challenge of focus, endurance and resiliency. I think that when you have a lot of work to do, there's no use crying about how stressed you are. The time you spend crying is time that you could be using to work. A motto of mine that I've adopted since I came to SCAD is to be relentless in the pursuit of what you want. That means putting in the hours, having special attention to detail, and continuing even though you just burned yourself with the hot glue gun for the 50th time. The gala was great, like I mentioned the theme was Hollywood, so a lot of people there were dressed as famous movie characters. I was introduced to the CEO of GP who was dressed up as Indiana Jones that night. My favorite part of the evening, I guess, was just hearing the nice things that people had to say about the dress. At that point, I had looked at it so long that I wasn't able to see it with fresh eyes. I'm a big words of affirmation person, so to hear those compliments was really validating and was a nice icing on top of the project. GP also treated me fantastic throughout and they were a real pleasure to work with!
To see more of Ruder's work, visit her website here.