SCAD Atlanta students celebrate International Day
by :
Arundhati Prasad
SCAD Atlanta's fourth annual International Week culminated with International Day April 7 at the Digital Media Center.
Live music and refreshments added to the festive atmosphere where students from Persia, Saudi Arabia, South Africa, China, India, Nigeria and Indonesia set up booths to showcase their culture.
Student booths had various activities such as the traditional shrimp cracker game, where participants had to reach out to a cracker hanging by a thread with their arms held back. Organized by Indonesian students, the game was both fun to watch and play.
Attendees could also try on traditional cultural attire and accessories, including bindis from India, gele from South Africa and turbans from Saudi Arabia. There was also a fashion show, where students represented the unique style of their home countries.
ISSO Coordinator Peter May said he enjoyed the different activities.
"I learned to write my name in Chinese, and I can happily say that I can write at the level of a three year old," said May. "I also got a henna tattoo at the India table."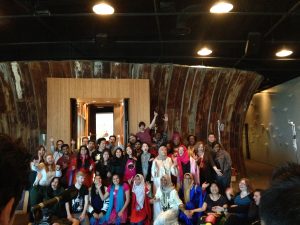 For Josh Riccio, an animation student, the event was a good opportunity to highlight the diversity at SCAD Atlanta.
"I have three roommates and they're all from different countries," said Riccio. "International Day is a nice way to celebrate their culture."
SCAD is home to students from 68 countries around the world, making it the most culturally diverse space in Atlanta.