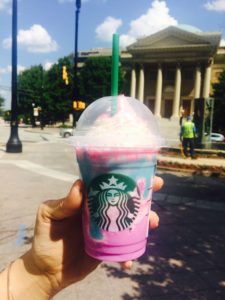 The Unicorn Frappuccino at Starbucks may have only been available for a short period of time, but it was the ultimate representation of the ever-growing unicorn trend that has been circulating for some time now. Makeup palettes, outfits, stationary, accessories, food and drinks have all been guilty of flaunting some kind of unicorn inspiration.
It's no surprise that Starbucks hopped on this trend, featuring this mango-mocha drink that lasted only one week. It seems most everyone tried it and didn't like it, but everyone wanted to jump on the bandwagon because it was 'unicorn.' But what is the deal with unicorns and why the sudden surge in popularity? Why is this mythical creature such a mascot for everything happy and utopian?
It turns out that a lot of the current obsession with unicorns goes back to our childhoods. While unicorns have been featured in folklore for hundreds of years, the unicorn became more current and socially prevalent after Lisa Frank's infamous school supplies were introduced in the 1990s. Amidst Lisa Frank's rainbows and glitter, unicorns became less of a grand mythical creature and more of a cutesy icon for young girls. Did you ever go to up to your dad and ask him for a pony? Did you ever draw a colorful unicorn with your Crayon set? Back then, everything seemed simple, soft and cuddly, and now all of that is just a memory. Perhaps this resurgence of unicorns is because people are drawn to this creature that evokes those emotions from childhood. Essentially, everyone is simply being nostalgic.
Since the rage of Lisa Frank's colorful, unicorn-plastered products in the 1990s, we have arrived in 2017 where everything unicorn is popular once again, though with a bit of an upgrade. It all seemed to start with the most popular dessert that almost everyone loves, cake. But in our world of plenty, why would the unicorn inspiration stop there? It soon went on to inspire more colorful creations, from rainbow bagels to purple hot chocolate and ice cream. Anything with a dollop of sprinkles and an excess of sugar became 'unicorn'. Soon it wasn't just food as even fashion has taken notice with designers like Marc Jacobs delivering unicorn clothing. The world began to mimic the trend everywhere, with unlimited unicorn-themed posts shared on a daily basis on Instagram and Pinterest.
The Starbucks drink was not the last of the unicorn trend. There will still likely be more pastel contraptions for years to come. As for now, the magic continues with a new mythical marvel. The Dragon Frappuccino is in select Starbucks now so for those who didn't catch the Unicorn Frappuccino, you can still relive some of that childhood magic.
Recently beauty gurus, makeup artists and the beauty industry in general have been captivated with a new look. A [...]