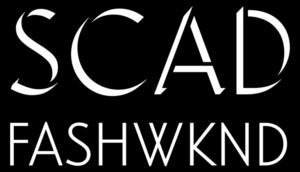 This is the first year of SCAD FASHWKND, a four-day event that showcases original designs from the finest senior and graduate collections at SCAD. The event will take place across both the Savannah and Atlanta campuses May 18-21 and participants will include students from Atlanta, Hong Kong and Savannah.
The event includes a runway show, a live exhibition and an exclusive opportunity to purchase select garments and accessories by SCAD fashion alumni.
SCAD Atlanta is set to host two important events as part of SCAD FASHWKND 2017. There will be a session with renowned American fashion photographer David LaChapelle on Saturday, May 20 at 3 p.m. at SCADshow. LaChapelle is best known for his fashion photography inspired by art history and social issues.
Sarah Collins, the SCAD Atlanta associate chair of fashion, feels that this type of event involves several departments from different locations and has many moving parts that complement to the annual fashion showcase in Savannah and Hong Kong.
"A great addition to this year's FASHWKND is the 'Etoile Award' presented here in Atlanta. Photographer David LaChapelle is the recipient this year, and I think it will be of interest to all students, especially those in photography, film, art history and of course, fashion," said Collins.
SCAD Atlanta's first fashion showcase will present on Sunday, May 21. Guests will be able to meet the designers after the show and purchase select garments from their collections. Student tickets for this exclusive event are available for $10 at SCAD Show.
For students who are interested in attending FASHWKND events, tickets are now available at SCADshow.
For more information on the event and schedules, click here.

by Logan Hughes SCADshow hosted a screening of Zac Posen's new documentary, "House of Z," [...]

It's finally getting chilly in Atlanta, and our wardrobes are showing it. The time has come to snuggle up in your [...]

Although it's important to grow as a photographer on your own, you can also make improvements by [...]