SCAD fashion student makes her debut at Vancouver Fashion Week
by :
Molly Moran
SCAD has always been known for its prestigious and well-rounded fashion program. With alumni found in magazines, runways, and various media, its safe to say the program exudes talent throughout the industry. Caroline Ruder, a fashion design graduate student, recently showed off her collection, titled "Shiny Things," at Vancouver Fashion Week (VFW). The invitation to show at VFW was definitely a nod to Ruder's talent and skill. Ruder took time to share her experience and talk about where she's headed now after such an incredible opportunity.
The Connector: First of all, congratulations on this amazing collection and showcase, it looks incredible.
Ruder: Thank you! It has been a whirlwind for sure. I'm still getting back into the swing of things with school and homework but am so grateful for the opportunity.
The Connector: How did this entire thing come up? What was the general timeline of events?
Ruder: The timeline for this was really crazy. I got invited to show towards the end of July when my family and I were at the beach, so I had about seven weeks to finish the collection and be ready to walk out the door and onto a plane on Sept. 18.
The Connector: That seems like such a short turnaround to create an entire collection.
Ruder: Well, the collection that I showed was one that I actually started in one of my studio classes from spring quarter, so I had work in progress, but it was far from finished. I had four looks completed at the time I received my invitation, and I was contracted to show 10 looks. I did another six looks in about four weeks. After that, I had to do a photoshoot, lookbook and give myself time to tie up other loose ends.
The Connector: Were you surprised by how many different moving parts there had to be, like the photoshoot and lookbook?
Ruder: Yes and no. My first priority was to finish the collection, all the rest was secondary but still very crucial to get done.
The Connector: Where did you come up with the name "Shiny Things"?
Ruder: I called my collection "Shiny Things" because it was all about taking random things from craft stores and turning them into embellishments with high visual impact. For example, I used gold cupcake holders to create a few different types of medallion embellishments and I even used a few different materials to create my own custom sequins.
The Connector: You can tell the embellishments on the garments are very detailed and delicate — what was your process for making those embellishments and what hardships did you encounter during the process?
Ruder: The process for making all the embellishments was really time consuming so that added pressure to the already tight timeline. But since I had a lot of the process work already done from class, I was able to revisit that and come up with the other six looks fairly quickly. Some of my ideas were pretty ambitious though. I'm the kind of person that if I have time left over on a project, then I don't feel like I did enough.
The Connector: How did you choose your photographer and other collaborative parts of this journey?
Ruder: It was really important for me to keep all of the elements of this project within the SCAD family. For the photoshoot I used a student photographer, alumna makeup artist and student models. I also had a friend of mine in luxury and fashion management help me design the lookbook. Another student created a custom track for me that I used as my runway music. I loved working with SCAD students because we have so much access to really great talent here and it was cool to make it a collaborative process. A big thank you to all involved for your help.
The Connector: Aside from all the work you had to put into this show, tell us more about how you got to Canada with all your designs and the experience you had in Vancouver. Did you have any free time to explore?
Ruder: My mom accompanied me to Vancouver and we flew out there with four 40 lb. bags. We packed up the entire collection and all the lookbooks in suitcases, lots of bubble wrap was involved. We had no choice but to book connecting flights, so I was really afraid of one of the bags getting lost. Luckily, all four bags arrived with no damage. That was definitely a blessing because a lot of the embellishments on the clothing were delicate.
Vancouver this time of year is cold. I definitely did not pack warm enough for the trip. Our hotel was close to the waterfront which overlooked these really beautiful mountains, so we spent a bunch of our free time down there. Each night we attended other fashion shows. We were actually seated in the front row each time so I got to see a bunch of other collections up close, which was really cool. They featured designers from all over the world, not just the United States and Canada.
The Connector: How did show day go for you? Was it nerve-racking? Did it run smoothly?
Ruder: My show day was so quick compared to all the time I spent actually working on the clothes. The team at VFW was super organized and ran a really tight ship. They were a pleasure to work with. I got to make all of my own decisions for model castings, hair and makeup, and even runway choreography. It really is true how designers talk about slaving over their collections for months all for a just few moments of payoff. I don't think my show was longer than 10 minutes. I stood backstage watching on a small TV screen and doing final adjustments to the looks and I couldn't believe how quickly it was over. Getting to walk the runway at the end and have people clap for my collection was a big highlight for me. My mom got to watch my show front row sitting next to one of the editors for GQ. That was pretty cool too.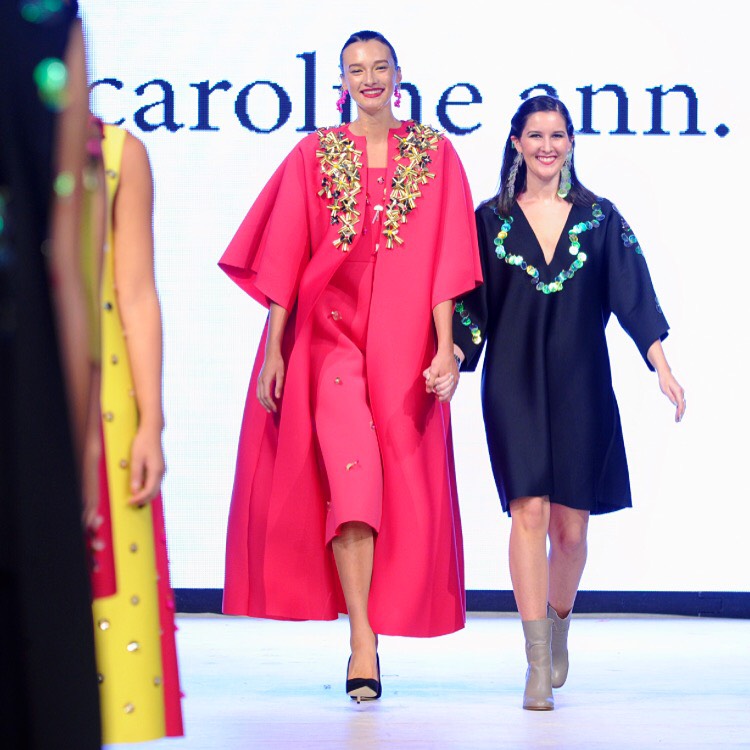 The Connector: What did you takeaway from this experience?
Ruder: The whole process starting from my invitation to show to the flight home and returning to school was a huge learning experience that I'm really grateful for. I think my biggest takeaway from the whole thing was seeing just how many hats you have to wear as a designer who is just starting out. You have to be your own creative director, CEO, PR representative, marketing director, accountant and strategist. Every little piece of the process required an opinion or decision from me, so I think to be successful in fashion design you have to recognize that every little step is an opportunity to represent your brand. Overall I still can't believe that I got the chance to show a collection at a fashion week. I literally taught myself how to sew three years ago, so it's crazy how quickly this has all happened! I would definitely recommend this experience to other designers, but be ready to work!
The Connector: Congratulations again on such an amazing collection!
If you're interested in seeing more of Ruder's work, check out Caroline Ann Designs on
Instagram
and
Facebook
, or visit her
website
.