Here are the highlights from the 2018 Winter Olympics
Team U.S.A. shines in Pyeongchang.
by :
Arundhati Prasad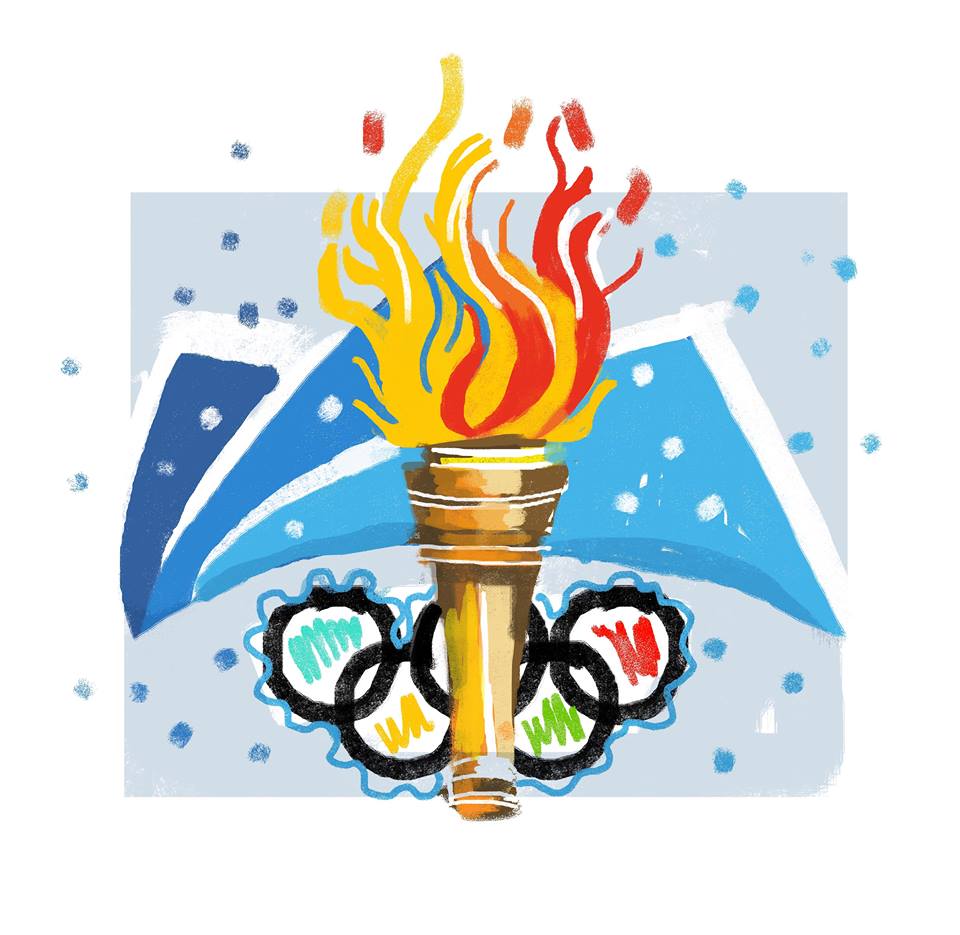 The 2018 Winter Olympics in Pyeongchang, South Korea came to an end Feb. 25. The games lasted two and a half weeks, and featured some of the most exciting performances in history.
SCAD Atlanta students expressed admiration for the Winter Olympics, from the opening ceremony to the gold medal winners to the closing ceremony.
The opening ceremony on Feb. 9 was a spectacular showcase of Korean culture, heritage and technology. The story of the Olympic mascot, Soohorang, was told through projection videos and sound. "I loved the theatrical elements, the graphic artistry, the music, the technology and history all coming together," said Samuel Landis, a fourth-year branded entertainment student who has always been inspired by the Olympic opening ceremonies growing up.
"I enjoyed watching all the events and was impressed with the number of young adults who won medals," said Natasha Chandel, a third year animation major. "Overall, I had the chance to see athletes from different countries showcase their various strengths, which made it an enjoyable Olympics."
Lynn Maarouf, an international third-year graphic design student, said she thinks the Olympics are a good opportunity for different countries and cultures to interact. "I think the Olympics are a good way for friends or family to get together and watch," said Maarouf. "It's a good world event because it has a variety of different games. It has something for everyone."
The closing ceremony was also a beautiful presentation of color, unity and nationalism. The Olympic flag was taken down as the mayor of Pyeongchang handed it to Thomas Bach, President of the International Olympic Committee, who passed it on to the mayor of Beijing for the 2022 Winter Olympics. The ceremony ended with K-Pop playing as the Olympic flame was extinguished.
Here are some highlights from United States athletes and Team U.S.A. at the games.
Red Gerard wins first gold for the U.S.
17-year-old snowboarder Red Gerard won Team U.S.A. their first gold medal at the games.
Chloe Kim wows crowd during halfpipe run.
Chloe Kim won gold with a near-perfect score for Team U.S.A. in women's snowboarding halfpipe.
Shaun White wins 100th Winter Olympic gold medal.
Shaun White won the men's halfpipe becoming the first snowboarder ever to become a three-time Olympic champion.
"I really enjoyed watching Shaun White win the gold medal. His reaction was priceless, and he's such an incredible athlete to watch compete in the sport he loves," said Taylor Swan, a second-year fashion design student.
Mirai Nagasu lands a triple axel in figure skating.
Nigasu landed a triple axel in the figure skating team event and won a bronze medal for Team U.S.A.
Kikkan Randal and Jessie Diggins make a memorable run.
The first U.S women to ever win a cross-country skiing medal are also the first U.S. athletes to ever win a gold in cross-country.
Siblings bag a bronze in figure skating.
Maya and Alex Shibutani delivered an emotional performance to Coldplay's "Paradise" and won a bronze medal. "I really liked ice skating this year," said second-year graphic design student Gracen Barett. "The competition was stiff and everybody brought their 'A' game. My favorite pair was the U.S.A. brother/sister couple Alex and Maia Shibutani. They ended with the bronze medal, which is a huge step up for them considering that they got 9th place at Sochi."
Women's Hockey team beats Canada.
Team U.S.A.'s women's hockey team beat Canada three to two for the Olympic gold. This was their first gold medal in the event in 20 years.
18-year-old makes Olympic history.
Nathan Chen made Olympic history with a free skate that featured six quadruple jumps.
Team U.S.A. won a total of 23 medals: nine gold, eight silver and six bronze. Norway led the medal tally with a total of 39 medals: 14 gold, 14 silver and 11 bronze.