Hypnotist Tom Deluca visits SCADshow
by :
Caitlin Havens
On Monday, Sept. 10, hypnotist Tom Deluca stole the stage at Atlanta's SCADshow. Deluca has a long history with SCAD and has performed at the start of each academic year. He's known for performing at corporate events and colleges with the intent of bringing a creative and fun environment into the room.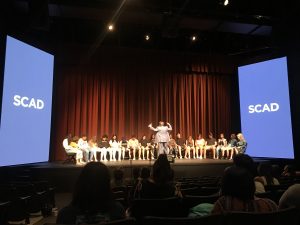 There was not much of a crowd when first walking into the theater. However, once the volunteers were up on the stage and coerced into a sleep, seats began to fill up quick. Along with gaining a larger crowd, the energy also started to pick up. Deluca had an odd tactic where he would speak some things into the microphone, then take the microphone away from his mouth. This made it difficult for the audience to hear everything he was saying to the students on stage, which also created a feeling of tension.
The show was two hours long, but could have easily been an hour. Deluca's process consisted of many repetitive statements and dragging comical bits longer than needed. Once the students on stage became active in the hypnosis, things started to pick up again. The moments of excitement only lasted for about five minutes, then Deluca would start his process over again for a new bit of the show.
The most redeeming part of the first half had nothing to do with Deluca. It was clear that one student on the stage was not affected by Deluca's attempt at hypnosis. While she went along with everything he said, she seemed to make a weak attempt at it and could not contain her laughter. She got away with her act for a good amount of time, but Deluca took notice and sent her off the stage.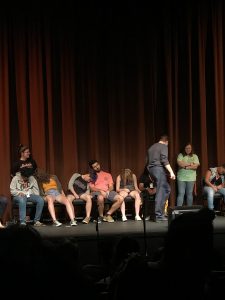 Many of Deluca's hypnotic skits were very common. The more creative and interactive bits were what pulled the audience in and had the potential to give a sense of wonder. One part that stuck out the most to me was when two students were told to do something out of the ordinary when Deluca said a specific word, cleared his throat or clapped his hands. The actions ranged anywhere from giving someone a nasty look to getting up and doing a cheer for the school.
The energy throughout the room was bumpy as there were moments of laughter and a few minutes later, the room just felt awkward for no reason. If a student seemed to have faded out from their trance, Deluca would point to them and four different volunteers on the stage would have the job of waking them up and sending them back to their seat in the audience.
Overall, Deluca put on a good show. It was clear many students did not believe the volunteers were actually under a hypnotic spell, however, there were a few who did believe. No matter their stance, it's safe to say that everyone in the room had a good time.
If you have never seen a show like this, it's fun and you won't regret going. If you are a skeptic, maybe volunteer and see if stage hypnosis is an actual thing that works. Or, sit back, relax and watch your friends make themselves look insane.