"Ghost": A tale of family, friendship and the unknown
by :
The Connector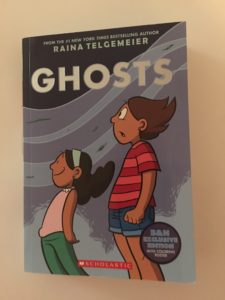 by Masha Zhadnova

Award-winning graphic novelist Raina Telgemeier has done it again with her newest book "Ghosts" published by GRAPHIX on September 13. The story follows two sisters, Maya and Cat, and their family's move to the foggy town of Bahia de la Luna, California. Maya has cystic fibrosis, a hereditary disease that affects the lungs, and the sea air is supposed to help her breathe. They soon learn there's something special about the town— it's full of ghosts.
The ghosts are mostly the spirits of Spanish settlers of the town from hundreds of years ago, but also family and loved ones of current residents. The two girls befriend a boy named Carlos who gives "ghost tours" to visitors, and a girl in Cat's class who talked to "the cutest boy at Dia de los Muertos last year…too bad he died a hundred years ago!"  Cat, the older sister, is protective and worried about Maya's illness and suspicious of the ghosts in Bahia de la Luna. Maya, on the other hand, is excited to talk, make friends with the ghosts and learn what happens after she dies. Cystic fibrosis means Maya is confined to life indoors, undergoes many medical procedures, and the uncertainty of her future. "Ghosts" examines how she and Cat react to their new environment and Maya's illness.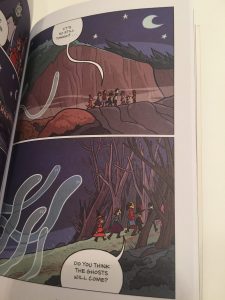 The artwork in "Ghosts" is beautiful and perfectly suited for its subject matter. Telgemeier illustrates the novel with lush Northern California landscapes and Mexican cultural influences. The bright colors of the Dia de los Muertos celebration at the end of the novel contrast with the foggy ghost town beautifully. The character designs are lively and appealing, particularly the ghosts, although skeletal, are charming and benevolent.
"Ghosts" is Telgemeier at her best. Her talent at depicting sensitive themes for young readers is at its peak. The novel explores mortality, fear and cultural identity in a way that's at once delicate and easy to understand. Telgemeier's knack for dramatic pacing is particularly evident in this novel, with cheerful and sad moments alternating at every turn. It's clear that though this story is fictional, it came from a very personal place— and that makes it ring true. The moment I finished reading it, I immediately wanted to dive back in and return to the world of "Ghosts."