Art-lanta Weekly: the inside scoop on everything arts and entertainment
by :
Molly Morris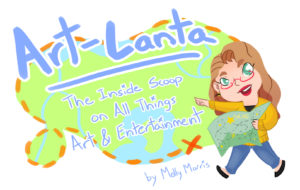 Saturday, Oct. 1, 12:30 p.m. – 3:30 p.m.
Piedmont Park
400 Park Drive Northeast
Imagine Running with the Bulls, but with the Atlanta's (fierce) Rollergirls. This Piedmont Park fun run features the Atlanta Rollergirls as they chase/encourage you with wiffle ball bats while the Wasted Potential Brass Band provides live entertainment. The fun continues with an after party at The Nook!
UK ROCKS! An 'Across The Pond' Spectacular
Friday, Sept. 30 – Oct. 1
Atlanta Symphony Hall
at Woodruff Arts Center
Led by Principal POPS Conductor Michael Krajewski, the orchestra will bring to life the best of British Rock with guest vocalists Storm Large and Shem von Schroeck performing music from Queen, The Who and The Rolling Stones, as well as today's imports Coldplay, Adele and more.
Friday, Sept. 30
Georgia Freight Depot
65 Martin Luther King Jr. Drive
(Formerly the Atlanta Cheese Festival) The Cheese Fest is a unique event that gives guests rare access to a variety of cheese producers from all around the world. Sample cheese, meet producers and purchase your favorite products all while sipping your favorite craft brew or wine.
Out on Film : Atlanta's LBGT Film Festival
Thursday, Sept. 29-Oct. 6
Landmark Midtown Art Cinema
931 Monroe Drive NE
Join Out on Film – Atlanta's LGBT film festival – for an 8-day cinematic journey of our lives, culture and identity. Check out their website for more information about the Out On Film Festival's films, locations and events.
Saturday, Oct. 1-2
Sweet Auburn
145 Auburn Avenue
Are you looking for a day with Fun Filled Entertainment, Live Music, Great Food, National Artists and Celebrities – for FREE?! The Sweet Auburn Music Fest is what you've been waiting for. Witness one of the most amazing music festivals to hit Atlanta and the Southeast. If you're looking for a perfect blend of music, people, food and culture, welcome home. From upcoming hip hop acts, to timeless R&B legends, to rap Icons, to alternative greats. They have it all. Sweet Auburn Music Fest is a family gathering of food, fun and music. Enjoy the food trucks, art expo and a variety for all those who attend. No other upcoming shows or music festivals in Atlanta compare to the experience you will have.
The Illusionists at The Fox Theatre
Wednesday, Sept. 27-Oct. 2
The Fox Theatre
660 Peachtree Street NE
This mind-blowing spectacular showcases the jaw dropping talents of seven of the most incredible illusionists on Earth. THE ILLUSIONISTS – has shattered box office records across the globe and dazzles audiences of all ages with a powerful mix of the most outrageous and astonishing acts ever to be seen on stage. This non-stop show is packed with thrilling and sophisticated magic of unprecedented proportions.
Audiences will witness stunning acts of grand illusion, levitation, mind-reading and disappearance. This group of world-class performers take their cue from the showmanship of the great illusionists of the past, such as Harry Houdini, and pair it with a new and updated contemporary aesthetic, whose set and costume design lend the genre a theatricality and artistry that has rarely been seen before.
Charlie Puth Don't Talk Tour with guest star Joel Adams at The Tabernacle
Saturday, Oct. 1, 7:30 p.m.
The Tabernacle
152 Luckie Street NW
Atlantic recording artist Charlie Puth made an incredible chart debut with his first solo album, "Nine Track Mind." The album – which includes worldwide hit singles "One Call Away" and the RIAA Platinum certified "Marvin Gaye (Feat. Meghan Trainor)" – arrived at No. 5 on Billboard's Top Current Albums chart.
Through Oct. 30
The Atlanta Botanical Gardens
1345 Piedmont Avenue
Internationally acclaimed artist, Dale Chihuly, returns to the Garden for an encore exhibition of his spectacular works of art, presented in a setting that has doubled in size since his blockbuster show here in 2004.
Chihuly in the Garden includes 19 installation sites all set amongst the garden's natural beauty. The kaleidoscopic colors of the art for which the artist has become so famous may also be experienced in a different light – at night when the garden offers extended hours. Explore the exhibition during Chihuly Nights in the evenings from Wednesday – Sunday. During October, Chihuly Nights will now be open on Tuesdays.
The Fourth Phase Collegiate Screening
Sunday, Oct. 2, 9 p.m.
The Garage Atlanta
848 Spring Street
In the highly anticipated film, "The Fourth Phase," professional snowboarder Travis Rice undertakes a 15,000 mile mission following the Hydrological cycle around the north pacific rim, discovering more than new terrain.