Visit Atlanta's most "purrfect" cat cafe
by :
Paulomi Mukherjee
Imagine sipping on a freshly brewed cup of coffee with a cat snuggling in your lap, while you watch other cats of all shapes and sizes playing around you. The air is filled with sounds from happy conversations, the tune of a song about cats playing overhead, and the occasional meows from your new furry friends who are just waiting to find a new home.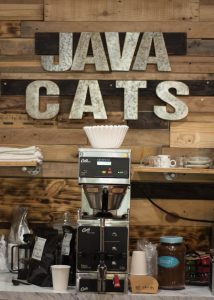 Where are you? You're at Java Cats Cafe, Atlanta's newest coffee shop that's unlike any other in Georgia. The cafe, which officially opened at the end of March, not only serves a variety of coffee, tea and treats, but also doubles as an adoption center for cats. Divided into two rooms, one side functions as a traditional coffee shop and the other side is the "cat room," which hosts up to 20 cats available for adoption through PAWS Atlanta, a no-kill shelter and rescue.
The cafe also partners with Gathering Industries, who provide the cafe with pre-packaged food. Gathering Industries is an organization that works with homeless individuals and trains them in the culinary field to help make them employable.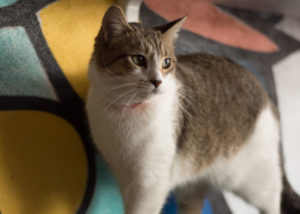 Behind the idea of Java Cats is 25-year-old owner and founder, Hadyn Hilton, who dropped out of college to make her dream of opening Java Cats a reality. Hilton spoke to The Connector about the idea behind Java Cats, the history and process in starting the business, and her hopes for the future.
"Java Cats is Georgia's first cat cafe and it's the third in the South," said Hilton. "The goal of the cafe is to put adoptable cats in a more exposed environment to get them adopted."
Hilton first found inspiration for Java Cats more than a year ago during a film class. "I was studying the phenomenon of cat videos on YouTube and found out there were people doing cat cafes," said Hilton. "I just attached to it and started looking into it and now over a year later, here we are."
For Hilton, the experience was quite challenging, as many people did not understand the concept. "There were no black-and-white rules about how to go about opening a cat cafe," said Hilton. "I had to talk to many different departments and many different people until I finally found a department that would work with me."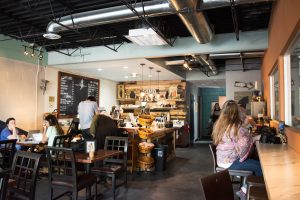 Hilton's persistence and hard work paid off, and JavaCats has already become a popular hotspot in the few weeks since its opening and has celebrated more than 16 cat adoptions. Hilton said she hopes that every visitor to Java Cats has a positive experience because for her, that's the most important thing.
"I want people to come in not just expecting a gimmicky cat cafe but a really warm and friendly coffee shop," said Hilton. "The cats are definitely an element that's unique and cool, but I want the service here to be exceptional and blow people away. I want this to be a feel-good place, I want people to come in here and feel good about where their money is going."
If you love coffee and if you love cats, be sure to visit Java Cats for some quality coffee, a fun evening with cute kittens and the opportunity to connect with a good cause in the community.
Hi! I'm an Animation student at the Savannah College of Art and Design. I write for the SCAD Connector as features editor! Writing, like drawing has always been a passion of mine. It helps me vocalise things that are otherwise harder to say or share. Feel free to reach out to me through Facebook or Email if there is something you want to share or think needs to be said on The SCAD Connector!