Meet Samantha Ross, a visually impaired artist
by :
Mikael Trench
by Ivy Bufford
Creating art is difficult enough on its own but for those with disabilities, it can seem downright impossible. However, with technology becoming more and more advanced, it is becoming easier for people to create what they want no matter what walk of life they come from. Atlanta native Samantha Ross is one of these people. As a mentor at the Center for the Visually Impaired and a stay-at-home mother, it may seem hard for her to go about making art. But, with the help of technology and some determination, she has defied the odds.
The Connector: Tell us a little about yourself.
Ross: I'm a stay-at-home mom because I can't see very well. I was born with albinism. For a while I've always wanted kids. I'm enjoying the whole stay-at-home mom thing, but I needed a hobby because the whole stay-at-home mom thing gets a bit isolating. One day, my husband suggested that I get an iPad and start drawing. My mom is a watercolor artist. She's working on publishing her own coloring book.
The Connector: When exactly did you start creating digital art?
Ross: Well, I've always wanted to draw. I did when I was in high school, but my vision just wasn't good enough to do it on paper. I couldn't zoom to make things more accurate.
The Connector: Would you agree that technology has helped improve your art and artistic process?
Ross: I can definitely work more effectively. I've done a lot of improving once I moved from paper to a digital workspace. It's been a good stress reliever. I plan on doing a web comic. It's a mystical series involving jackalopes and mushrooms.
The Connector: How do you see yourself in your art?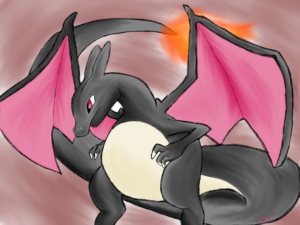 Ross: The thing with the jackalopes is that my mother and I raised rabbits. And I've always loved the mythology of the jackalopes. It's very unique and believable. I'm the unique one in the family. My husband calls me a shiny human because I have albinism. So I love jackalopes because they're normal enough but they're still unique.
The Connector: What words of advice would you share with others in similar circumstances?
Ross: I say don't give up, because for years I thought I wasn't ever going to be able to do it. It's been very liberating for me. You can find something to express your creativity. There's so much technology out there. Just look around and dabble around and find out what you're good at or comfortable with and what you like doing.