What the new tax plan means for students
by :
Allison Bolt
The House of Representatives has crafted and passed a new tax plan that they are attempting transform into law. The House of Representatives passed the "Tax Cut and Jobs Act" in November, which will ultimately affect the future of our education and possibly end our hopes of attending graduate school.
Personally, I have always wanted to obtain a doctorate degree. While at SCAD, I have been studying hard, completing projects on time and doing everything in my power to get accepted into grad school once I graduate. Graduate programs, including doctorate programs, normally give students waivers for the high price of tuition. Grad students often work for the school, typically in the form of a teacher's assistant, in exchange for a stipend. For most people, this is the only way to afford grad school. If I worked hard enough to get into a school that waived my tuition and gave me a stipend for my work, I could pursue my lifelong dream of receiving a doctorate degree.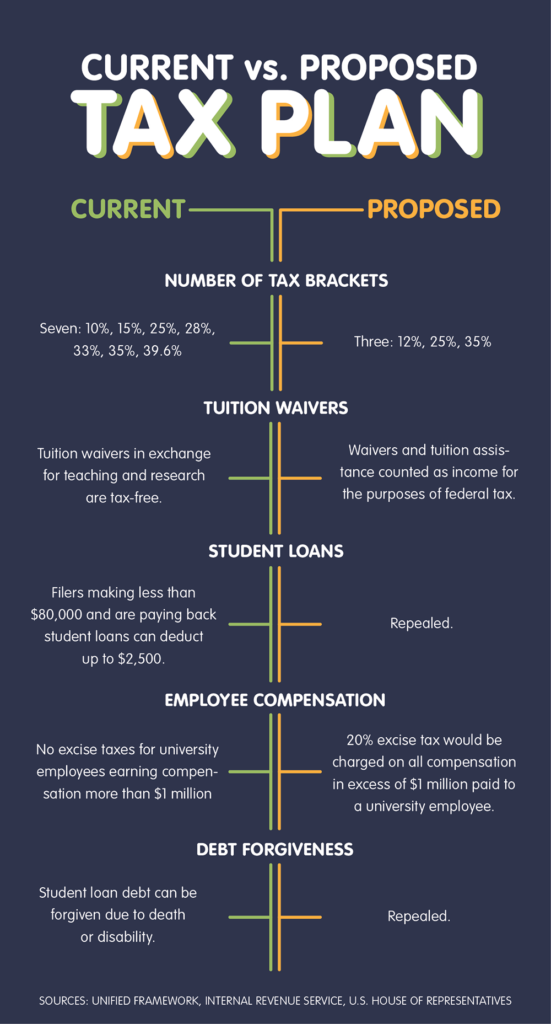 The House's tax legislation will end these plans. Hypothetically, if I attend New York University as a doctorate student and my tuition is $50,000 but my education is fully funded by the school, then that $50,000 is waived. Yet, the House's tax legislation will view that $50,000 as my income, as if NYU is handing me that cash. In fact, I would never even see that money as it would simply remain inside the NYU offices. Thus, I would be paying taxes as if I make $50,000 when I would actually be making $0.
This would make it entirely impossible for lower to middle class American students to pursue a post-graduate education. While graduate students are often paid stipends by the school in exchange for their labor through research or teaching, these stipends are not nearly enough to cover the taxes that will now be placed on the students.
Graduate and doctorate students are essential to our country's growth. How can we expect America to move forward without the small percentage of students who are pursuing a higher education to research, create, solve problems and make a difference? Graduate and doctorate students will one day be the ones who cure cancer, halt global warming and keep our country moving forward.
I urge you, as a college student in America, to write a letter to your congressman, attend a peaceful protest and read more about the House's new tax legislation whether or not you intend to pursue graduate-level education, because we need America to keep moving forward, not just the wealthy one percent.