Parisian haute couture literally dazzles with exquisite designs
by :
The Connector
By Mackenzie Lachey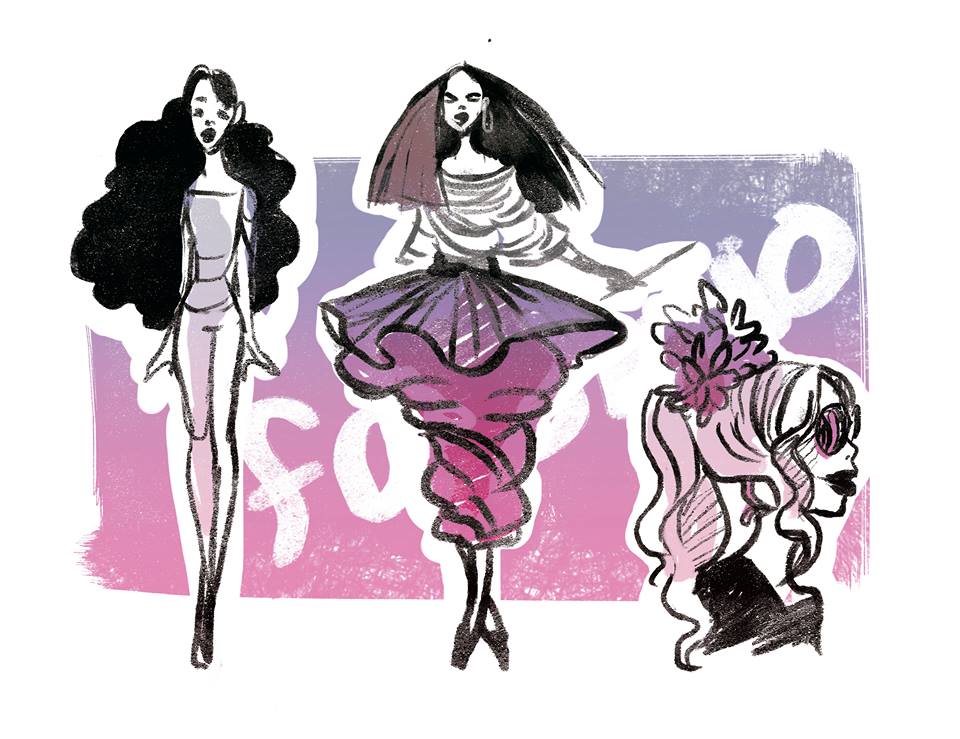 If there is one word to describe haute couture it would be "extra." But perhaps Maria Grazia Chiuri, artistic director of Dior, stated it more elegantly in her show notes from the Haute Couture Spring/Summer 2018 show in Paris. "Haute couture is a dream of fashion," Chiuri said. "It's a place where there are no limits to pushing boundaries and experimenting with technique, material and form."
Paris Haute Couture week took place Jan. 22 through Jan. 25 and showcased exquisite designs handcrafted by ateliers from some of fashion's most prestigious houses. Each piece can take hundreds of hours to create and requires painstaking attention to detail. According to Vogue, one Chanel iridescent gown worn by model Grace Elizabeth featured 123,670 embellishments and took 820 hours of hand work. The top alone contains 40,000 beads, 5,650 stones and Swarovski pearls and 74,300 sequins. The tulle skirt is scattered with 440 Swarovski crystals giving it a subtle luster.
But there is more to haute couture than hand making an exquisite gown. The much-misused phrase of haute couture, directly translated, is French for high dressmaking, but there are very specific rules for qualification. Members are selected by the Chambre Syndicale de la Haute Couture and are required to design made-to-order clothes for private clients using ateliers of at least 15 fulltime staff members. In addition, official haute couture houses must employ twenty full time technical workers and present a collection of at least 50 original designs every season. Members include well-known fashion houses such as Chanel, Christian Dior, Givenchy, Valentino, and Guo Pei, whose designs you can see at SCAD FASH through March 4.
But don't expect to see any of the designs shown last week coming to a store near you. The made-to-measure frocks have been known to sell for six figures. Although only a select few will have the opportunity to own a couture gown, haute couture shows are known for displaying the crème de la crème of design, and thus are often launching pads for upcoming fashion trends.
We've rounded up some highlights from the shows in Paris. Some of our favorite looks with potential to spark future trends came from Dior, Chanel, Valentino, and Elie Saab.
Chiuri brought the dream of fashion to life with her Surrealist inspired collection for Dior. Chiuri's designs were understated and primarily black and white. Although not as audacious or theatrical as other houses, designs like the flowered and feathered cape and feathery frock dazzled in their simplicity.
Karl Lagerfeld sent us to a sugary dreamland with ultra-feminine designs for Chanel. With soft colors, the intricately detailed designs were both youthful and timeless. Tulle, feathers, and ballerina-esque vibes were a major theme.
Pierpaolo Piccioli's Valentino couture let loose with a fantasia of wild and clashing colors amid feathers and unabashed glamour. The styles were flamboyant but with a surprising feeling of wear ability.
The Elie Saab show showcased designs with an Art Deco nod and throwback to a glitzy 1920s Paris. Beaded, bejeweled, and feathered, the looks are everything our sparkly, fairy-tale dreams are made of.
If you can't get enough haute couture, visit the Guo Pei: Couture Beyond exhibit at SCAD FASH Museum of Fashion and Film to see exquisite haute couture designs first-hand.