'Early Man' goes extinct compared to Aardman's other works
Aardman's newest stop-motion film is an enjoyable yet weightless experience
by :
Mikael Trench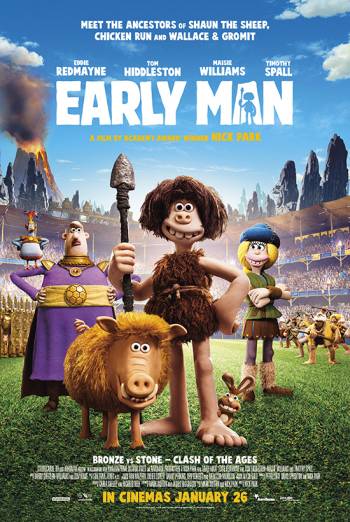 From director Nick Park ("Chicken Run," "Wallace and Gromit: The Curse of the Were-Rabbit"), Aardman Animations takes audiences back to the prehistoric age with "Early Man." Our tale focuses on a simple-minded caveman named Dug who lives alongside a small group of other cavemen in a peaceful valley. Things all change, however, when the despicable Lord Nooth wants to drive the cavemen off to use their valley to obtain hidden riches. This troop of dim-witted neanderthals must go up against Nooth's aggressive football team to get their valley back with the help of a village girl named Goona.
The scale of this production is unlike anything we've seen from the British animation team. The sets are stunningly detailed and have a grand sense to all of them, giving the world an appropriately cinematic tone as compared to Aardman's previous, smaller-scaled films. The level of work put into these backgrounds is mind-blowing.
The animation and designs are equally well-crafted. The designs keep the trademark Nick Park style which, combined with some stellar voice acting, allows for some great comedic expressions to come through. The meticulous, stop-motion character animation is also beautifully fluid and lively, which is unsurprising to see from Aardman at this point. The football game sequences are a major achievement animation-wise with the level of energy and creativity added into the character's movements.
Sadly, much of this visual splendor and time-consuming animation goes to waste on a story and characters that are all too familiar. The premise is beyond predictable and offers no surprises. By the first five minutes of the film, you know who will win, who will lose and what storylines will occur. While there isn't anything bad in the presentation of the film, it still doesn't make up for a nonetheless dull premise.
Likewise, the characters are likable and produce some laughs, but they are definitely no Wallace and Gromit in terms of their memorability. Much like the story, the character arcs are nothing out-of-the-ordinary, and if it weren't for some strong voice performances (in particular Maisie Williams as Goona, Richard Ayoade as Treebor and Tom Hiddleston as Lord Nooth), the characters themselves would quickly get boring.
There is also barely any time to really get a sense of chemistry among much of the cast. If the film at least took more time to establish certain relationships and build its world more creatively, we could have gotten a more memorable experience.
Overall, while "Early Man" does have its problems in its tired premise, lackluster characters and flat execution of its story, it is still hard to hate. While this may be Aardman's weakest film by far, it still contains much of the likable charm and comedy we have come to expect from the studio and should at least be experienced for its stunning visuals.
Review overview
Summary
6.5"Early Man" contains much of the same level of great animation and charm as Aardman's previous works but remains a forgettable experience overall.