Why Black Friday is awful
by :
Caitlin Havens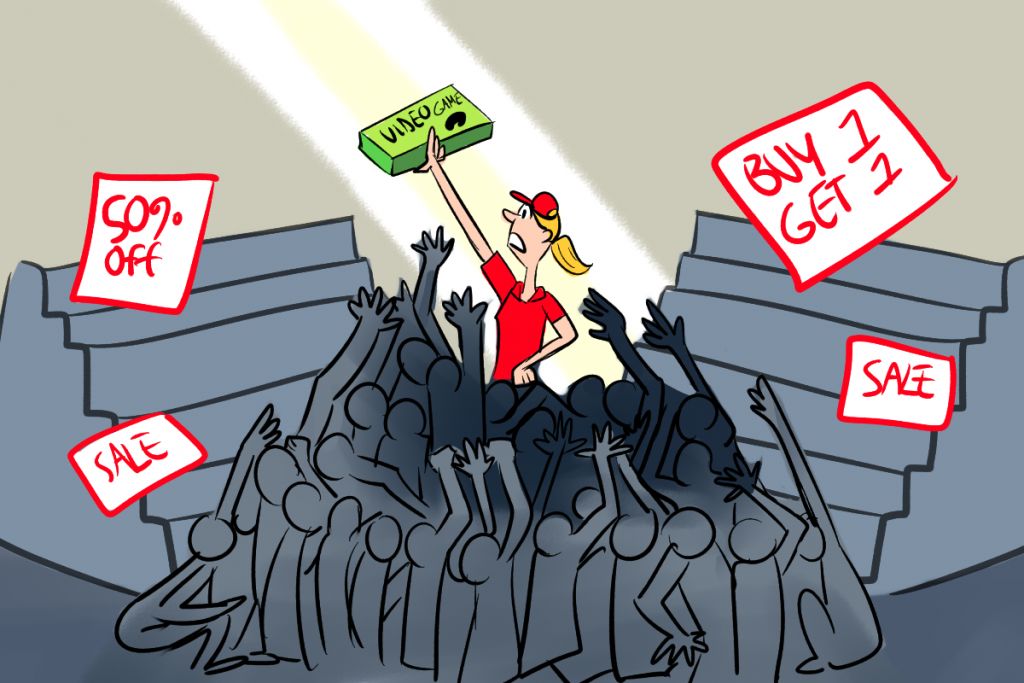 Black Friday, it's when almost every store in and around town has amazing deals that most cannot resist. Whether you participate in the craze by shopping for yourself or gifts for the holidays, in the end, you got a deal.
One problem, though, is that Black Friday isn't really on Friday anymore. The deals start as early as 6 p.m. Thursday, Thanksgiving Day. I think my father summed it up best when he said, "Instead of spending time with family and being thankful, people rush to finish dinner to go and shop." The next day, my mom would counter his statement when she said, "It's just convenient. People get Thanksgiving off, but not everyone gets Black Friday off. So, shopping on Thursday is easier." This gets into a different subject of issues, but there are two different ends of the spectrum right there.
I remember, when I was younger, falling asleep after Thanksgiving dinner then around midnight my mom would wake me up to go out and shop. It was an exciting idea until I got to the actual store and saw the crowds. If you've never been shopping on Black Friday, I wouldn't recommend you go unless you're into mosh pit and riot-like events.
Lines form outside and around the stores. Inside, people fight over fluffy, $5 blankets, TV's that will break in a year and children's toys that the kids in your family will spend a few hours on and never play with again.
Security officers break up fights, employees are trampled and people of all ages pulled out on stretchers — it happens every year. Videos are posted all over the internet of the fights and violence. Without a title or description on the video, it's hard to tell whether it's real or from a movie.
This year, a friend texted in a group chat saying there was a shooting at the mall he was at. He's fine, they left 30 minutes before it happened, but violence like this is all around. Yes, not only on days like this, but the promotion and lack of safety is a major issue. The society we live in today is not one that should be promoting an event known for violent outbreaks.
Not only are participants put in danger, but the employees as well. People who work in offices and really anything but retail, get the holiday off — resulting in sacrifices for time-off of retail workers who are primarily young adults. Kids are working while adults flood their jobs and create a terrifying environment.
Some places have taken safety precautions by only letting a certain number of people in the store at a time. Many places also ask for their workers to volunteer their time to work on these holidays. If they don't get volunteers though, workers are just selected.
Yes, there are good deals. But Cyber Monday and Small Business Saturday are wonderful opportunities as well. If you're like me, a ball of anxiety and fear, you might prefer Cyber Monday. Stay inside, get on your computer or phone, and shop on Amazon and other participating stores websites. If you like trinkets and unique items, Small Business Saturday is the day for you.
If you do choose to participate in Black Friday, please be cautious. Don't punch someone for a 50 percent off box of k-cups. Chances are, you can find it somewhere else.