Exploring a mundane family life in 'The Financial Lives of the Poets' by Jess Walter
by :
Caitlin Havens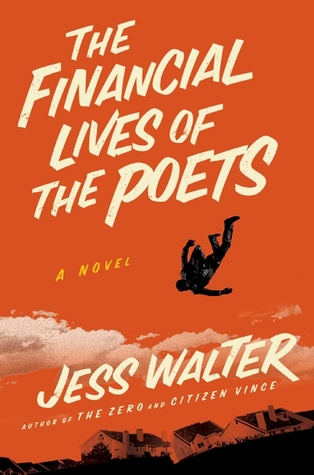 Jess Walter is a primarily fiction writer with six published novels. "The Financial Lives of the Poets" was his fifth and published in 2009 by Harper Collins.
The story follows 46-year-old Matt Prior who lost his job during the economic recession. We also see the struggles that come with the loss of his job. His wife searches for happiness through anonymous men on the internet and shopping excessively, which only worsens the debt they are in already. In addition to his two sons, Prior's father lives in the house. What they don't know, is that the house is one week away from being taken away by the government. Prior must find a way to save losing his house and family.
Throughout the prose of the story, the reader gets bits of free-verse. The poems extend the story and give the reader an even deeper look into Prior's mind than we already get. The read can be complicated, since we are so close to Prior's thoughts — the reader can sometimes get lost in side-track stories and emotion.
One of the most enjoyable parts was the slow-paced moments Prior spent with his family. Nothing about those scenes were romanticized. Along with his family life, we also get to see the mental struggle of Prior's character.
Though thoughts and emotion can become overbearing, they also show us the toll economic troubles can put on a person — an artist especially. Walter illustrates the struggle well and at times, the novel reads as nonfiction.
Not only is the serious issue of mental health addressed, but the recession as well. Reading the novel in 2018 feels surreal because of how much those in their 20 to 30's can relate to the economic struggles.  The desperation to pay each bill is communicated in a way that may induce anxiety on the reader.
With writing such heavy topics, Walter tries to balance it out with humor — which is done well and reads perfectly. It's more of a self-deprecating and subtle jokes here and there that are easy to catch on to. The lightheartedness is almost needed for a book this topic heavy and pulls the reader out in a way that doesn't make them go into a downward spiral of worry.
Overall, the novel was nicely written. The deep delves into Prior's mind could have been edited down a little more, just so the reader can stay on track with the actual plot. The family moments and humor could be sprinkled around more, but the novel gives us a nice take on what life was like for people during 2009.