Book review: 'Tinkers' by Paul Harding
by :
Caitlin Havens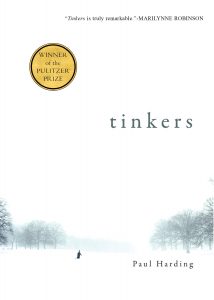 "Tinkers" by Paul Harding was published in 2008. The fictional story walks us through the life of George Washington Crosby, a clock repairman, and his father, Howard, who sold household goods from a donkey drawn carriage. 
The novel has lyrical language, line after line, and though beautiful, can become confusing. But, all the more meaning is given to his words after learning Crosby is on his death bed. 
The story recounts Crosby's father's life as a salesman with Epilepsy. By using lyrical language, the disorder is described beautifully. In Harding's use of metaphor and lyric, he brings us close to feel what it may be like to have the disorder and better understand it. 
Between the flashbacks and coming back to reality, the tone becomes sadder the further into the story you get. Without the tone, the story would not be as powerful as it is. After reading each word/sentence, the reader can feel Crosby slipping away.
Throughout the story, we meet people from Crosby's life. They all come to his bedside to say their final goodbyes. Through their goodbyes, the reader learns more about what he means to others and who he was as a person. 
The only thing hard to understand at times is the timeline. I found it hard to keep track of memory and reality. Though, it may have been intentional. Because of this, a panic starts to arise in the reader. The words seem to read quicker than they were before and though the end seems so far, it won't be long before you get there.
Because of the friends we meet and stories we hear, readers start to feel as if they know Crosby as well. The story is fictional, but can easily be confused for nonfiction. Harding tackles real issues and gives readers a look into a topic not typically discussed. It's interesting to learn about Epilepsy through creative and abstract writing. 
If you like poetic storytelling and learning about new topics, or even just reading a sad yet heartwarming story, "Tinkers" is a great option for you. The novel can be purchased at all major book retailers.