Mary Katrantzou's peculiar fashion world
by :
Valeria Brugueras
SCADstyle provided a closer look at the designer's work and journey.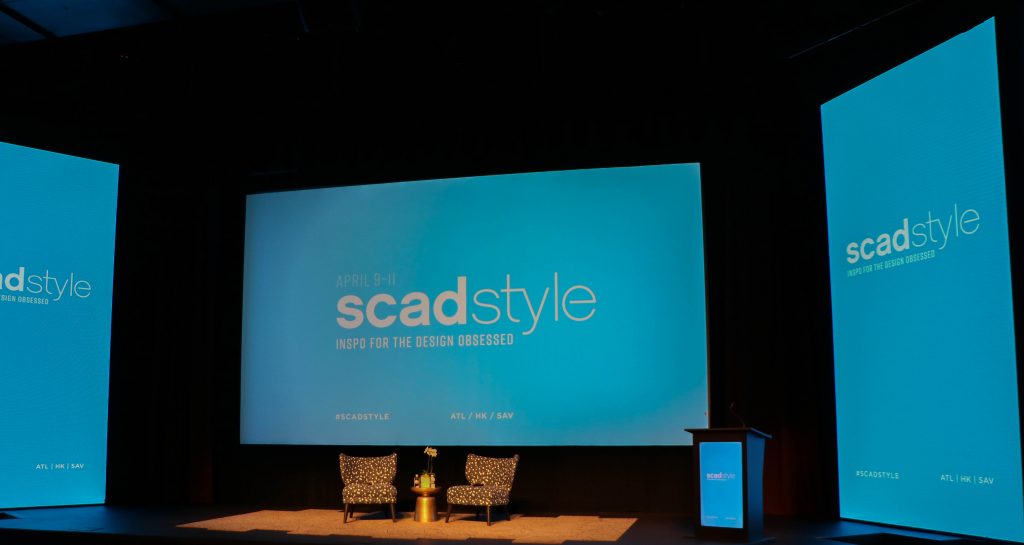 Students and faculty were able to dive into the peculiar fashion world of Greek designer, Mary Katrantzou at one of SCADstyle's most anticipated events. Guided by Vogue's Sally Singer, the designer's personal journey, work and achievements were shared and discussed in depth in this SCADstyle keynote conversation.
This event was eagerly awaited and thoroughly enjoyed by students across all majors; third-year fashion marketing and management student Tanya Villafuerte said, "I think it was great to hear from someone so young in the industry that was very honest about her struggles and to know what empowered her to continue with her path."
To open, the audience was informed that her work is mostly based on narratives or stories which are then translated as visuals. Katrantzou talked about her experience when collaborating with brands and how she uses this to make the most with her instinct and intuition.
Throughout the conversation, Katrantzou shared more on how she fell in love with the idea of centering her brand around women's fashion by it's diverse nature and allowing her a space to create meaningful work.
"The most important thing for me is to promote positivity and make the woman stand out with what she wears and complement her. And I want to make sure my work does that." Katrantzou then added that the vision for her brand was to remain authentic and to grow by creating an adjacent world where the imagery she applies to her garments is relevant to women.
She also shared some vital advice to students, those hoping to be designers in the future: "When you start your own brand, you need to be your best advocate. That includes what I stand for and what it's about."
Tanya Mehta, third-year fashion marketing and management student enjoyed this part of the conversation saying, "Mary Katrantzou has always been a huge inspiration of mine and it was a dream getting to hear so much of her thought process."
Katrantzou's reason for creating work with purpose lies behind how she entered the fashion industry without an appropriate background and how she handled it. She remembered how eager she was to learn and constantly asking questions without feeling any sense of intimidation.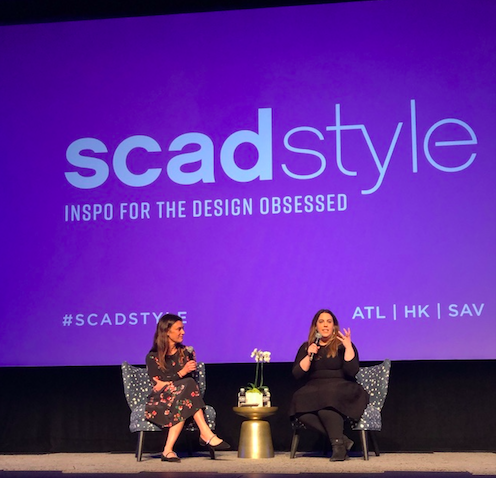 Starting out as a designer not knowing the industry, she said, "If you stand behind something and they give you an opportunity to do it, I think it's an opportunity more than anything." Her mindset developed out of constantly feeling scared that someone else was going to act on an idea before she would or that she would run out of them, "So I didn't give myself a second opportunity or a break."
Later, the conversation about opportunities turned towards the relaunch of Vogue Greece. This was an exciting moment because she was asked what she thought and felt about her country. A brave member of the audience asked Katrantzou what ideal role she wants the magazine in her country to take and she said, "I'm proud of what they put out, I think the most important thing is for them to be creatively pushing themselves and going forward."
Her sincere appreciation for Greece means she has been spending more time there. And while she's there, she pushes the younger generation by putting herself forward, her way of helping as much as she can with different foundations of authority.
Her country is one of the aspects that drove her career, "It makes me very proud to be Greek, it taught me the importance of the world…" Katrantzou's parents were also behind her, important figures that emphasized how important it is to have an idea come to reality and that only happens with consistency and hard work.