Kaleidoscope Katrantzou: Mary Katrantzou, 10 years in fashion
by :
Valeria Brugueras
The SCAD FASH exhibition shows how the designer gives women new vision.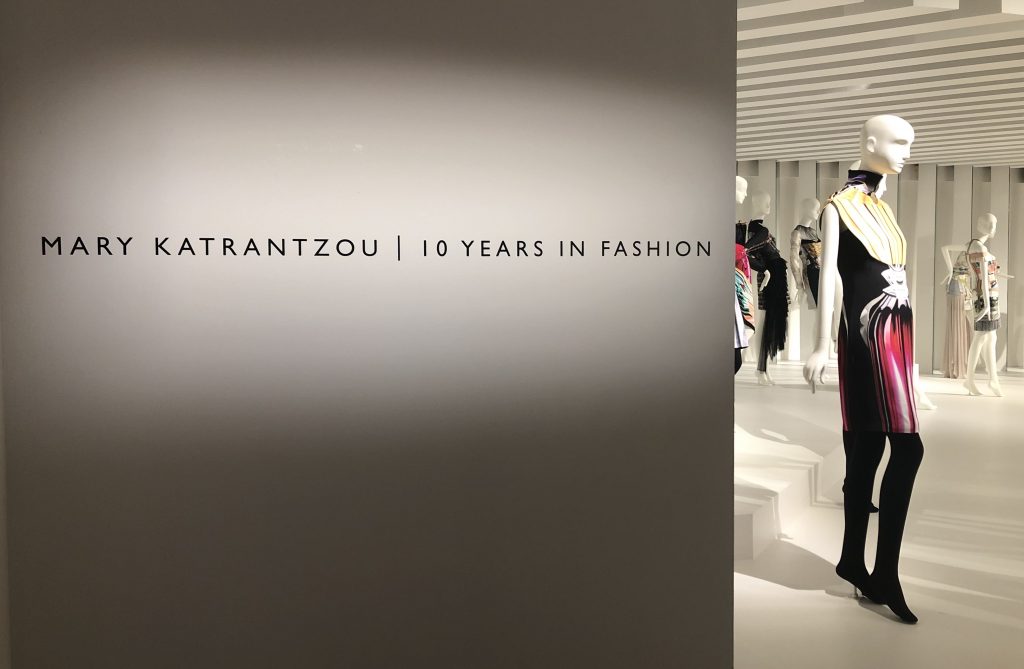 SCAD FASH Museum of Fashion + Film's exhibition's newest exhibition, "Kaleidoscope Katrantzou: Mary Katrantzou, 10 Years in Fashion", taps into the designer's work and how she utilizes motifs, objects and art styles to create garments.
The exhibition is presented as a simple yet elegant set with white walls adorned with mirrors and tall mannequins. Katrantzou's designs are grouped by themes that take the viewer through a unique path of her appreciation for different elements.
Third-year interior design student Victoria Arenz said, "I was really inspired and impressed by her attention to detail regarding historic styles and wish to bring that level of detail into my own work."
Starting off , this halter dress from the spring/summer 2012 collection, Flower Fields, was made with metal embellishments, metal whistles, bugle beads, florets and crystals. It was part of the designer's interpretation of man vs. nature where she gave the woman a new human form represented in the silhouette of the dress.
Katrantzou is no stranger when it comes to playing with motifs. Like on this particular garment, the Lockhart Coat Western Flames, from the collection Rodeo and Juliet, that debuted in the fall/winter season of 2016.
It's made out of dyed and printed faux fur that infused American cinema with landscapes and saturated color imagery.
Her main influence for this piece was American artist, Andy Warhol, especially his silkscreen portraits of queens and cowboys. This gave the designer an initial inspiration of following the archetypal models of children growing up, the cowboy and the princess.
She fused these two archetypes into all the garments of her collection which end up telling a story of freedom, innocence and young love.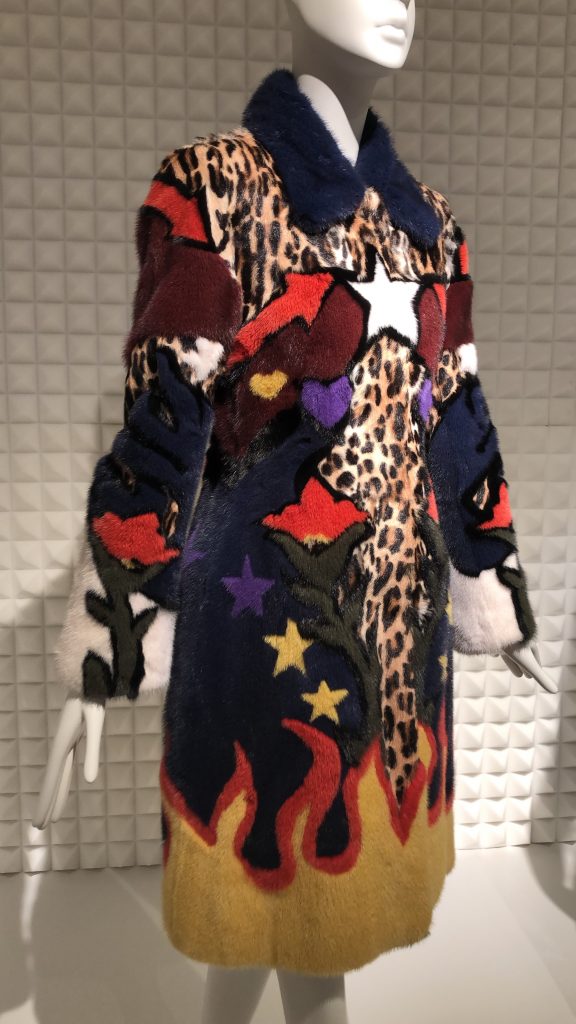 Besides acknowledging motifs, Katrantzou goes deep into the meaning of everyday objects and discovers beauty in them by giving a simple yet elevated meaning.
The designs show how she pushed her visionary technique into one that works with pure color, potent print and human imagination.
This dress is a part of her fall/winter 2012 collection, Ordinary Objects. It's made with digital print on embellished silk with rubber pencils and beads. To top it off, plastic ruffles along the hem of the dress can be seen.
Part of the same collection is this dress where spoons are the inspiration for the design. The spoons are digitally printed on silk fabric. Both of these designs represent a kaleidoscopic vision for the modern woman.
To close the exhibition, a gown that actress Cate Blanchett wore at the 2018 Cannes Film Festival. This dress is on top of a platform that moves in circles to give the audience a full detailed view.
It's part of Katrantzou's Youth of the Year collection from the spring/summer 2018 season made out of digital print on silk fabric, embellished with sequins, beads and metallic threads.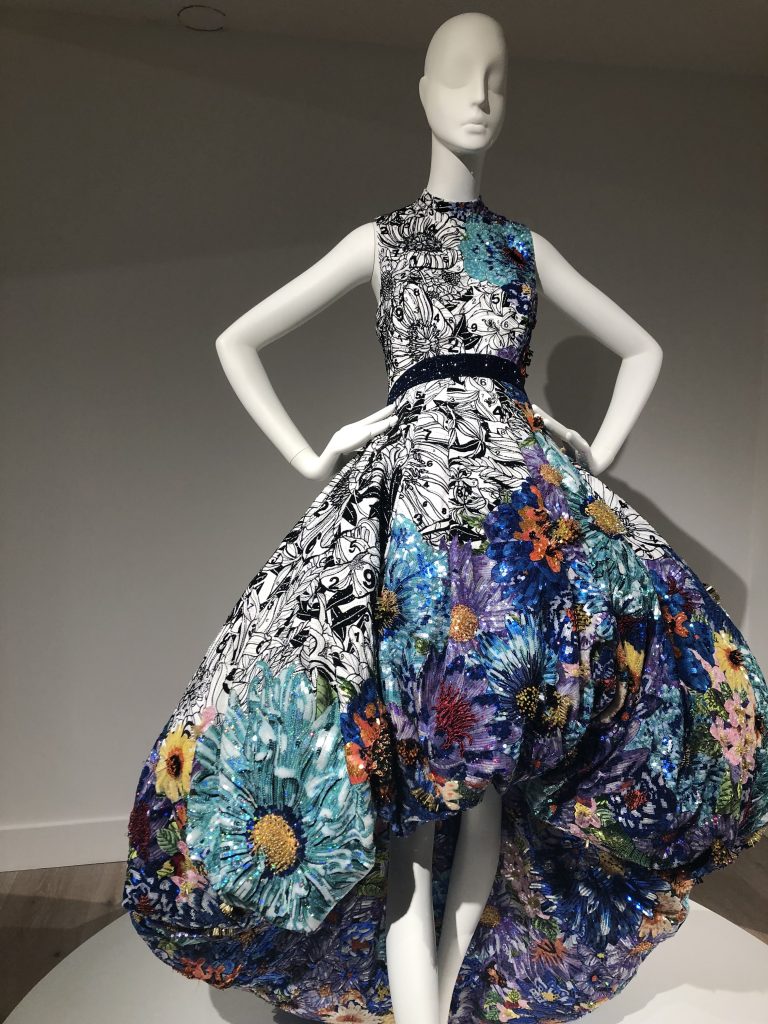 But this design carries an exciting secret. If one looks closer, you can notice an element of nostalgia — a paint by numbers concept that was done after the red carpet went black because of the #MeToo movement.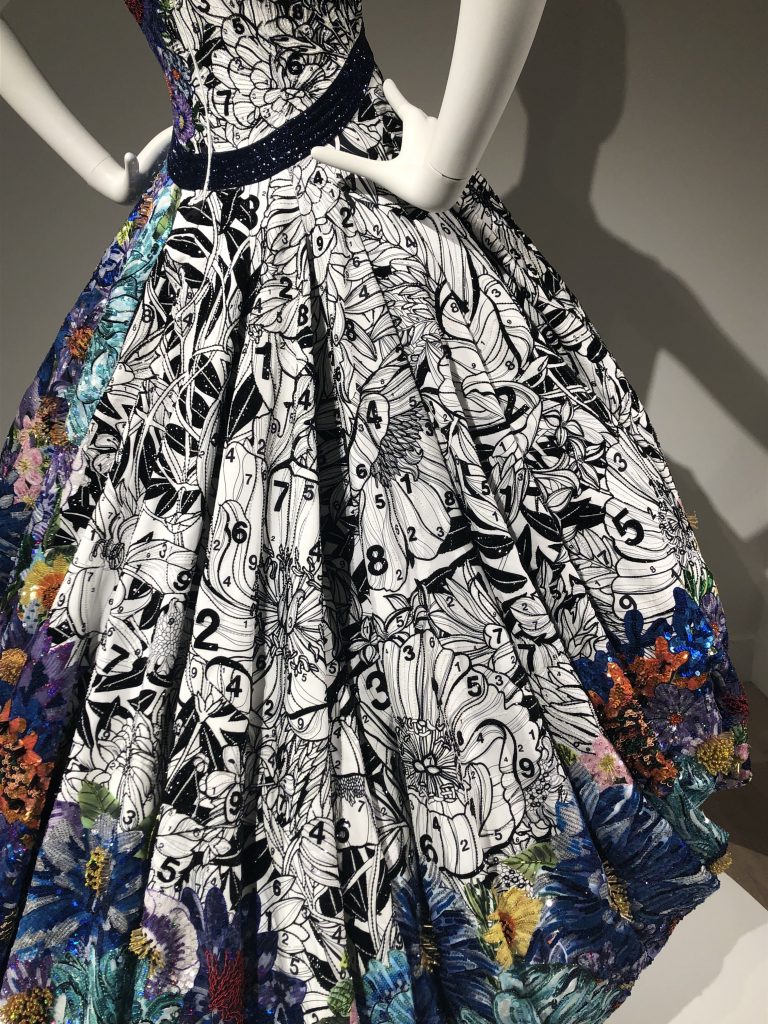 Here the designer gave Blanchett the power to create a strong fashion statement. Katrantzou had two months to create the garment and made it fit precisely on her, both body and personality wise.
The exhibition provides the audience with a closer look of Mary Katrantzou's vision of fashion for women and how she gives unique meaning to all the things that surround her to make women feel powerful when they wear her garments.