Cynthia Rowley presented with the SCAD Étoile Award
by :
The Connector
On Friday, May 10, the adventurous designer was celebrated with one of SCAD's highest honors
By Dana Vernot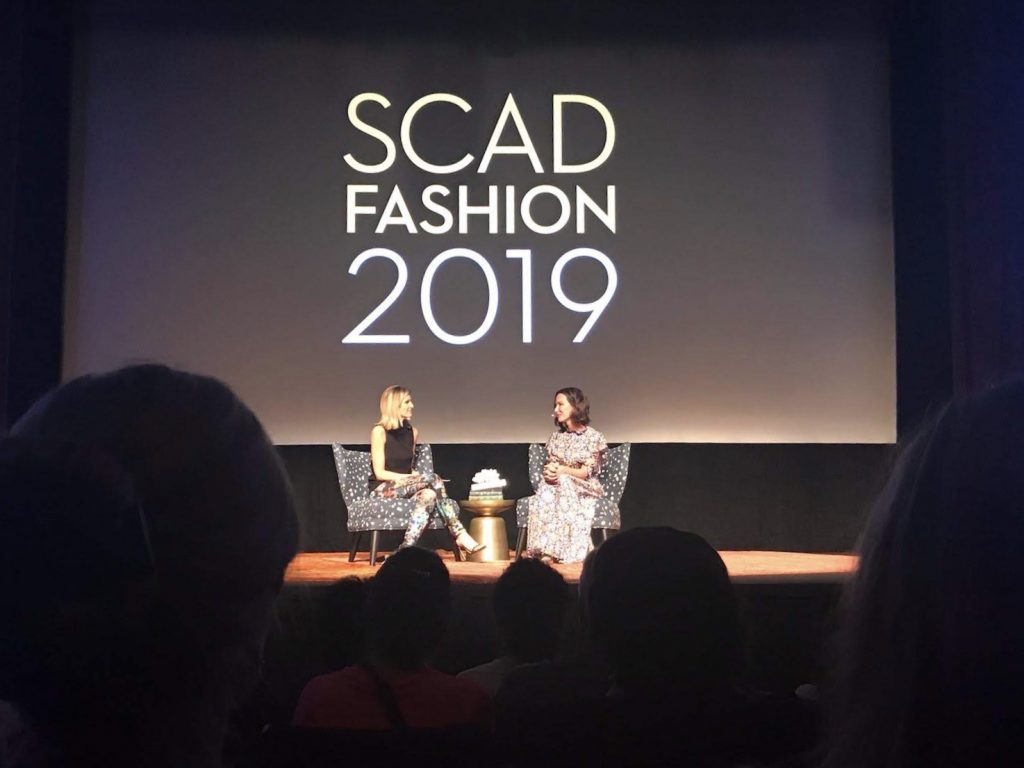 The SCADshow event kicked off with a welcome from SCAD Atlanta Vice President Audra Pittman and was followed by a few words from President Paula Wallace.
Wallace's speech mentioned the fashion hub that Atlanta has grown to be, and SCAD'S influence through the various events that occur each year, SCAD FASH and collaborations with a diverse group of fashion firms. Her speech was followed by Jademan Baker, a fashion graduate student who shared her adventures working with Spanx, Old Navy and Delta.
She said, "Successful design should lead to adventure." The first designer awarded this afternoon was Eleanor Turner, co-founder of Argent and SCAD Alumni. Eleanor was presented the SCAD40 Prize, the university's highest recognition for SCAD Alumni. Argent is a women's workwear brand redefining business attire for women. Boss clothes for boss ladies, with garments worm by Amy Poehler, Hillary Clinton and President Wallace. During her speech, Eleanor shared her journey, starting out as a SCAD graduate student working at the Tommy Hilfiger closet to starting Argent.
Vogue has dubbed Argent, "Workwear that makes you feel and look good in the office." Eleanor's advice to students as she closed her speech was, "Be scrappy. Bet on yourself. Remember even as a student your creativity has value."
Honoree Cynthia Rowley was then presented with the SCAD Étoile Award. Said to scuba dive in a little black dress, Rowley's scrappy and adventurous spirit has pushed boundaries — and is dubbed the pioneer of the fashion category "surf leisure." Rowley didn't set out to create the niche, she simply followed her passions. As a late surfer, she finds it meditative. Later during the conversation, Rowley described her personal style as eccentric, sporty yet pretty.
Her style encourages one to dive into experimentation by using a closet as a scrapbook. That is how she started sewing at 7 years old in a small town in Illinois. She experimented with clothes often and fell into fashion after meeting a guy who needed a plane ticket to New York. In exchange for a ticket, he sold her clothes in the city. For Rowley, excitement is found within fashion because of the combination of art forms such as painting and sculpture.
As Rowley continued to push boundaries, history was made when Muslim model and activist Halima Aden wore a Cynthia Rowley burkini featured in the Sports Illustrated's Swimsuit Issue. Rowley said, "Thinking about design with a global mindset is very important to our brand, so contributing to this iconic moment in history is truly a dream come true. When we were approached to create a custom burkini for Halima I was so honored."
Halima is making strides in the industry through her powerful voice, and she is now the first model in history to wear a burkini in the Sports Illustrated Swimsuit Issue. "This moment in particular marks a huge win for women's empowerment, shattering outdated standards of beauty and identity in the industry," said Rowley.
Third-year fashion student Elizabeth Keyes said, "Overall this afternoon was a good experience. Her personality is strong, and I found her very relatable. I admire her so for me she is a mentor." As a word of advice for students, Rowley has this to say: "Business is an emotional rollercoaster. Therefore, one has to manage the highs and lows."