Student designs shine in SCAD Atlanta's first fashion show
by :
Valeria Brugueras
Senior and graduate fashion students debuted their latest creations on the runway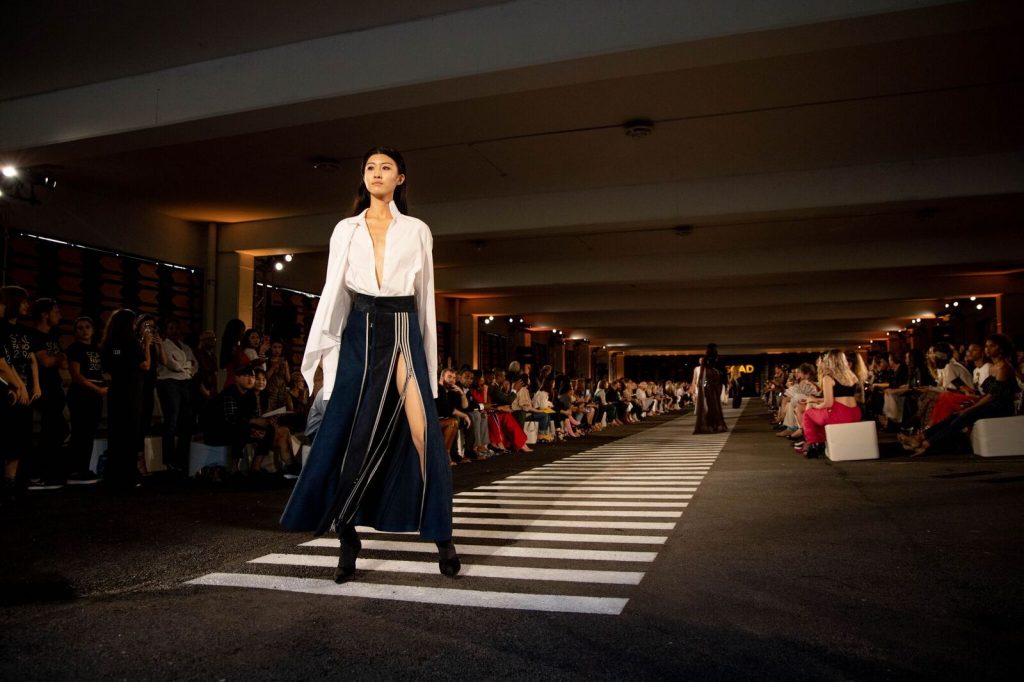 SCAD Atlanta's first runway show took place in the lower level parking lot, which was transformed to represent the an automotive theme complete with roads, tires, and cars.
Guests were greeted by volunteers dressed in colorful, mechanic-like uniforms who directed them to the ticket box, a Volkswagen beetle decorated to celebrate SCAD's 40th anniversary.
Teryka Jones, a fourth-year fashion marketing and management student who was a volunteer at the show said, "This was my first and last year getting to volunteer for SCAD's fashion show and what a joyous experience it was. Volunteering for this amazing production really gave me the confirmation and validation that fashion is indeed my destiny or just being a creative in general. It was such a blessing getting to work with so many amazing, talented people. It was one of the best experiences to help me conclude my career at SCAD, and I am forever thankful."
After collecting their ticket, guests were ushered through the entrance which was decorated with tires, and the SCAD letters were painted a bright yellow. White cushioned ottomans, the seating for the show, were spaced along both sides of the runway to resemble a white pedestrian walkway.
Students, faculty and guests filled the seats with excitement and anticipation ready to see the show. Looks started to hit the runway and there was a huge diversity in models, aesthetics and styles.
Dyed fabric was a huge element of Madison Umbaugh's looks, a senior fashion design student. Her collection ranged from dresses to long tunics and pants.
Umbaugh said, "That one is all denim. It started as white denim and I used a process called cyanotype to create the blue and the white print."
It seemed the preferred look for the evening were dresses with embroidery, sparkly fabric and tons of volume. Once these garments hit the runway, guests couldn't take their eyes off these dreamy looks.
During the middle of the show, another Volkswagen bug was driven down the runway; the car was covered in bright pink and featured a bold design, honoring SCAD's 40 creative years.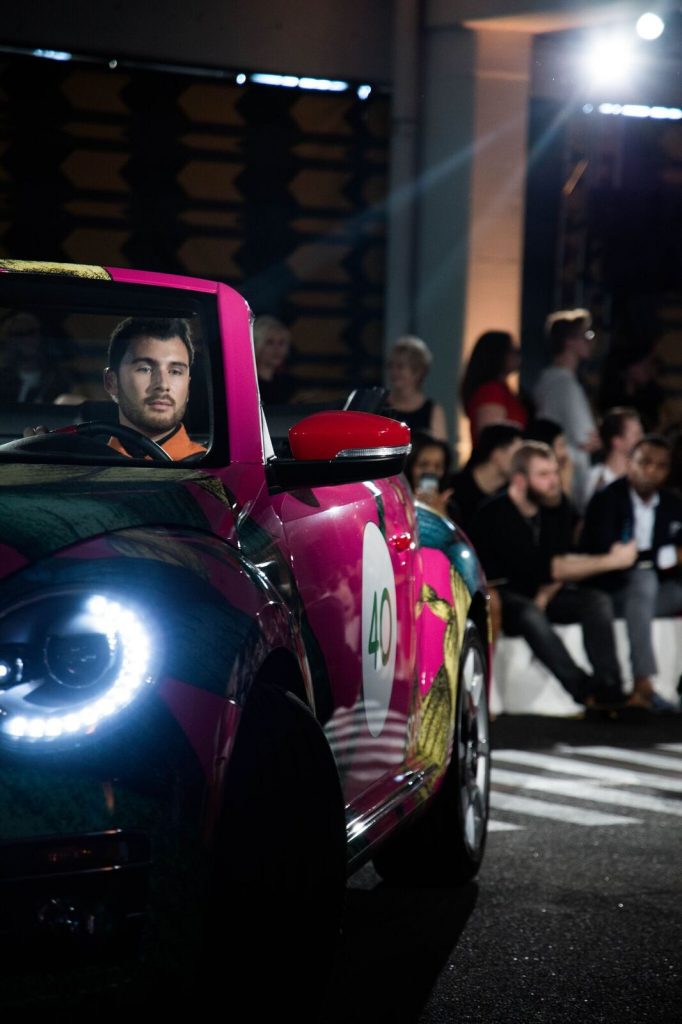 In between the variety of fabrics and styles, fashion students showcased their never-ending talents by mixing elements and playing with geometric shapes to achieve unique silhouettes.
The looks pictured below were crafted by senior fashion student, Yoohyeon Kim from Seoul, South Korea. "The inspiration came from the Herero tribe in Jim Naughten's collections of photographs. When the war broke out, tribal mortality increased. Also, clothing was the biggest problem for them during the war because garments were in short supply."
Kim continued, "So, the Herero tribe would kill a German soldier and then they would strip the soldier bare and wear the outfit themselves. The fact that they will disappear soon means that this precious culture will no longer exist. This saddened me, and I wanted to do something for them. I asked myself what could I do for them, and my answer as a designer captured my heart. I want to imprint their uniqueness and beauty."
After the last collection was shown, all student designers proudly walked down the runway holding hands with a model wearing their designs. The designers were cheered by their family, friends and the entire SCAD Atlanta community.
SCAD Atlanta's first fashion show was a celebration for many, especially students that got to participate in numerous ways. Students were found modeling, dressing, volunteering backstage or greeting at the entrance.
Elizabeth Erwin, third-year fashion student, a dresser at the show said, "I worked backstage as a dresser for the first time and it was so surreal. I was able to help put the opening garment on the model. We had to put it back on her for the finale. It was special to me. The experience was one my best yet at SCAD, and it means so much to me because I was able to do it with my closest friends in fashion who I don't always get to see out of the classroom."
Help for the production of the show came not only from volunteers but from the models that walked it. Rubin Howard, a first-year film and television student who modelled for the show said, "Being part of the inaugural SCAD Atlanta fashion show was very exciting. From the in-class fittings and photo shoots to model training with Miss J Alexander and the highly anticipated runway strut — I cannot wait until next year's runway show."
SCAD Atlanta's first runway show was a night to remember for many. It was an event filled with fun and enthusiasm, and we eagerly anticipate the next one.