Now that fall quarter is coming to a close and winter break is here at last, we SCAD Atlanta students can finally kick back and enjoy a little bit of downtime. After ten weeks' worth of hard work, all of us at The Connector are turning our attention to entertainment: the TV shows, books, films and so forth we have been patiently waiting to indulge in. So without any further ado, here are our staff members' picks for their most anticipated in winter break entertainment.
– Jen Schwartz, Editor-in-Chief:
I'm going to try to catch up on reading, starting with Scott Kessinger's "Scream Deconstructed," Mindy Kaling's "Is Everyone Hanging Out Without Me? (And Other Concerns)" and Cherie Currie's "Neon Angel." It's hard to make time to really get into a book while balancing school and work, so I'm hoping to use the extra free time to broaden my horizons beyond Netflix. Okay, there also might be some Netflix (specifically, "Buffy the Vampire Slayer") involved — I'm only human. I'll also be hosting my annual Chanukah party to do my part in the war on Christmas.
– Kristofer Seppala, Copy Editor:
I'm looking forward to watching the shows "Jessica Jones" on Netflix and "The Man in the High Castle" on Amazon Prime. Movies I'm looking forward to seeing include "Macbeth," "Sisters," "The Hateful Eight," "The Revenant" and "Joy." And who isn't looking forward to the new "Star Wars" film coming out?! As for books, I'm planning to read "Luckiest Girl Alive" by Jessica Knoll and "The Truth and Other Lies" by Sascha Arango.
– Vania Ho, Art Director:
I'll be traveling, so I'll have plenty of time to catch up on books, movies and TV shows on the plane. I'm going to try to catch up on Aziz Ansari's "Master of None," start watching "Parenthood," and obviously re-watch "Broad City." I've been trying to watch more documentaries lately, so I have "Girl Rising," "He Named Me Malala," "Dior and I," and "Objectified" on my list as well.  I also have a few books I've been meaning to read, such as "Outliers," "The Goldfinch," "Notorious R.B.G.," and "Lean In." Last of all, I have months' worth of New York mags piled up that need to be caught up on.
– Matthew Cornwall, PR Director:
Like everyone else, I'll be catching up on several shows such as "Empire," "Scandal" and "American Horror Story." I might also watch some popular anime like "Jojo's Bizarre Adventure," "Hunter x Hunter" and "Fairy Tail." Since the new "Star Wars" movie is coming out this break, I'll be watching all six movies in chronological order as a refresher. I'll probably do the same for "Harry Potter" and "Lord of the Rings" to enhance my nerdiness. There's a video game called "Undertale" that Tumblr has been raving about for months, so I'll play that in addition to finding out what the hype behind "Fallout 4" is all about. I also got "Kingdom Hearts 1," "Kingdom Hearts 1.5," and "Kingdom Hearts 2" for my birthday and I've barely started those. I still haven't finished "The Autobiography of Malcolm X" or Jean-Michel Basquiat's book so I'll try to take care of those, too.
– Kate Betts, Features Editor:
I'm going to go to the library and find some books to read. Most likely I'll go in and then get lost and lose track of time as I look at all the beautiful books! I'm planning on reading "Throne of Glass" by Sarah J. Maas, "The Demon King" by Cinda Williams Chima and "The Wicked Years" series by Gregory Maguire. I'm also going to curl up and watch lots and lots of Netflix, including "Witches of East End," a show that's based on a book series — maybe I need to read that too! Lastly, I'm looking forward to going to the movies, especially to see "In the Heart of the Sea," and having more time to exercise.
– Scott Russell, Arts & Entertainment Editor:
"Fargo" and "Mr. Robot" top my list of TV shows to watch — I've heard nothing but great things about both, so I'm hoping they'll live up to the hype. My pile of books to read is scraping the sky at this point, but I'm especially excited to tackle Anthony Doerr's "All the Light We Cannot See," John Darnielle's "Wolf in White Van," and, at my peril, David Foster Wallace's enormous "Infinite Jest." Last but by no means least, this Christmas is going to be huge for movies: J.J. Abrams' "Star Wars: Episode VII – The Force Awakens" is an obvious stand-out, but Alejandro González Iñárritu's "The Revenant," due out on Jan. 8, just might be my most anticipated movie of all time.
– Tonesa Jones, Opinions Editor
Fitness and health are my number one priorities over the break since both were severely neglected during the quarter. I plan on running in The Ugly Sweater 5k, which satisfies both my need to exercise and my love of Christmas-themed anything. But regardless of my fitness ambitions, no break would be complete without at least one day spent binge-watching holiday movies, which puts ABC Family's 25 Days of Christmas on my to-watch list, along with "Supernatural." Once I get sick of Christmas-themed romantic comedies, Celeste Ng's "Everything I Never Told You" is at the top of my massive to-read pile.   
– Aspen Evans, Fashion Editor:
My winter break plans are mostly going to be in front of my TV or laptop. I'm definitely watching the Victoria's Secret Fashion Show on Dec. 8. I also plan on catching up on all my favorite shows: "Empire," "Scandal" and "Orange is the New Black," plus hopefully watching some new shows. ABC Family's 25 Days of Christmas is always on my list to watch every year to get me in the nostalgic holiday spirit. I'll also try to get caught up on my new podcasts. One of them is "#girlboss radio," a podcast where Sophia Amoruso, the founder of Nasty Gal, interviews top women in their industry about their journeys to the top, plus their advice for those just starting out. I'll also be catching up on a new podcast that I found to try to get my senior life together called "Adulthood Made Easy," featuring this 22-year-old editorial assistant at magazine Real Simple who interviews experts in topics like health insurance, jobs, cooking and other things that neither she, nor I, have any clue about.
– Acquille Dunkley, Photo Editor:
This break I will be anticipating Quentin Tarantino's newest film, "The Hateful Eight." The movie is set for theaters on Dec. 25, so you know where I'll be for my holiday celebration. I am a huge fan of Tarantino and I will be also watching some of his old classics such as "Pulp Fiction," "Reservoir Dogs" and "Four Rooms." Apart from that, I will be checking out "Narcos" on Netflix.
– Anderson Carman, Comics/Illustrations Editor:
I recently got word that I have a full package of comics I ordered back in June waiting for me when I get back home. First I have "Arkham Manor," written by Gerry Duggan and illustrated by former SCAD Atlanta professor Shawn Crystal. I've actually already read this comic, but the art is so beautiful that I'm going to skim back through it. "Black Science Vol. 02: Welcome Nowhere," written by Rick Remender, with art by SCAD alumnus Matteo Scalera. I have already read and loved Vol. 1. In "Black Science" we follow a team of scientists as they travel through dimensions. I'm also looking forward to reading "East of West, Vol. 01: The Promise," written by Jonathan Hickman, with art by Nick Dragotta. I've heard great things about this series, which depicts a dystopian future, sci-fi/Wild West-style — it's basically all things nerdy combined into one story. I treat my comics like my TV shows in that I wait till the whole season (or volume) is completed and collected before settling in and experiencing the whole story at once. "Joe the Barbarian," written by Grant Morrison and illustrated by Sean Murphy, is my favorite type of comic: one closed story told over the course of 224 pages of beautiful artwork. "Low," written by Rick Remender and illustrated by Greg Tocchini, is another short, complete story of 240 pages. Finally, I'm planning on reading "The Wonderful Wizard of Oz," adapted for sequential art by Eric Shanower with art by Skottie Young.
Thanks for reading, and we hope that all of you enjoy your time off — we certainly will. Feel free to share your winter break entertainment picks in the comments below, and happy holidays!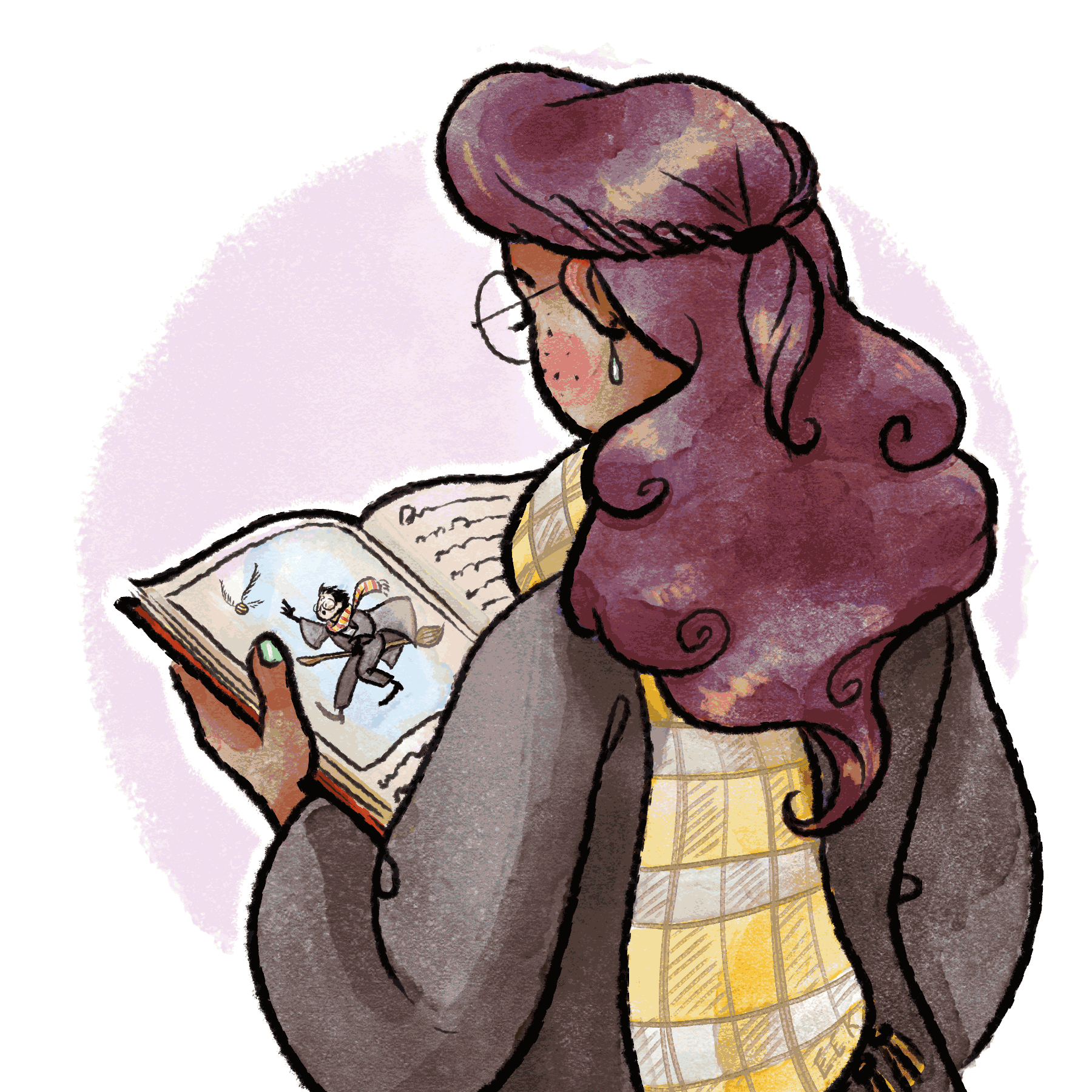 By Katherine Diaz Villegas J.K. Rowling wrote the remarkable "Harry Potter" literary series that opened the world [...]

The ACA Library of SCAD has more than 2,000  artist's books that are available for students to view and use as a [...]

by Masha Zhdanova Award-winning graphic novelist Tillie Walden published her new book, "Spinning," [...]