The best street style looks from SCAD's 2016 fashion show
by :
Anya Haber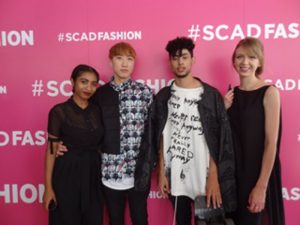 Sometimes the looks on the streets during fashion week can easily rival those on the runway. SCAD's 2016 fashion show was no exception. Though not as inventive, avant-garde or time-intensive as the runway garments, the attendees were well-dressed and exceptionally creative in their outfit choices. The student designers, who stood in the front of the Trustees Theater before the show, wore collection-coordinating outfits. Other attendees were dressed in impeccable senior designs that weren't offered the opportunity to make it onto the runway. Although it was hot and humid during the 4 p.m. show and raining after the 8 p.m., the guests proved that weather would not hold them back when it came to clothing experimentation. From fur coats to revealing gold chain tops, it's clear that nothing could get in the way of their planned street style ensembles.
Here are some of the best street style looks from the fashion show, as well as close-ups of the models in their student-designed attire.