The 'Rules Don't Apply' in Warren Beatty's newest movie
by :
Emma Dakin
After a significant hiatus from the film-making industry, Academy Award winner Warren Beatty returns with his newest film, "Rules Don't Apply", which Beatty not only stars in, but also wrote, directed and produced.
Set in the glamour of 1950's Hollywood, "Rules Don't Apply" tells the intertwining stories of eccentric billionaire Howard Hughes, played by Beatty, and two of his employees. The film essentially begins when aspiring actress and songwriter Marla Mabrey, played by Lily Collins, moves to Hollywood under contract for Howard Hughes. She soon meets hired driver Frank Forbes, played by Alden Ehrenreich, and the immediate attraction between the two challenges a company rule set by Hughes that forbids any employee from engaging in a relationship with a contract actress. Their budding relationship is further complicated by a difference in religious backgrounds and the fact that Frank is engaged to his childhood sweetheart back home.
These elements give the film great promise – until Howard Hughes makes his first appearance nearly 30 minutes into the film, prompting a storyline that competes with, rather than complements the other. Audience members wanting a Hollywood romance will be bored and baffled with lengthy scenes depicting Hughes' eccentricities, while viewers wanting more of a Hughes biopic will wish that Marla and Frank's characters would simply disappear.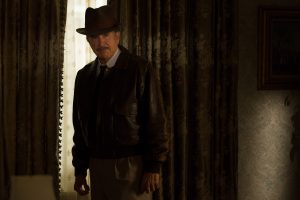 Despite the floundering plot, the actors deliver strong performances all around. Collins' portrayal of Marla is both earnest and endearing as her character tackles her own sexuality and ambition throughout the film, while Ehrenreich channels old Hollywood gravitas to help create real chemistry between Frank and Marla. And, of course, Beatty's rendition of Howard Hughes is the most delightful performance of all, nailing the billionaire's bizarre and obsessive behavior in a playful tone. The movie also features great supporting role performances from Matthew Broderick, Martin Sheen, Alec Baldwin and Annette Bening.
Perhaps the film's greatest strength is in its presentation. The film is shot beautifully and nostalgically at the hands of cinematographer, Caleb Deschanel, and accompanied by authentic set and costume design.
Between casting, costume and cinematography, the film is a visual delight. But it's not enough to make up for a choppy, battling storyline. While Beatty's vision for the film is obvious, it's equally apparent that the rules really don't apply to this movie, which can't seem to decide if it's a feel-good romance or a Howard Hughes biopic, leaving viewers altogether somewhat unsatisfied.