aTVfest screens 'Trial and Error': NBC's newest "killer" of a comedy
by :
Molly Morris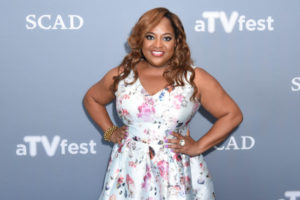 SCAD aTVfest always seems to provide the unexpected with each new round of events. As a student at SCAD Atlanta, I find myself happening upon opportunities and learning experiences each year when this weekend festival takes place – workshops with Mindy Kaling, panels with agents and writers from The Gersh Agency – and this year was no different.
"Trial and Error" is TV's newest comedy, debuting in March on NBC. While capturing the character of real crime documentaries, this new sitcom introduces a bright-eyed and bushy-tailed (you'll get this pun when you see the premiere) young lawyer named Josh Simon (played by Nicholas D'Agosto) who moves to the South for the start of his new career. Simon's first day on the job provides the unexpected: defending a haphazard, rollerskating poetry professor (played by John Lithgow) in the confusing and chaotic murder of his own wife, who continuously, but naively makes himself look guilty. Simon is off to a rocky start — makeshift office, unusual teammates with quirky habits and conditions, and a seasoned and saucy D.A. (played by Jayma Mays of "Glee") who's hell-bent on making Simon's life less than easy. Anne Flatch (played by Sherri Sheperd) plays Simon's personal assistant, who is plagued with a plethora of uncommon disorders, such as facial blindness and inappropriate emotional responses to serious situations (i.e. laughing when someone gets hurt). Her cheerful willingness to help combined with her uncanny issues creates a dynamically hilarious character that has yet to be seen in the television world.
The aTVfest session began with a screening of the pilot — which ended all too quickly, with side pains from constant laughter — followed by an interview with the lovely Sherri Sheperd. From the moment she graced the stage with her presence, Sheperd was an absolute down-to-earth delight and kept the audience engaged and laughing all the way to the end. She talked about how her character on the show, Anne Flatch, was largely created around how she read the script before she even received the roll. She also talked about how incredible working with John Lithgow is — from learning a true British accent from him to the way he can command the tone of a scene — and that he loved the show so much he's asked to stay on for future seasons.
Some audience members, during the Q and A portion of the event, asked Sheperd how she finds her confidence and bubbly personality. Her response? "I'm not confident at all!" Sheperd went on the explain that regardless of feeling confident in a situation, you should always present yourself as friendly and open to everyone you meet. She talked about how it is infectious to be engaging, and that, "people will remember you if you're loud and bouncing around the room." Sheperd was warm, welcoming and encouraging to the young artists, writers and producers in the room.
I cannot find the words — and I'm a writer — to express how hilariously amusing the pilot of "Trial and Error" was. You can see the premiere on Tuesday, March 7 at 9:30 p.m. on NBC. I guarantee you'll be hooked after the first episode — there hasn't been anything like it since "The Office" and "Parks and Rec," in my humble, TV-obsessed opinion. Enjoy!