Take a look behind the scenes of SCAN's 'Exotica' fashion spread
by :
Anya Haber
The Winter 2017 issue of SCAN Magazine featured a dramatic and beautiful look at student designed garments in its "Exotica" fashion spread. From more than 12 hours of preparation and shooting and more than 1,500 images, came the six-page spread that you can see in SCAN.
The shoot was photographed by third-year motion media student, Rebecca Gerhard, and featured designs from fashion students Marissa Villareal, Shuting Dong and Daniette A. Thomas.
The process began around noon with models receiving their styled looks from hair stylist Madeline Lenahan, and makeup artist Katie Dorsey.
The hair styling was inspired by 1920s prohibition-era flappers, utilizing finger curls that looked almost damp at the base of the head while teasing the hair from the ears down to create a frizzy mess. The models' hair was also doused in silver and gold glitter to match the eyebrows. The makeup look was dark and vampy to match the moody blacks and sumptuous reds of the garments, as well as the red decor of the location, a house built in the 1920s. The glittering gold-leafed eyebrows mirrored the gilded gold statues located throughout the location of the shoot. Metallic glossy lipstick was applied on location, as well as a clear gloss to the lids to further the dark, vampy look.
While models were in hair and makeup, set designer Thomas King helped put together the set at the location, as well as shuffle the garments, photographer and models to and from the location. The shoot incorporated many of the homeowner's antiques that had been found and shipped back to her from all over the world. During down time, people hung out in the living room, eating snacks and playing with model June Teasley's dog in their spare time. Teasley turned in her last paper of law school during hair and makeup, effectively fulfilling the requirements to graduate from law school.
After all models were styled and wearing garments, the actual photo shoot began around 7 p.m. and went until 1:30 a.m. Models changed garments several times and the set was adjusted periodically.
The styling of the models, along with the set and props, combined to create the overall dark and dramatic atmosphere seen in the final spread.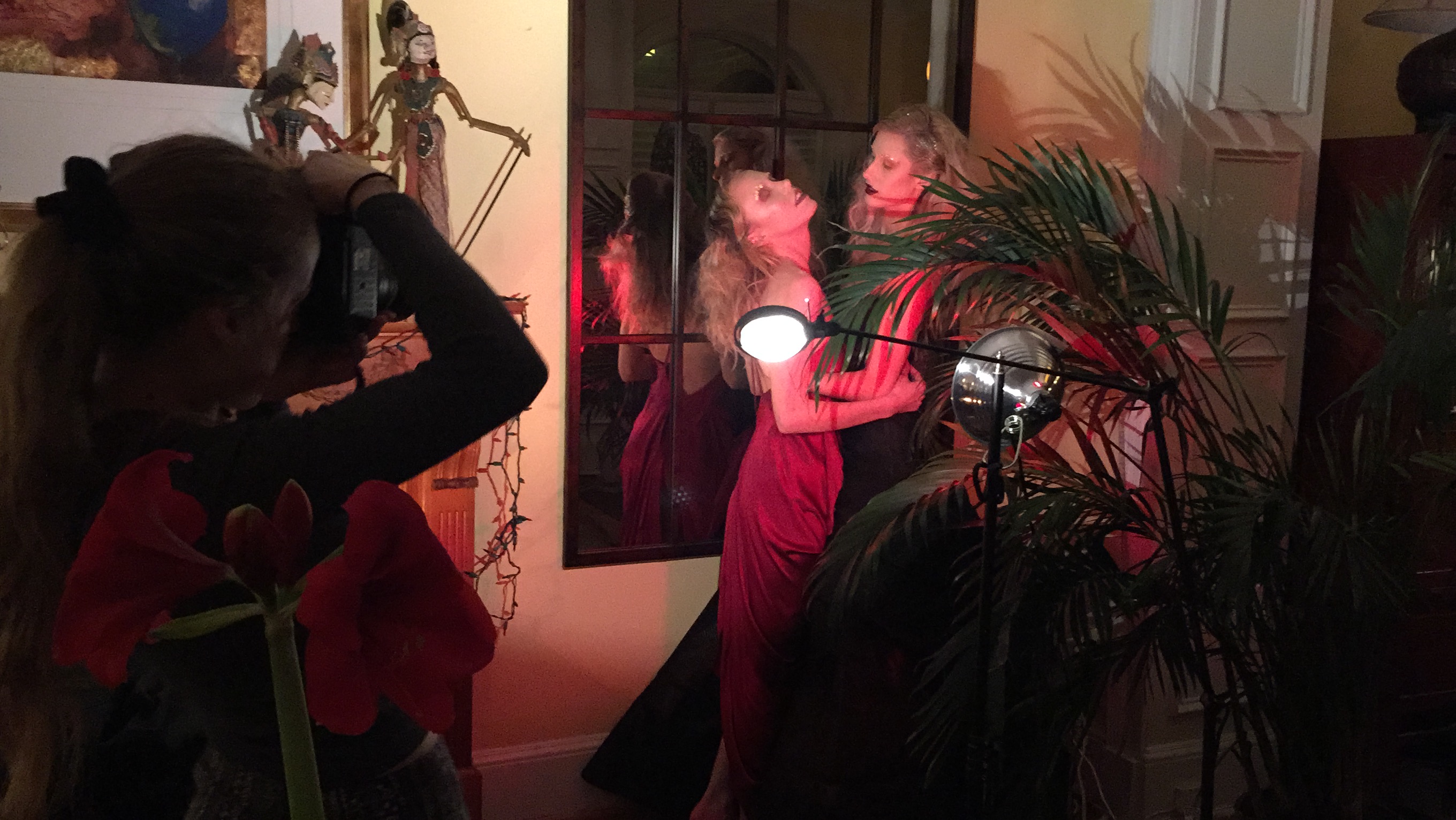 To see the end result of the fashion shoot, pick up the latest copy of SCAN Magazine. The spring 2017 issue can be found in the Hub, the Digital Media Center, Spring House and ACA Residence Hall.