Spend your Wednesdays practicing free yoga at Atlantic Station
by :
Arundhati Prasad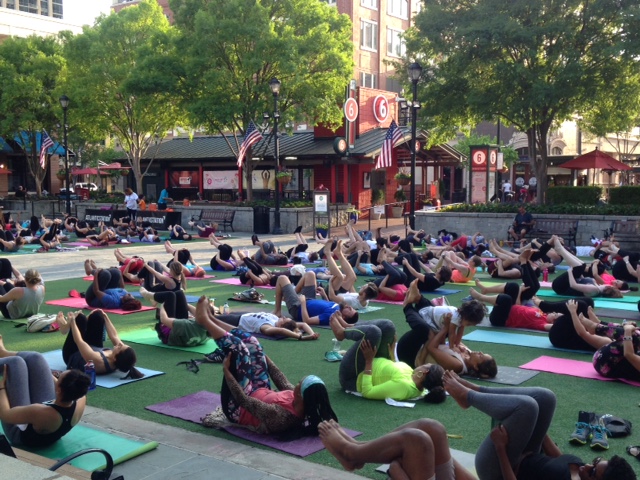 Atlantic Station is hosting Wellness Wednesday, a seasonal program that encourages people to take some time from their busy schedules and relax with hour of free yoga in the park every Wednesday from 6:30-7:30 p.m.
After a positive response last season, Athleta and Evolation Yoga partnered up again to bring back "Yoga in the Park." The teaching staff at Evolation Yoga is well trained and supportive of anyone who is willing to try. No prior experience is necessary to be a part of this program. Trainers will carefully guide participants through a regimented routine of basic stretches and poses.
The program is convenient for SCAD Atlanta students and Diva Sachdev, a second-year interior design student, said she is looking forward to participating in Wellness Wednesday.
"Atlantic Station is just walking distance from SCAD," said Sachdev. "I enjoy coming here to get my mind off school work, and I just found a healthier way to spend my time here. Balancing a hectic school schedule is hard and introducing some physical exercise to my weekly routine will keep me motivated."
Students can benefit from yoga in a variety of ways. Yoga offers increased flexibility, improved energy levels, stress relief and increased muscle strength.
For more information on events and schedules, click here.