How to keep a travel journal
by :
Arundhati Prasad
"To travel is the experience of ceasing to be the person you are trying to be, and becoming the person you really are," said author Paulo Coelho. Traveling is an incredible process of understanding one's self, in which we may adopt habits that help us reflect and recharge. Traveling allows us to see new places, experience new cultures and gain new perspectives.
Writing down everything you see and experience is a great way to put down ideas not just for creative projects, but to remember an adventure or a place you may have visited. Maintaining a travel journal is a fulfilling activity and it is a step closer to visualizing your ideas. Sometimes memory fails us and photos alone aren't always enough to remember our experiences and feelings, but sketching and journaling while travelling ensures that a personal discovery will stay with you in the form of a hand-drawn illustration or quote. Maybe years later you'll understand the gravity of a curious proverb you came across, scribbled in your journal. Maybe you'll look back and find new inspirations from old trips.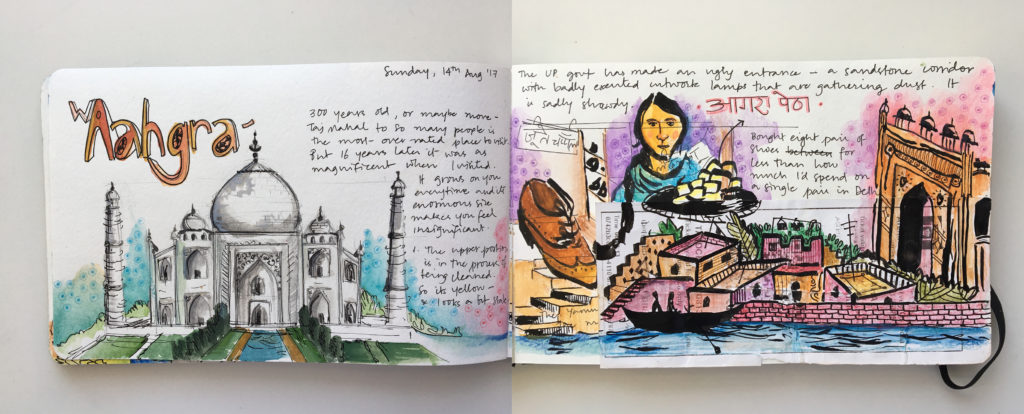 So how does one build a journal and what goes in it? Well, anything and everything.
First, make sure you have the tools you need. People use so many different things to draw, write and record. Here is a basic beginners list of tools that will give you a lot of freedom to draw as you travel.
An HB pencil
A Kuretake brush pen
Pentel Aquash Water brush
Different size Microns
Watercolors
Water soluble color pencils.
A handy blank sketchbook.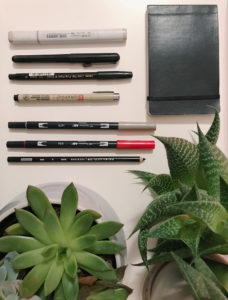 Once you have the right tools, here are some guidelines to help you fill your journal and make the most of your travelsl:
Create a theme
A fun way to understand and record the culture of a place is by setting a theme. Some journals only document food and some might be a collection of portraits. Your theme could be historical places, street food, coffee shops, flea markets or stories of locals. Themes lend a context to your travel journal and can make your book unique and creative. Check out the work of Matt McAdow, who illustrates camp life so spontaneously, or Jean Jullien, whose simple illustrations communicate so much.
Collect
Collecting memorabilia and relics from your adventures is a great way to remember the places you've visited. Sometimes these things might bring an idea to mind or inspire you to create something beautiful in the future. More importantly, through tangible memories one can relive a special moment. Maybe start with a piece of your boarding pass or a baggage sticker. You could insert a polaroid, a stamp, a pressed flower, coffee coaster or even a feather. Your journal is your personal memory keeper and you choose what goes in it.
Write
Perhaps the most common form of documenting experiences is by writing. Take short notes, scribble a joke or an observation. You may even learn to write your name all over again – in a different language of course.
Sketch
On the spot sketching is like taking a moment to do yoga, just that this type of yoga can be done anywhere — outside a museum, on a beach, under a bridge or on top of a tower. There's a calmness that is achieved through sketching. Highlights and details may urge you to pay closer attention to the qualities of a place or subject that can be easily overlooked. You don't have to be a Da Vinci to sketch in your journal, just observant. Don't be under pressure to create masterpieces.
Try going digital
If you're the kind of person who is more comfortable drawing on a screen, then download apps like "Sketchbook," "Adobe Illustrator" or "Concepts" on your phone and get started.
Photograph
As you explore and take photographs, you may even make your travel journal a collage of photos, sketches and writing. Photo collages are a great way to recollect and relive experiences.
Don't forget to share
There is a huge community of creatives who maintain sketchbooks and regularly jot down thoughts, ideas, musings and observations. 'The Sketchbook Project is one such space to follow and be inspired by diverse styles and a variety of travelers. Share your own work on social media and inspire people around you to try out this rewarding activity that may just become a habit.