Your Opinions: The NFL protests and President Trump's involvement
by :
Allison Bolt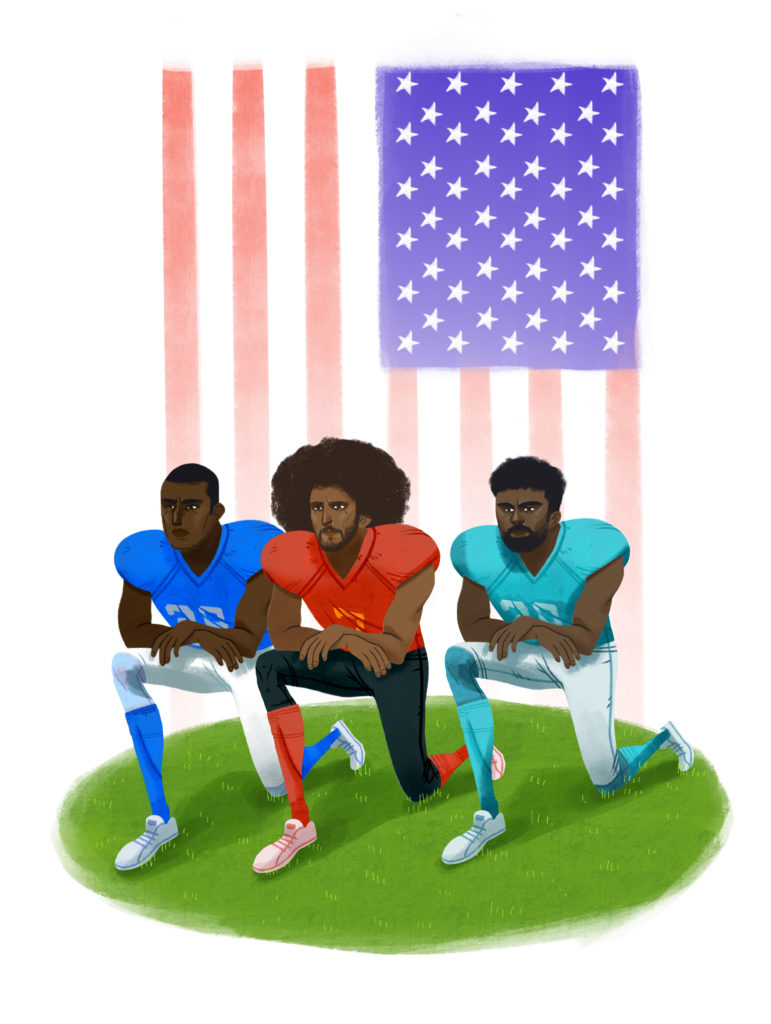 Colin Kaepernick of the San Francisco 49ers began protesting police brutality of African American citizens by taking a knee during the national anthem in 2016. Kaepernick stated, "I am not going to stand up to show pride in a flag for a country that oppresses black people and people of color."
At first, Kaepernick's protest went unnoticed. Yet, once the media captured his protest, then-presidential candidate Donald Trump remarked, "I think it's personally not a good thing. I think it's a terrible thing. And you know, maybe he should find a country that works better for him. Let him try. It won't happen." A year later, Marshawn Lynch of the Oakland Raiders, joined Kaepernick's protest. Lynch was then followed by Michael Bennett of the Jacksonville Jaguars, who sat down in protest at the time of the events in Charlottesville.
President Trump responded by calling these protests a "disrespect of our heritage" and followed up with countless tweets condemning the NFL players and their actions.
Recently, the protest has expanded even further — NFL players across the United States, belonging to different teams, have taken a knee, sat down, linked arms, or haven't left their locker rooms during the national anthem. Once again, President Trump responded with condemning tweets.
The actions of NFL players have certainly provoked opinions from President Trump, but also the rest of the country. Some people consider the football players unpatriotic and disrespectful to the flag, while others are offering praise and support for their actions. Most seem to be more upset at President Trump than the NFL.
Read on to see what some students had to say about the recent events as well as President Trump's reactions:
Giovanni Turra, second-year branded entertainment student
"I think if patriotism is what people are arguing then I think the basic principle of patriotism is that it's rewarded to a country, it can't be demanded. A lot of people say it disrespects the country and the people who fought for it, but soldiers fought for everyone's right to stand or not. If you're not content with the current situation of the U.S. right now then you should absolutely take a knee."
Jasmine Jackson, third-year illustration student
"I think it's hypocritical of Trump to be talking about disrespecting the flag when it's disrespected every day on T-shirts and hanging in the rain. He's wasting time that could be spent on bigger issues like North Korea or helping Puerto Rico." Katherine
Diaz, third-year fashion and writing student
"I think Trump's reaction is an exaggerated response to a protest that is well-deserved of media coverage but not from the President himself — especially considering the natural disasters and world events occurring at the moment."
Crystian Hopper, third-year sequential art student
"I disagree with Trump's statements regarding the NFL protests in the sense that his wording is rather harsh. However, I do understand the symbolism behind the national anthem and definitely believe in the idea of us all standing unified together. I think that's the big picture of it all."
Jeanie Lo, fourth-year writing student
"The fact that kneeling down in protest for realistic issues in America, like race, is considered unpatriotic and disrespectful of the country, is quite laughable. In a democratic nation, a government of integrity should be prepared to accept dissents, protest, and conflicting sides in a dialogue. Just like in a healthy and mature relationship, you and your partner should be able to discuss each other's bad sides openly. When the gunk is out there, reconciliation, constructive actions and improvements can happen. That's the way to grow a relationship and a nation. President Trump and Jeff Session's blind nationalism draws them closer to characteristics of totalitarianism or undemocratic governments like North Korea, China and Russia, the very countries that Trump condemns. It was also quite entertaining to read that Jeff Session defended Trump's condemnation of free speech as an act of free speech. Let's just say there is not a shortage of hypocrisy in the White House."
Jason Scholtz, fourth-year sculpture student
"I think it's just another example, in a long list, of the President going out of his way to divide the nation rather than bring it together which has been the rhetoric and goal of almost every president in history. Rather than have some level of respect for anyone but himself, he just resorts to pointing fingers at someone who thinks he's not one-hundred percent perfect at his job. These players are risking their reputation and even careers to make their voices heard and he doesn't even take the time to think about what they are saying to him about how the country as a whole, law enforcement specifically, is being run."
Logan Hughes, third-year writing student
"It's shocking and disgusting the way Trump acts on his Twitter account, where most of his opinions on the NFL protests come from on a normal day, but calling for the termination of players who are invoking their right to free speech in protest against things that they believe strongly in or or affect them personally, like police brutality, is in direct violation of the constitution. He's doing this white neglecting bigger issues like the situation in Puerto Rico and the fact that Flint still doesn't have clean water, or police brutality. While neglecting the bigger issues, he's starting Twitter fights with NFL big leagues and players (disinviting Stephen Curry from a visit to the White House) and making proclamations and taunts of nuclear war against a nation with one of the most hostile leaders in the world. It makes me sad, but it makes me even more angry."