'House of Z' offers personal insight into Zac Posen's fashion journey
by :
The Connector
by Logan Hughes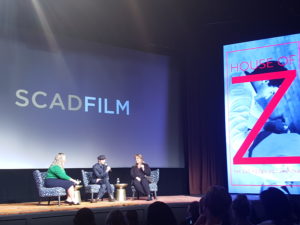 SCADshow hosted a screening of Zac Posen's new documentary, "House of Z," which chronicles the rise and fall of his brand, followed by a Q&A session with Posen and the film's director, Sandy Chronopoulos on Nov. 2.
From the starlet of Vogue to the washed-up Target ambassador, "House of Z" follows the young designer as he tries to reestablish himself and get back in the good graces of the fashion world.
With "House of Z", Chronopoulos takes us from Posen's childhood to his pre-college program at The New School in New York City, to his exploration into costume design and interning at the Costume Institute of the Metropolitan Museum of Art, to moving to London, to winning awards, meeting fellow designers and high-profile models like Naomi Campbell, and honing his skill along the way.
Chronopoulos took a very intimate approach to the documentary, featuring clips from Posen's life growing up via home movies his mother had taken throughout his childhood. The brand began in the Posen living room with Posen's mother and sister as the only other employees at the time. Focusing in on the heart of Posen and his family made the film feel personal.
Throughout the film and Posen's eccentric life and the subsequent rises and falls, the interviews and home movies help drive home what lies at the heart of the brand: family. The significance was clear and made the demise of the brand even more emotional when seeing the family break apart during the brand's struggles.
The documentary was well-made and answered all the questions long-time admirers of Posen's have had and even revealed new things. Technically a very skilled designer, Posen is known for his gowns. His eye for drapery was noticed at a very young age, and though there have been major ups and downs throughout the life of his brand, Posen has been able to reestablish himself as a respectable fashion house.
Posen is a force in the fashion world, and his rise back to the spotlight is well-deserved and captured in an unfiltered, personal way. The audience will cry at his hardships and cheer when the show-stopping dress finally makes it down the runway, solidifying his name in the fashion world.