'The Killing of a Sacred Deer' is a surprising artistic powerhouse
by :
The Connector
by Joshua Shelton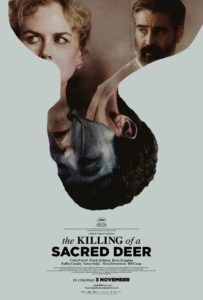 "The Killing of a Sacred Deer" chronicles cardiologist Dr. Steven Murphy (played by Colin Farrell) and his family as they are all forced to reckon the mistakes of his past. Murphy's grave malpractice haunts the family in the form of a bastardized teenage son, whose frequent visits to their suburban home grow more unsettling.
The film is not only unnerving in its themes and content, but also in its unusual modus operandi. "The Killing of a Sacred Deer" is a fundamentally artistic film that discourages the viewer from approaching it head-on. Instead, co-writer and director Yorgos Lanthimos invites you into a narrative full of invasive camera work, awkward dialogue and a high-pitched, droning score. Estranging viscera begs us to read the film from a certain distance in order to absorb its moods and emotions. But fear not, "The Killing of a Sacred Deer" is an undeniably arresting and immersive work of art.
Barry Keoghan plays the character of Martin and delivers a rattling and antagonistic performance, reminiscent of Norman Bates, which feels as deeply nuanced as any real-life tortured soul. Matriarch and patriarch, Nicole Kidman and Colin Farrell, communicate the sterile — and quickly contaminating — lives of a couple married to their work and haunted by their past.
Although the film's punchy and uncomfortable dialogue might remind us of the cute and quirky work of such directors as Wes Anderson, "The Killing of a Sacred Deer" delivers a seriously resonant impact through its unique form. The film uses its roundabout methods to take full advantage of our instincts and feelings to a degree that traditional films struggle to access.
"The Killing of a Sacred Deer" is an ambling and surreal film, however perfectly thrilling and devastatingly real. The often poetic yet a-rhythmic quality of work succeeds in conveying deep truths about guilt, responsibility and sacrifice, understood by the
audience in a highly intuitive and sensory experience.