Decorate for Christmas on a college budget
Don't let your limited funds put a damper on your holiday spirit — check out these easy and affordable ways to spruce up your living space
by :
Allison Bolt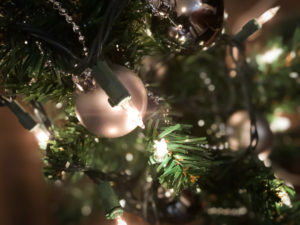 Decorating for Christmas while on a college budget can be tricky, but it's important for your living environment to feel homey and get you in the holiday spirit even if you have limited apartment space. We've compiled a few tips to help you decorate your small space on a budget. Before you know it, you'll be coming home and in the mood to sing Christmas carols.
Tiny artificial trees
 It's difficult to get excited about a tiny artificial tree after driving around midtown and seeing the grand Christmas trees displayed in the windows of Ansley Park homes. However, never underestimate the effect of decorating a tree no matter how small it is. Small artificial trees can be found for as low as $1 (Dollar Tree) and will add instant Christmas spirit. Pick out your favorite ornaments, whether it's elegant gold tinsel or your favorite Marvel characters.
DIY Christmas wreath
Christmas wreaths can get pricey, especially natural ones. To add a Christmas sparkle to your front door, opt for a DIY wreath by grabbing a foam wreath at Michaels and the garland of your choosing. The garland can be any color and size, and maybe even have sparkles. Simply wrap the garland around the foam wreath and secure with a little glue leftover from design classes.
Christmas window
Don't have a big enough space for even a tiny Christmas tree? Instead, decorate your front window with Christmas tree ornaments. Wrap the window in your favorite twinkling lights and hang Christmas ornaments at varying heights with ribbon. This will give your apartment the instant Christmas feel without having to stack furniture to fit in a tree.
Dinner party table decorations
If you're hosting a Christmas party for your friends, or simply feel like your dinner table is lacking on Christmas spirit, simply grab a few glass jars and spray paint them red, green, or gold. If you have glitter, add it to the base before sticking in a bouquet (real or fake) of pine branches and holly berries.
DIY garland
If you don't feel like spending money on garlands, create your own Christmas garland for the mantle by using leftover fabric scraps from your fashion classes. Simply tie the fabric scraps, paper, or ribbon into little bows and glue them onto a long strand of ribbon or string. Drape it over the mantle or entryway.
Christmas doesn't have to be dull just because you're living in a small space. Take advantage of your leftover supplies from classes and craft your own decorations. That way you'll stick to your budget and get into the Christmas spirit.