'Two Sides' sparks conversations at aTVfest
An intense docuseries that is sure to spark conversation screened at SCAD's aTVfest 2018.
by :
Mikael Trench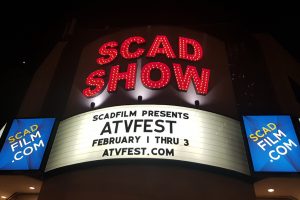 TV One's "Two Sides" is a four-part documentary series created and narrated by Viola Davis that focuses on the controversial police shootings of Eric Garner, Ezell Ford, John Crawford III and Sandra Bland. Taking an in-depth look at the events that led to these deaths, we see how these tragedies sparked social justice movements, protests and added to the ever expanding conversation on police brutality.
At aTVFest 2018, Julius Tennon (president of development and production, JuVee Productions) and Andrew Wang (head of television, development and production, JuVee Productions) presented an episode followed by a Q&A.
In this particular episode, we learn of Crawford who, while playing around with a toy BB gun at a Walmart in Ohio, was shot and killed by police officers. The episode features a detailed look behind the events that took place assisted by shocking surveillance footage.
To say the least, "Two Sides" is one powerful show. One of the major perks of the series is its ability to, as the title suggests, look at both sides of the situation in great detail. This is aided by extensive interviews with close family and friends of the victims, as well as with law enforcement and officials to get a good idea of what everyone is experiencing.
While some of the documentary's execution is powerful, much of it is nothing new to see in today's entertainment field. With the varieties of similar documentaries, films and shows focusing on these kinds of topics, this series doesn't do much to make itself stand out. On top of that, certain parts in this episode, could have had more focus and been better organized.
That being said, the episode had a major affect on the SCAD students watching. The audience was continuously chattering as major events took place during the screening. First-year sculpture student Sam Walsh said, "I thought it was interesting but hard to stay engaged because the topic has been stressed so much, I've heard it all … It felt like I was watching any documentary on TV and not anything special."
Regardless, this is certain to be a show that will cause conversation about some heavy topics and make people think. For those who want to check out this thought-provoking series, you can view full episodes for free on the channel's official site.