Students get a look into the writers room at aTVfest
aTVfest 2018 offered advice on how to get your foot in the door as an aspiring television writer.
by :
Allison Bolt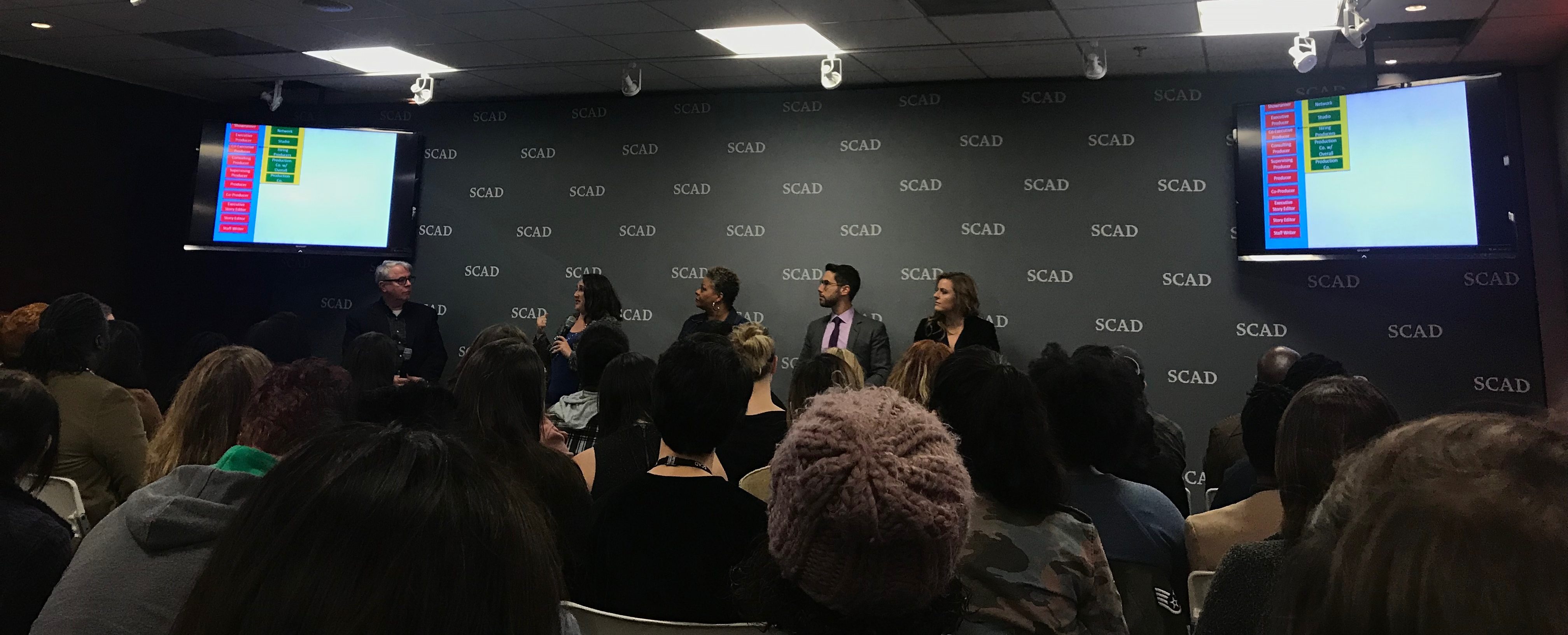 The film and television event of the year, aTVfest, is in full swing and packed with exciting panels and screenings such as the "Inside the Writers Room" panel held Feb. 1. Students had the chance to meet and discuss writing for television with some of the best in the industry, including writer and producer Alyson Fouse, agent Jeff Greenberg, producer Sandra Leviton and producer Kaila York.
A writers room is a place most students have not yet entered. So, what exactly is it like in this environment? The panel describes the writers room as an extremely collaborative setting where a group of writers sit around a table and write the show. Each writers room will have a different process depending on the program. When asked what helps make a more creative collaboration, Fouse said that there are several different ways.
"Some show runners will take a day to get to know everyone in the writer's room to create a more collaborative environment," Fouse said. "I kind of like to get to work, at least get started because things are going to change once production kicks in. If they want to pay you, I have to respect the show runner's room. Every room is different."
Fouse has worked countless shows such as "Everybody Hates Chris," "Uncle Buck" and "The Wanda Sykes Show." Known for her humor which shines through in her dialogue on screen, she naturally lit up the panel room with laughter while also offering real word advice to students. One of her main points included a discussion about the dreaded act of pitching ideas in a writers room atmosphere. Fouse uses a tactic she calls the "F it policy" in order to calm her nerves before a big pitch. She advises students to over-prepare before the pitch, but the day of, to walk in with confidence, and just let it happen the way it happens.
Greenberg offered advice on how to land a job in a writers room and stressed the importance of having an agent who is constantly working for you. Agents will find jobs for you, get your name out there and introduce you to the right people. The panel laughed as Leviton described the "agent look," that she has witnessed countless times in meetings or at restaurants with agents. "Your agent will always be looking for people in the room that they can connect their clients with," she explained.
York, a producer at Headlong Entertainment, stressed the importance of using social media to its full potential when she said, "Social media is such a nice platform where you can connect with other up-and-comers. A lot are great and really responsive, like agents. Do your homework — it's such a great place to connect with people and learn about people. Someone is bound to know someone, so get to know everyone."
While all of the panel members stressed the importance of moving to Los Angeles after graduation if students are serious about pursuing television writing, the panel also noted the rise of television careers in Atlanta. Wondering what you can do to get your foot in the door while still at SCAD in Atlanta? "Atlanta is such a hub right now," says York. "Get out there!"