The importance of looking back at old inspiration
by :
Caitlin Havens
This summer has consisted of me trying to figure out what kind of work I want to do with my art. Through the months of figuring it out, I've realized how important it is to look back at old books, movies or any art that inspired me when I was younger. Looking back isn't just about memories, it also sparks the young creativity back into me. Looking back at old art reminds me of why I got into a creative career and, now, why I'm staying in it.
To take it back a few years, one of the films that inspired me was "Boyhood." For a while, it was my favorite. It was the type of movie I could watch every day and would not get tired of. While support for a creative career was iffy to my family, all I had was a couple friends and "Boyhood" to convince me I want to create art for the rest of my life.
However, a more recent revival is "Mamma Mia." It's sequel was released a month ago, and it brought back memories of when I watched the first one with my mom 10 years ago. I remember feeling inspired at 11 years old, and now at 21, I feel the same amount, if not more, inspired after watching the new movie.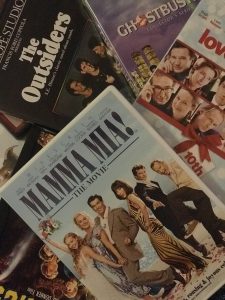 The first novel I remember reading and thinking "that's what I want to do," was "The Odyssey." I was 15 years old, in my freshman literature class and it was so inspiring because I realized the possibilities one could put on pages. The stories you can tell and how you tell them are up to you and are chosen by you for a reason. It's like having something to say but being too scared to say it out loud, so instead, you write it down and hope someone wants to listen.
Rereading "The Odyssey" this summer reminded me of how I felt years ago. I was always excited for English classes before high school, but now I was taking literature classes and fell in love with just about every book I read.
I've also noticed that revisiting your old inspirations may help you figure out your style of art. I've read old and new books in the past few months and although the old books remind me of why I started doing what I'm doing, I also know 99 percent of them aren't the style I want to go with.
Reminding yourself of why you started something brings back to ignorant creativity in you. You don't know what you are going to do with a story, song or painting, but you know you love doing it so you continue to.
Now look where we are, in school to learn more about what we love doing the most. Needing a reminder isn't a sign of failure. It shows growth and care about why you're in the career you're in. So watch that old animated movie, listen to old music and read your favorite book, again.