Queer photography in ACP: Take the time to see Patrick Di Rito's 'Dusty Rose'
by :
Marian Hill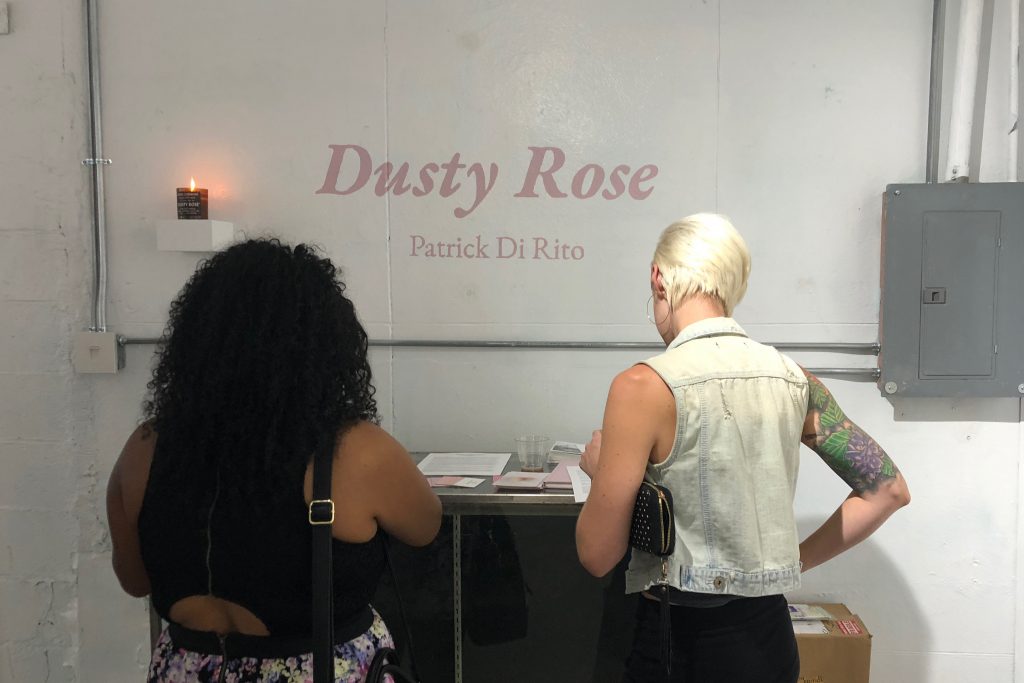 This past Thursday, Sept. 20 at The Bakery Gallery, Patrick Di Rito's "Dusty Rose" exhibition was on display as one of the Atlanta Celebrates Photography events of the fall season. The artist explores sexuality and gender identity in his self-portraits. The role of queerness and color hold importance in the large series known as the "Queer Color Series," a portfolio of photography that he has cultivated over the last three years.
Di Rito explained in an interview with The Connector that "this work explores themes of queerness, depression, suicidal ideation, isolation and loneliness," he said. "It's about existential crises. It's about gender identity and sexual identity. It's about being on the spectrum. The photographic series delves into my queer identity through color swatches. Each image uses a single color swatch to create a world with its own landscapes, its own characters, its own patterns. From a single color swatch, I will find or construct outfits, backgrounds and props to compose an alternative world."
Many of the pieces featured Di Rito dressed in chromatic outfits, which correlated to the tones and hues of the space he photographed in. "I like playing with color because I feel so uncomfortable in color. My personal palette of clothes is progressively more monochromatic — even the spaces I live in shift to grayscale. But, when I photograph myself, I explore a whole other world," he said.
The otherworldliness of these photos is truly apparent, especially in his outdoor photographs. When scouting locations for shoots, Di Rito said, "I'm looking for color and texture mostly. I'm also considering what wardrobe I have accessible to me, what the lighting will be like if I come back at dawn or dusk and where I could use a backdrop if needed. For both the Hambidge residency and the Hughley fellowships, I did a lot of walking and hiking around to find all the locations. Then I would come back either that day or the next to shoot."
Di Rito's interest in color dates back to an early part of his life. "Growing up I went to Catholic private school and I wore a uniform of hunter green and tan pants. The logo was an old gold. I didn't really think explicitly about what that did to my sense of those colors until I was working as a graphic designer and realized I had strong aversions to greens and yellows," he said. "All of my experiences of color are affected by my subjective experiences of those colors."
This is apparent in lush green outdoor backdrops and the yellow tights of a man holding a piece of raw meat to his loins. But apart from green and yellow, the color pink was also dominant in the series and painted on the walls of the gallery. "My love affair with pink began three years ago," Di Rito said. "I was flipping through paint decks — the names are sort of fun to read — but one caught my attention: "Quaint Peche." I knew I wanted to make an image with this color and title. So I wrapped a piece of pig skin around my neck and shot on a pink background." The colors and strict-square format of each picture shows the monotony Di Rito described earlier, expressing fondness for uniformity.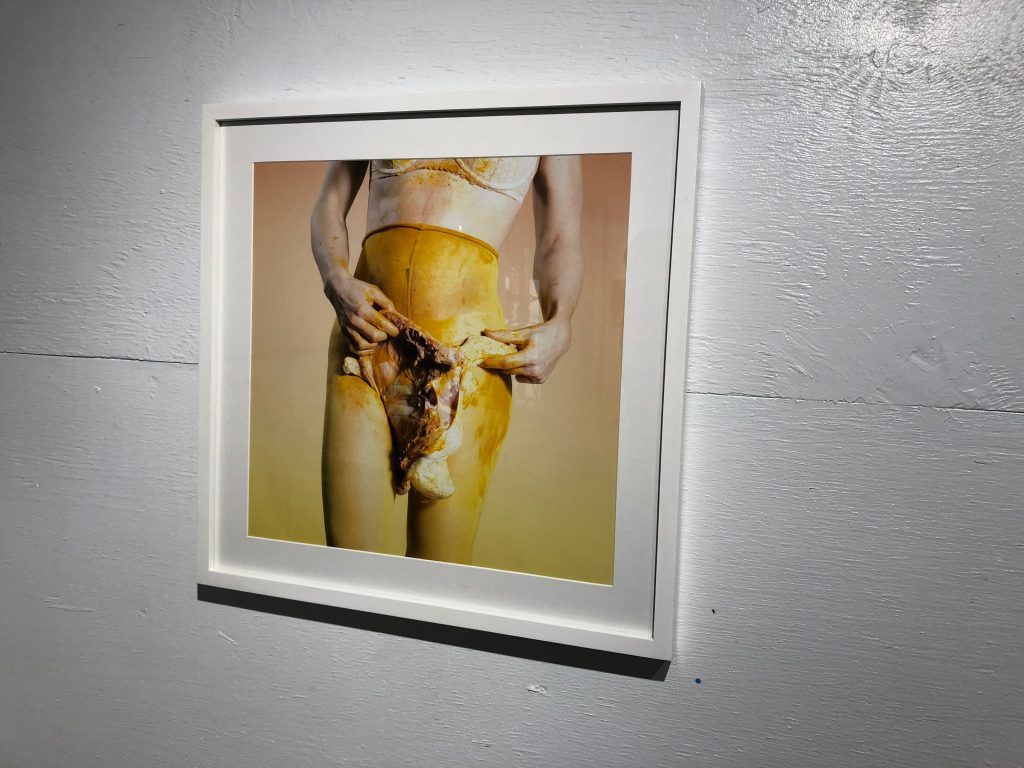 To SCAD's open queer community, and to those who look to explore their sexuality in the work they produce, Di Rito said, "Accepting myself as queer hasn't been an easy journey. It's been a struggle to understand my own sexuality. But queerness is about fluidity, exploration, about accepting changes and not knowing who you might fall in love with or who you might be."
Di Rito's work will continue to be on display at The Bakery until Oct. 11, the closing reception that day will be from 7 p.m. to 10 p.m.