What you need to know to attend SCAD Career Fair 2019
by :
Marian Hill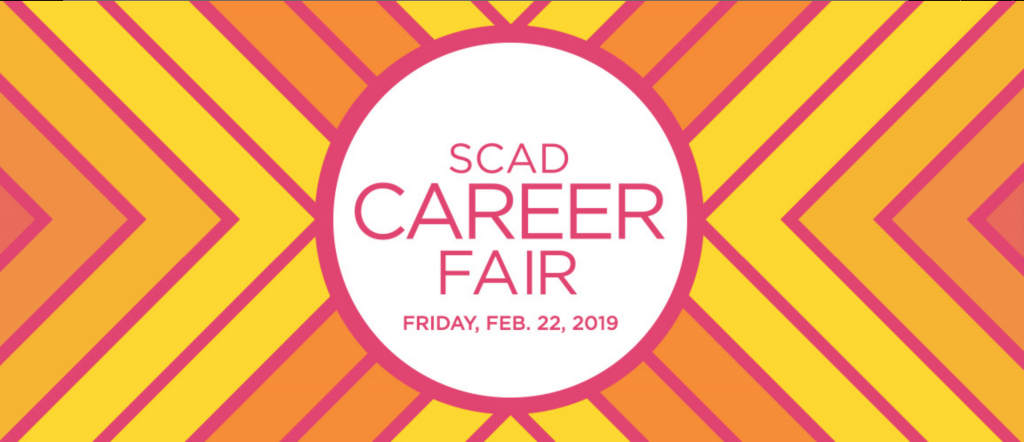 SCAD Career Fair 2019 is just around the corner, coming up on Feb. 22. The fair is an opportunity SCAD students to learn about potential internships and jobs — stepping stones to launching careers. The career fair is open to all, from first-year to graduate students. If you're not ready to commit to a long-term position, portfolio reviews are also available at the career fair. More information will be released in February.
We've rounded up a list of important information to keep in mind as you reserve your spot to attend this year's career fair.
The career fair takes place in Savannah, Ga. If you want to take a SCAD bus to and from the career fair, you need need sign up for a bus pass. To obtain one, students must submit a resume that includes a portfolio link for approval on the SCAD Job Portal by Feb. 7, 2019. The SCAD Job Portal is located on MySCAD. Find it in the Career and Alumni Success section under the student workspace tab. There, you will select the SCAD Job Portal and Career Resources option.
Once you have an approved resume, search for the "Career Fair 2019 BUS PASS SCAD Atlanta" to apply for a bus pass on the SCAD Job Portal.
There are mandatory informational events students must attend to prepare for the career fair — "SCAD Atlanta Career Fair Prep + Bus Pass Kickoff" on Friday, Feb. 1 (10-11:00 a.m. and 2-3 p.m.) and "SCAD Atlanta Final Career Fair Prep" on Friday, Feb. 15 (10-11:00 a.m. and 2-3p.m.). Both workshops are in rooms 256 and 257. To RSVP to these events, go to the SCAD Job Portal, select events and then workshops.
If you aren't taking the bus but are still attending parking is free at Savannah Convention Center, located at 1 International Drive, Savannah, Ga.
The career fair runs from 9 a.m. to 3 p.m. with different entry times depending on your year. Alumni, graduate and fourth-year students can enter at 9 a.m. Third-year students are granted entrance at 10 a.m. First and second-year students are allowed in at 1 p.m. You must bring a valid SCAD ID card to gain access to the career fair.
Here are some of the scheduled workshops at SCAD Career Fair 2019.
"Local and nationwide opportunities"
Room 105, 9-9:50 a.m.
"Go beyond the F-1 visa with immigration attorney Bob Johnson"
Room 106, 9-9:50 a.m.
"Art Works: The business of performing and fine arts"
Room 105, 10-10:50 a.m.
"Working in the U.S. for international students and alumni"
Room 106, 10-10:50 a.m.
"The business of freelance"
Room 105, 11-11:50 a.m.
"Get in the game: an eSports seminar"
Room 106, 11-11:50 a.m.
"Meet SCAD+"
Room 105, 1-1:50 p.m.
"Career Fair networking reception"
Room 106, 1-3 p.m.
"Creative crowdfunding"
Room 105, 2-3 p.m.
For more information, click here. If you have any questions or concerns, contact your career advisor.